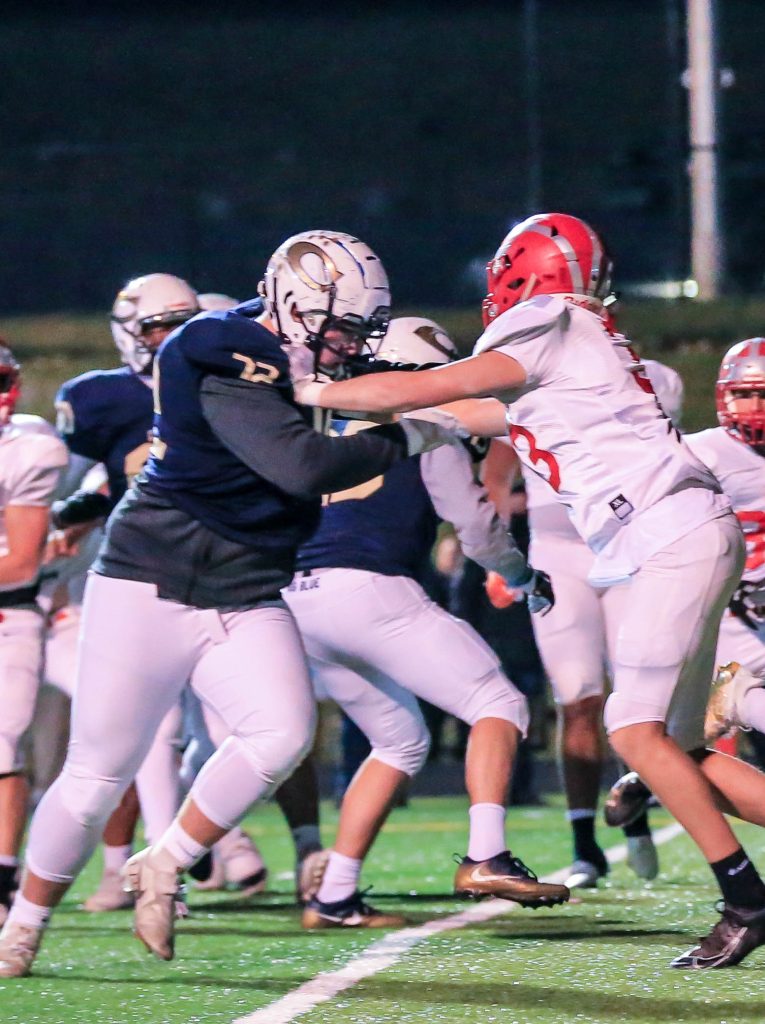 By Marty Gordon
Ayden Conley, the gentle giant of the Christiansburg High School football team, has announced plans to continue his playing career at Marshall University.
The decision came after several visits to the West Virginia school and offers from six other schools. 
Ayden told family and friends he was headed to Marshall during senior night activities of the school's basketball game. Conley also recently returned from this year's Blue-Gray All- American Bowl, which was played  at the Tampa Bay Buccaneers, Raymond James Stadium.
Conley was also named the 2021 all-county/all-city lineman of the year. He suffered a torn ACL late in the season and missed most of the team's 2021 playoff run but came back to play the entire 2023 playoff run. 
He chose Marshall because, as he said, it felt right after a couple of visits to the campus. "I felt the facilities, team and university is the right fit."
Conley was all-state this past season on both the offensive and defensive side of the ball.. 
At 6-4, 305, Conley enters a Marshall program that finished 9-4 this past season including a 28-14 win over UConn in the Myrtle Beach Bowl. 
In 2021, University of Alabama associate head coach Charles Huff was named the Thundering Herd's next head football coach.
Huff joined Alabama in 2019 after one season (2018) as the assistant head coach, run-game coordinator, and running backs coach at Mississippi State University. He boasts 17 years of coaching experience at both the NFL and college levels with stops at Penn State University (2014-17), Western Michigan University (2013), the NFL's Buffalo Bills (2012), Vanderbilt University (2011), Hampton University (2010), the University of Maryland (2009) and Tennessee State University (2006-08).
Marshall University is a public research university in Huntington, WVa with an enrollment of 11,926 students.
Marshall is home to 15 NCAA Division I teams that compete within the Sun Belt Conference. This fall, Marshall will host Virginia Tech for a September contest. 
Conley still has not decided on a field of study but is leaning toward mathematics as he is an outstanding member of the 2023 senior class.