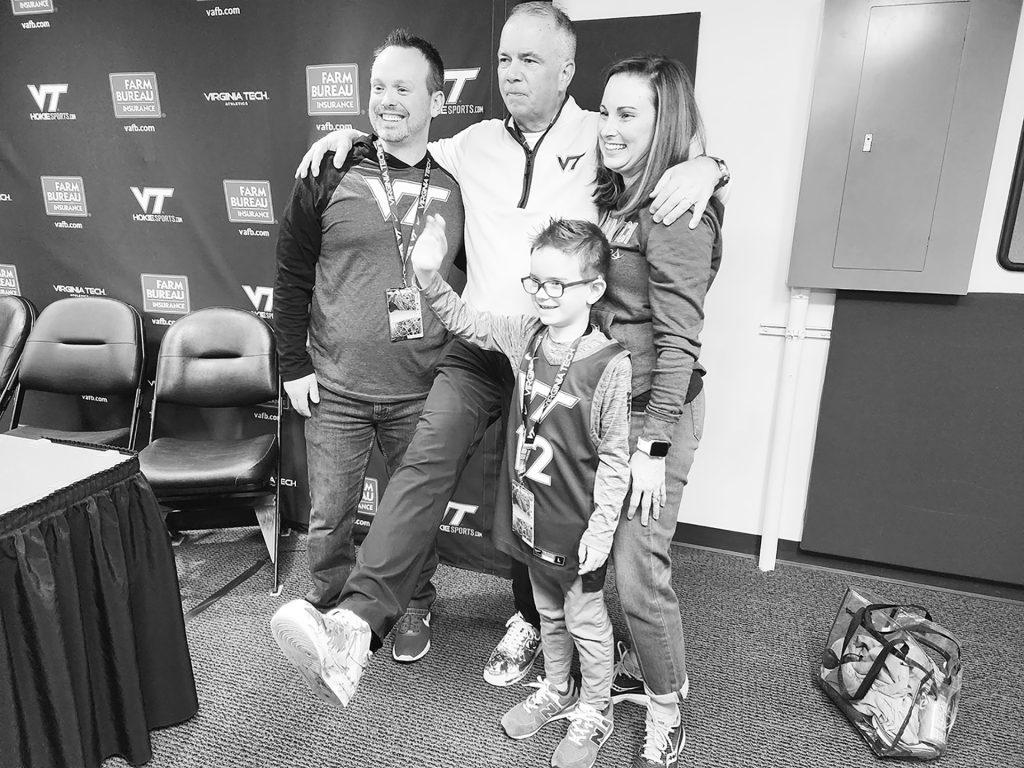 By Marty Gordon
Chase O'Brien is a typical seven-year-old. He loves basketball and is a big fan of the Virginia Tech Hokies. He is also a pediatric cancer patient.
Saturday night at Virginia Tech's basketball game he was introduced during pregame warmups as an honorary starter for Mike Young's Hokies. He was given a jersey signed by the team and met his favorite player, Justin Mutts. 
The Virginia Tech basketball program has teamed up with Carilion Children's Hospital to fight pediatric cancer. Players and coaches from the men's and women's teams are partnering with Carilion Pediatric Hematology-Oncology patients, getting creative to raise pediatric cancer awareness.
More than 25 participating children and teens had the chance to paint custom shoes for the coaches and basketball staff to wear later this season. Players and coaches from both Virginia Tech men's and women's basketball joined the kids and their families on-site at the Carilion Children's Tanglewood Center in December.
The specially-designed sneakers were worn by the women's basketball coaches and staff at the January 12 game against Louisville, and the men's basketball coaches and staff wore the special shoes on Jan. 28 when the team hosted Syracuse. O'Brien was undergoing chemo treatment at the Roanoke hospital and was unable to attend.
Tech basketball coach Mike Young invited the O'Brien family to be at this weekend's game against Pitt. "Toughest guy in the building, man," said Young. "Toughest guy in the building. [Seven] years old and dealing with that. And his mom, Jessica, and his dad, Eric, to have them here and to be able to recognize him and bring him into the locker room after a big win and present him the game ball, call his number and his name to the starting lineups: pretty awesome day."
This event was part of an ongoing NCAA initiative called "Coaches vs. Cancer," in which collegiate basketball coaches and staff nationwide wear sneakers at designated games to raise awareness for the cause.
O'Brien's appearance was one step in his ongoing battle against the cancer that is disrupting his childhood. His mother, Jessica, met with the media shortly before this weekend's game. She said that unfortunately, his tumor started to grow back in May after his first surgery, so he has been going through chemotherapy treatments ever since. 
He was first diagnosed with juvenile pilocytic astrocytoma, a rare childhood brain tumor, when he was five.
In most cases, the tumor is benign, grows slowly, and does not spread to surrounding brain tissue. Symptoms of JPA will vary depending upon the size and location of the tumor. Doctors typically treat the cancer by surgery followed by chemo.
Saturday, O'Brien got to be a little boy with no worries as he watched the Hokies defeat the Pitt Panthers from his sideline seat. He cheered and watched his favorite player, Justin Mutts, dunk one for him during the contest. 
The rest of the sneakers colored during the program raised $13,780 to benefit Carilion Children's Hematology and Oncology through the Shoes 4 Hope auctions.