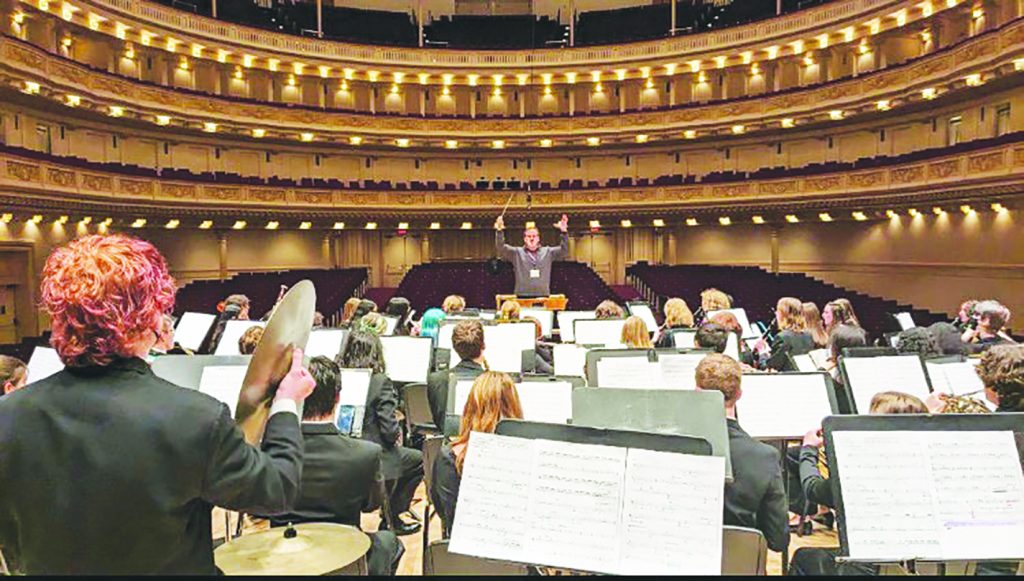 Lori Graham
Contributing writer
Performing at Carnegie Hall in New York City is joining the ranks of some of the most internationally recognized and talented performers in history, and now the Blacksburg High School Band is among them. 
Pyotr llyich Tchaikovsky, Billy Holiday, Bill Withers, and rock bands like The Allman Brothers and The Beatles are just some of the renowned and diverse entertainers that have appeared at this architectural marvel since its opening in 1891, according to Carnegie Hall's website, www.carnegiehall.org.
"Last spring, about a year ago, we received an invitation to apply, based on the previous reputation of our quality band program," Director of Bands at Blacksburg High School, Mr. Darrell Pearman commented on Friday, March 17, just returning from their trip at 2 a.m. the previous morning. 
The high school band applied to the 2023 New York Invitational Music Festival with the submission of an audition tape, and then received the exciting news over the 2022 summer that they had been accepted. Fundraising to pay for the trip included train tickets for their means of travel, which resulted in a more cost-effective method of transport for the students. Sunday, March 12, the band arrived in Manhattan, NY, where they stayed at the Park Central Hotel, located directly across from Carnegie Hall.
On stage, the band ensemble played two musical pieces, "March to the Scaffold" by Hector Berlioz, and "Love and Light" by Brian Balmages. These selections were performed by the BHS Band at a local district concert assessment one week before, receiving the highest level of excellence, the Gold standard, from judges. Along with their performance in Carnegie Hall, they participated in a clinic with Dr. Terry Austin of Virginia Commonwealth University. 
When not performing, students had another once-in-a-lifetime opportunity to take in the longest running Broadway show in history, The Phantom of the Opera, which will be closing soon. The students also toured the 9/11 Memorial, viewed the top of a snowy and very cloudy Rockefeller Center, and of course, shopped in Times Square. 
"Students were just excited to be in the concert hall," said Pearman. "The sound is everything that musicians dream of. To just hear the difference of playing in that space compared to a high school auditorium . . . awe inspiring, just such a wonderful experience."