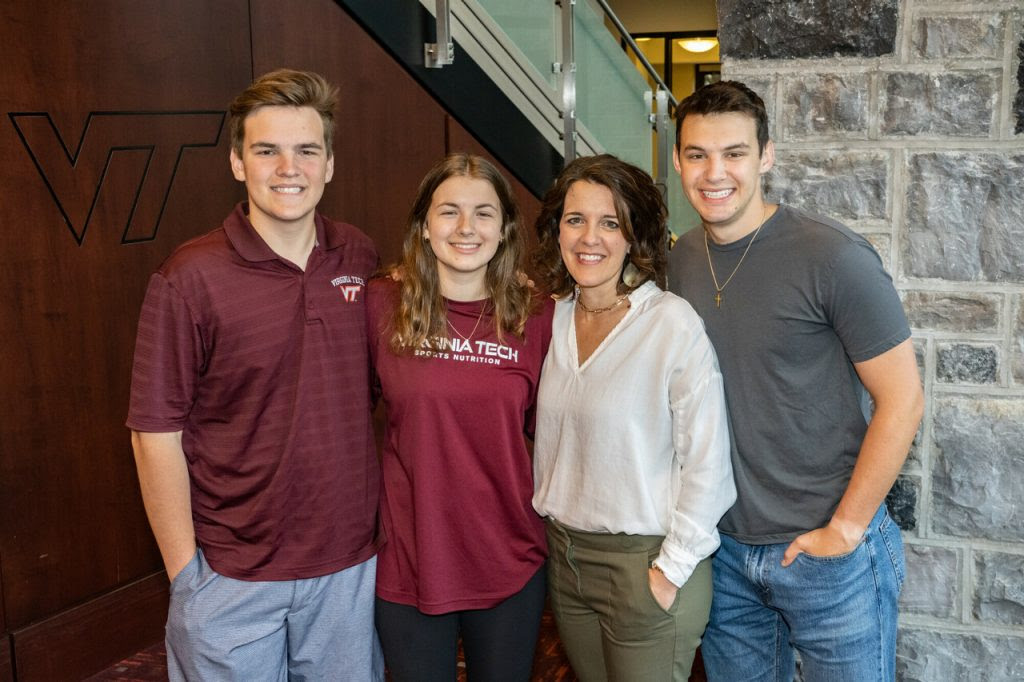 BLACKSBURG – Genetics provides the evidence that Dawson, Katie, and Will Racek inherited their hair color, eye color, and other certain physical and personality traits from their parents. 
And though not scientifically proven, Joe and Lisa Racek, two Virginia Tech alumni, probably passed down their overwhelming affinity for this university as well.
Higher education certainly is a family affair for this Blacksburg family of six and worthy of celebration on Spring Family Weekend 2023, which starts Friday. Of special note, four of these six family members currently are pursuing degrees at Virginia Tech.
Every college features its share of legacy students – children of alumni – but three of those attending college at the same time seems rare. That mom is working on a master's degree makes this story even more unique.
"It's been awesome," Katie said. "We see each other a lot, which is just so cool. We get to go home and hang out with family a lot. … On campus, I will just get lunch with them or go see Will's dorm. I'll go hang out with him and his friends, and it's just really cool to be in the same place. In high school, we didn't really get to have the student experience together. Kids in high school are separated, honestly, but in college, you definitely get to do a lot together, and it's awesome."
Dawson, the oldest child and a senior pursuing degrees in both corporate finance and entrepreneurship from the Pamplin College of Business, started the parade of Racek children going to Virginia Tech in 2019. He originally wanted to play football in college and received a scholarship offer from Jacksonville University. Like many local teens, a part of him longed to get away and try something different.
But when it came time to decide on a college, Dawson said he had a gnawing feeling that he needed to be at Virginia Tech.
"I just felt like I was being called here, and I felt like there was something I needed to do here," he said. "I wrestled with it. … I think it's partially because I was close with my family and how close we are to the community here and how we're very integrated. My dad's a pastor and a real estate broker, and so I'd say we're pretty integrated into the Blacksburg area."
Katie followed a year after Dawson's enrollment and is working on a degree in human nutrition, foods, and exercise from the College of Agriculture and Life Sciences. She eventually hopes to become a high school science teacher or a sports nutritionist. Will is a first-year student and pursuing a degree in hospitality and tourism management from the Pamplin College of Business. He is looking at management or entrepreneurial careers in the hospitality industry.
Both applied to other universities, mostly within Virginia, and both factored in academics and costs. But Dawson's positive experience certainly influenced Katie, and later Will witnessed how both of his older siblings were enjoying the Virginia Tech environment. That left an impression.
"I realized why go anywhere else," said Will, who actually lives in the same West Eggleston room that Dawson lived in as a first-year student. "Why leave the community here when I know that the community's just what I'm looking for? I got to know that from just being involved in my older sister's and older brother's communities. … That was extremely important for me going in because community can create and foster livelihood, so it's something that everyone needs."
"They all made their own separate decisions to attend Virginia Tech based on different reasons," Lisa said. "It's not like we said, 'You really need to go here. This is your only option.' They applied everywhere, and they made their own decisions to come, but I think they did see the benefit of 'older brother had this opportunity and I really want to have that too.'"
Last year, Lisa began working on a master's degree in leadership studies. Only the youngest child, a junior in high school, remains at home, and with the other three having left the house, Lisa found herself with additional spare time.
A longtime employee of the university, Lisa spent 10 years in an academic dean's office before moving into Student Affairs, where she works as a staff member within Cook Counseling Center. Virginia Tech's tuition assistant program for employees enables her to take six hours of courses for free each spring, summer, and fall, or up to 12 hours a year.
"I just always want to be learning and growing and changing and this is the first time I actually had the time to work on the degree itself," she said. "I really love anything that has to do with a student thriving and success, or anything that benefits or contributes to student wholeness and well-being.
"That was also why I wanted to join in the work of Student Affairs because there is that focus on well-being and just kind of overall holistic student success and thriving. I really have a heart for that with everything, whether it's students, staff, or faculty."
The four of them being at Virginia Tech allows them to maintain close familial ties. Joe and Lisa are members of the University Club, so the family often gets together for breakfast, and the children occasionally will meet each other or their mom for lunch. They all usually participate in family dinners when possible, and Sunday nights are regularly reserved for ice cream dates.
All three are heavily involved with Young Life, a faith-based ministry with a focus on mentoring local high school and middle school kids, helping them grow in their faith, and following Jesus. Dawson and Katie serve as leaders, and Will is training to be one.
"The campus is definitely big enough for them to live their own lives and connect when they want to and not when they don't," Lisa said. "It's interesting. They do have a lot of the same friends and so they do maintain the relationships with one another. They didn't follow each other to Virginia Tech necessarily, but they benefit from each other's social networks. I think they really enjoy having that familiarity with each other and with the campus."
This semester marks the final one for Dawson, who graduates in May – the start of an eventful summer for him. He is marrying high school sweetheart Sarah Boyle, and he starts his job with a venture capitalist company in Greenville, South Carolina, that invests in start-up businesses throughout the southeast. He started working part time for the company this spring to become integrated.
The pending life changes leave him both excited and nostalgic.
"I'll miss it, but I think this new life I have coming will be exciting," Dawson said. "I've been kind of excited looking to this next stage of life of something new to learn and something new to do, figuring out what that looks like and how do I apply what I learned at Virginia Tech, how do I apply what I learned about being close to home and in college and being supported by my family. Now, how do I do that on my own?"
Dawson's pending departure leaves his family with conflicting feelings – happy for his future opportunities but knowing that his absence leaves a void.
"Just knowing that he's going to be gone in a few months, I've been proactive and sharing more experiences with him and just being a part of his community a lot more," Will said. "In that sense, I'm very happy that I've been able to have at least one year with him at our school. But next year is going to look different."
"It's not a sad thing," Lisa said. "It's just a change, and we remind ourselves that this is what was supposed to happen. You did a good job [as parents], and they're growing up and leaving."
The Racek family will spend the next few weeks enjoying this special time. In a society that often celebrates firsts – first birthday, first time walking, first day of school, first job – they said they plan to relish these final moments before Dawson embarks on a new adventure.
Dawson, and also Katie and Will, know that their times at Virginia Tech eventually will end. Their love of it and what it has brought to their family will not.
This university always will be a thread that brings this family together.
"Thinking back, I would never do anything differently because, staying here, I've gotten so much good quality time with my family," Katie said. "I wouldn't change it at all."

Zeke Barlow and Max Esterhuizen for Virginia Tech