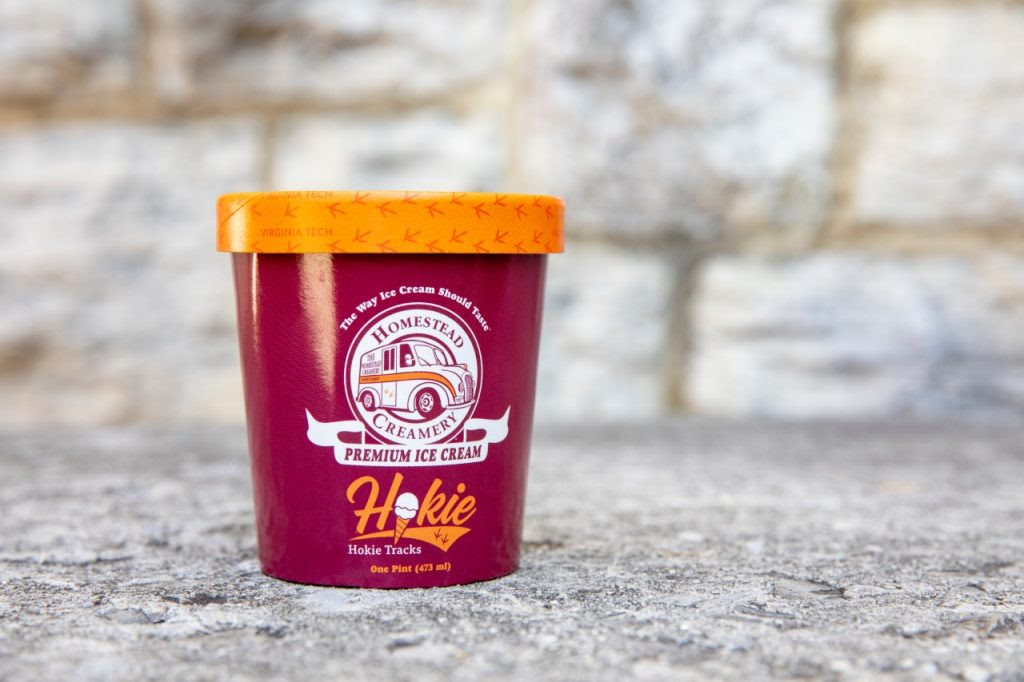 Are you ready for a sweet treat? 
Hokie Tracks, the first ice cream of the Hokie Nation, is now available at grocery stores and specialty shops across Virginia. 
Released in ice cream shops and restaurants last fall, Virginia Tech alumni, students, friends, and fans can now find pints of the Hokie-inspired delicacy near them using Homestead Creamery's product finder tool.  
Born out of a collaboration between the College of Agriculture and Life Sciences' nationally ranked Department of Food Science and Technology and the award-winning Homestead Creamery in nearby Burnt Chimney, Va., Hokie Tracks is the latest example of Virginia Tech's commitment to bringing innovative, world-class research to market for the benefit of not only the commonwealth, but also for its students.
This creamy vanilla ice cream swirled with a ribbon of salted caramel and dark chocolate-covered pretzel chunks was developed from the ground up by Hokies for Hokies. Department of Food Science and Technology faculty members Joell Eifert '88, M.S. '14 and Brian Wiersema '98 worked with Homestead's team on Hokie Tracks' flavor profile and recipe development to create something worthy of its namesake. 
"We were looking to find a flavor combination that covered most of the taste sensations, and we really wanted an ooey gooey decadent flavor so it had to have some chocolate in it," said Eifert, Hokie Tracks co-creator and educational extension specialist. "I've worked with Homestead in the past and knew they'd be the perfect partner for this endeavor. Just using their ice cream base is a great start to a great ice cream."
Homestead Creamery — a small, locally owned dairy processing plant seated among the foothills of the Blue Ridge Mountains — has been serving up gourmet milk, ice cream, custard, eggnog, and more along the East Coast since 2001. Its dedication to locally sourced, quality ingredients and sustainability made it the ideal partner to team up with Virginia Tech to craft a Hokie ice cream. 
Hokie Tracks is the first flavor to result from Virginia Tech's partnership with Homestead Creamery, but those who are already fans will be excited to know that additional flavors are in development and planned for release in the near future.
A percentage of the proceeds from sales of Hokie Tracks supports experiential learning opportunities, scholarships and more in the Department of Food Science and Technology.
"As an alum, it's really great that we got to make this product that allows Hokies to support other Hokies," said Brian Wiersema, the pilot plant manager who also co-created the ice cream. "It doesn't hurt that it's also delicious. I'm excited to see people grab a spoon and dig into a pint for the first time."  
The new pint container label design features university trademarks, including the word Hokie and the Hokie Tracks marks, which represent the footprints of Virginia Tech's beloved mascot, the HokieBird. The design was created by Virginia Tech Communications and Marketing Graphic Designer Shanin Glenn in collaboration with Homestead Creamery.
Submitted by Virginia Tech