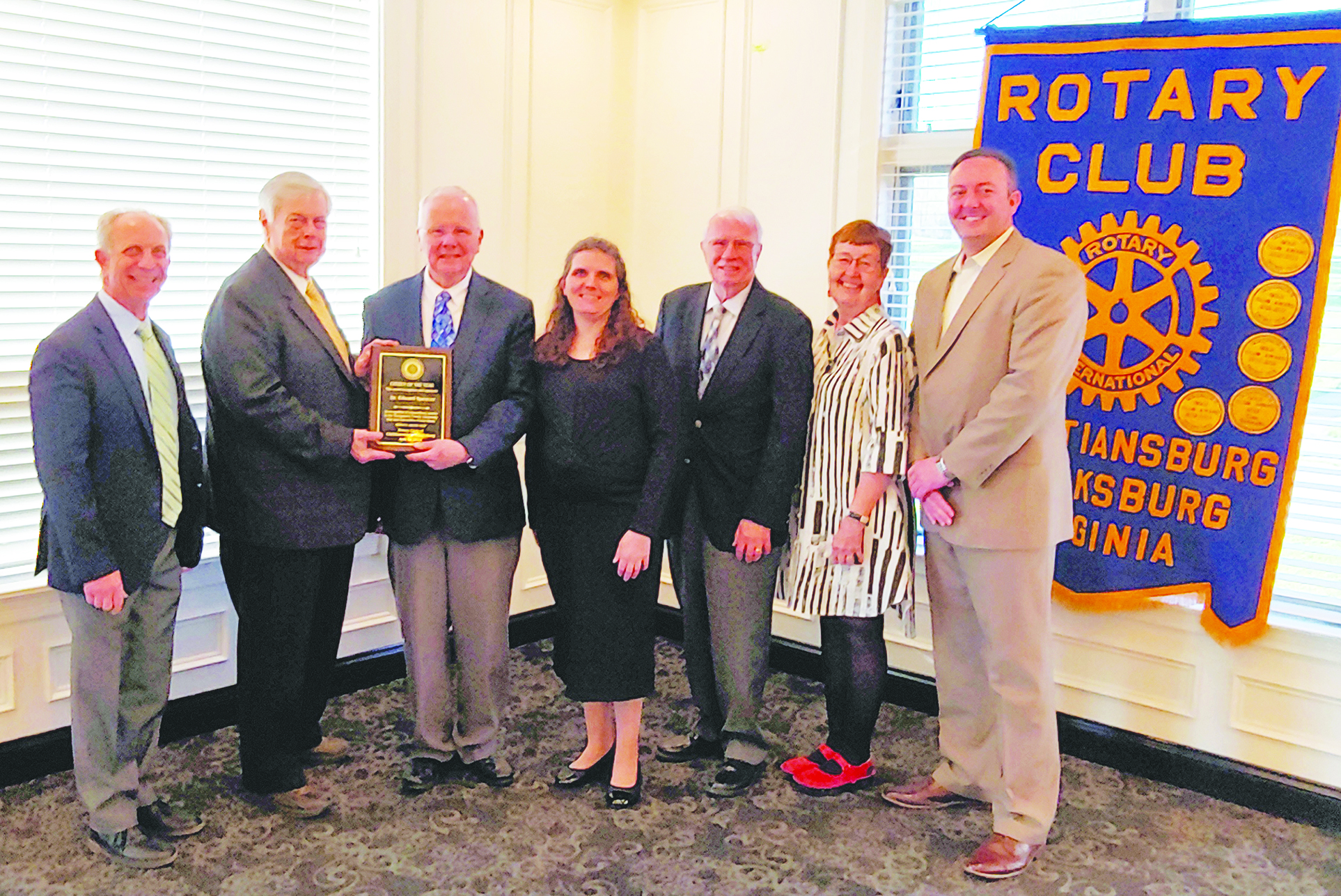 The Rotary Club of Christiansburg-Blacksburg presented its 2023 Citizen of the Year Award to Dr. Edward Spencer at their April 10 meeting. 
The Citizen of the Year Award honors a non-Rotarian whose voluntary acts and services have made the Christiansburg-Blacksburg area a better place in which to live. "Spencer's life of volunteerism and service has unquestionably improved lives throughout the New River Valley," the Rotary Club announced.
Spencer, Vice President Emeritus for Student Affairs, retired in 2012 after 30 years of service to Virginia Tech. While working, Spencer was active in leadership 
roles with the Blacksburg Presbyterian Church; United Way of Montgomery, Floyd, and Radford; Free Clinic of the New River Valley, Planned Parenthood of the Blue Ridge; Town/Gown Community Relations Committee; Giles Community Apartments Corporation; and Westminster Presbyterian Homes. In retirement, he has focused his 
attention on two organizations that help the elderly. 
 "In the New River Valley, we are fortunate that when people retire, they don't stop working," said Citizen of the Year Committee Chair Doug McAlister.
Spencer has been on the Board of Directors of Warm Hearth Village since 2013, becoming the Chairman of the Board in 2016. In this role, he has overseen the 
development of the Woods Edge active adult community, Warm Hearth at Home home health care service, a Carilion Clinic Family Practice sited within Warm Hearth Village, and replacement of the long-time CEO after her recent retirement. 
"From my point of view, I cannot think of anyone more deserving of this award," Current President and 
CEO of Warm Hearth Village, William Lester, said of Spencer. "Ed has generously volunteered his time and shared talents with our employees, residents, and the community while positioning the Warm Hearth Village Board of Directors for success for years to come."
Spencer has been on the Sojourn Center Board of Directors since 2013, becoming Vice President in 2019. Sojourn Center's mission is to build a state-of-the-art inpatient 
hospice center to serve the terminally ill, staffed by experts in end-of-life care in the New River Valley to celebrate and lovingly support a person's final passage while offering dignity and comfort to all involved at the end of life. As a member of the Board, Spencer has actively engaged with hospitals, hospice care agencies, the Virginia Department of Health, legislators, architects, town and county officials, and many other groups to gain understanding of and support for the project. 
President of the Sojourn Center Board of Directors, Anne Judkins Campbell says that all of these groups "have benefitted from Ed's communication skills and kind personality as well as his extensive life experience and intellect."
"Ed's passion and devotion to the elder community, specifically those with time limiting illnesses, is remarkable," she said.
Upon receiving the 2023 Citizen of the Year Award from the Rotary Club of Christiansburg-Blacksburg, Spencer said, "I think role models are important," and
that he traces his passion for volunteerism back to his father who volunteered throughout his life, including for 26 years after retirement. He said he finds inspiration for the organizations where he volunteers from his father and mother-in-law, who lived at Warm Hearth Village, and his wife, Norrine, who died in hospice care. Spencer concurred with McAlister, expressing his gratitude for the many Virginia Tech employees and graduates in the area who take Ut Prosim to heart, continuing to "work" as volunteers long into retirement and improving our collective quality of life. 
The Rotary Club of Christiansburg-Blacksburg is celebrating 100 years of Service Above Self in 2023. Local leadership recognition, youth development programs, and community service projects as well as sponsorship of the Virginia Tech Rotaract Club and participation in Rotary International programs such as PolioPlus exemplify this motto. For more information, find @ChristiansburgBlacksburgRotary on Facebook.
Submitted by the Rotary Club of Christiansburg-Blacksburg