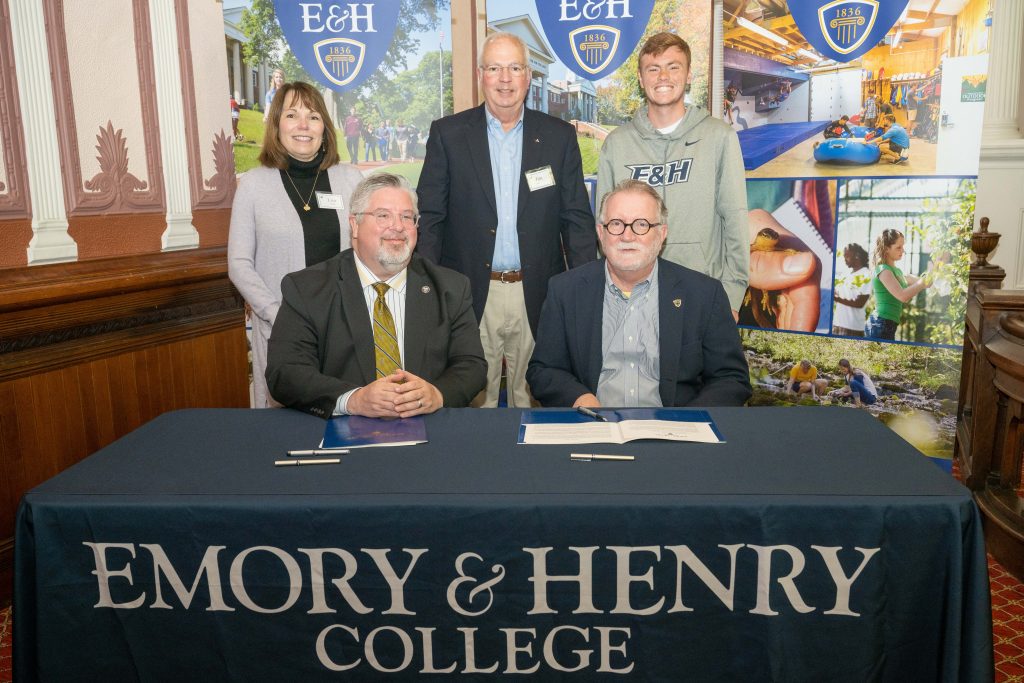 The King-Earp-Ross Memorial Endowed Scholarship dedicated to a legacy of three alumni educators
A signing ceremony was recently held to acknowledge The King-Earp-Ross Memorial Endowed Scholarship, established in December 2022, by the initial donor, Evans L. King, Jr., to recognize and acknowledge the outstanding accomplishments and life of his father, Evans L. King '34, as well as those of James E. "Buddy" Earp '51 and Omar G. Ross '54. 
The endowed scholarship was established with an initial gift of $50,000 by the King family. The scholarship will help support students from Christiansburg High School (CHS) to attend Emory & Henry College.
"The King-Earp-Ross Memorial Endowed Scholarship recognizes and honors the memories of these three exceptional Emory & Henry graduates who worked for many years in the Montgomery County (Virginia) School System, each serving faithfully as principal of Christiansburg High School at some point in their careers," said Emory & Henry College President John W. Wells.  "This scholarship also acknowledges the loyalty and steadfast commitment over the years of these three outstanding individuals to their beloved alma mater and recognizes the hundreds of students' lives touched and transformed by the extraordinary love and devotion of these gentlemen. It is the hope that this scholarship will memorialize the remarkable human qualities of these men and their unwavering spirit as community leaders, educators, coaches, and mentors."
This endowed scholarship is to be awarded to a graduating senior each year from CHS who has been accepted as a full-time student at Emory & Henry College, has a validated financial need, and has demonstrated leadership and integrity through school and volunteer opportunities. The award shall continue with the student selected for four years of matriculation if the recipient maintains at least a 3.00 overall GPA.
"We are honored to have this new opportunity to share these funds with a future student to attend Emory & Henry," said Jennifer Pearce, Vice President for Enrollment and External Affairs. "This is a touching and meaningful gift that will impact generations of students from Christiansburg. We look forward to the talent these future students will bring to our campus as well as the impact from their experiences during their time with us to take out into the world like these three amazing gentlemen."
The lives of King, Earp and Ross overlapped and intersected in many ways. They had in common their love for and gratitude to Emory & Henry College, their patriotism and service in the United States military, strong Christian faith, high moral values, and commitment to their community. 
The three were strongly connected through CHS, which was not only the launching point of their careers in education, but also perhaps the most cherished institution of their working lives. King was an alumnus, teacher, and principal at CHS, serving as principal when Earp was hired as teacher and head football coach after his decorated service in Korea. King later served as county superintendent when Ross was hired as assistant football coach, eventually replacing Earp as head football coach when Earp moved into school administration. Both Earp and Ross went on to serve as principal of CHS during the period when King was superintendent of schools. 
For many a school year, from the 1930s through the 1970s, one or more of these three great men turned the lights on and off at CHS and positively impacted many a young person's life.
Among the legacies left by these three men at CHS are the many Emory & Henry alumni who have coached and taught at CHS, such as Ken Stickley, Tom Spraker, Curtis Campbell, Joe Rusek, Carlis Altizer, Dave White, Mike Griffith, Dean Rowe, Rufus "Buddy" Shull, and Phil Robbins; and the many Blue Demon students who later attended Emory & Henry, including Tommy Barber, Mike Basham, Patty Phillips Robbins, James Pharis, Ryan Pharis, Shannon Pharis, Reginald Rose, Betty Lynn Lawrence, Walter Thompson, Tommy Reed, June Graybeal, Bonnie McCoy, Bruce McCoy, Steve Miller, Larry Epperly, Robert "Butch" Phillips, Ronnie Phillips, and Keith Neeley.
Currently, there are five students attending Emory & Henry from Christiansburg High School and two students who have made deposits to attend starting this fall.
Submitted by Emory & Henry