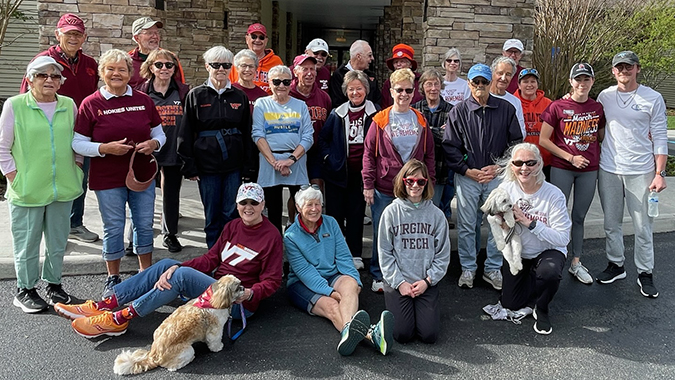 BLACKSBURG – For the fourth consecutive year Warm Hearth Village (WHV) residents, employees, and family members walked 3.2 miles on the village campus to commemorate the 32 souls lost at Virginia Tech on April 16, 2007.
John Hillison, a Warm Hearth Village (WHV) resident and former Virginia Tech Agricultural Education professor and department head and Dr. Richard Shepherd, resident and retired physician who specialized in emergency and family medicine, mapped 3.2 miles on the campus and recruited the 35 walkers.
Hillison was in the first Run for Remembrance in 2008 and has participated every year since. 
"I am so pleased with the turnout this year. Residents and their families, employees and their families all mingle well together and are a part of the greater community. We all care about each other and what happens in this town. Today was evidence of that as we came together to remember." Each year starts with a group photo and some words in honor and remembrance.
Sara Dalton, Village resident since October 2021, walked this year for the first time. "I wanted to do this walk to honor those we lost and to keep hope alive for a less violent future. The walk was beautiful and the camaraderie was great."
Warm Hearth Village is a nonprofit senior living community in Blacksburg that provides a full continuum of living options on our campus and in the home.
Submitted by Warm Hearth Village