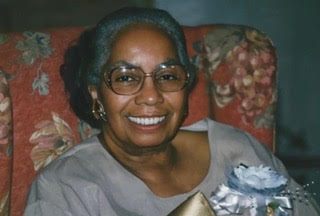 Myrtle Iris-Booth Lewis, of Blacksburg, was born in Bedford on November 27, 1925, and passed away on April 19, 2023 at the age of 97. 
She was preceded in death by parents Plez Booth and Ardell Creasy-Booth, of Bedford; her husband Walter H. Lewis Sr.; brothers John, William, and Charlie Booth; and daughters Jacqueline Lewis Eaves and Rev. Sheila Bradshaw. 
She is survived by daughters Marilyn Saunders, of Fairborn, Ohio, and Rev. Vera Worthy (Richard) of New Castle, Dela.; sons Walter H. Lewis Jr., (Bobbie) of Nashville, Tenn., and Rev. James Maszerine Lewis of Milwaukee, Wis. She is also survived by grandchildren Paul Saunders II, Brian Saunders, Karen Eaves, Stacey Hodges, Ceteka Gooch, Walter Lewis III, James Lewis, Jason Lewis, Jamon Lewis, Marilyn Lewis, Cathy Parmley, Kelly Mobly, Paul Mitchel, Kim, and Christopher Bradshaw, and those who loved and called her granny, Annette Sherman and Angel Woodard. She leaves behind 26 great-grandchildren and numerous great-great-grandchildren, as well as a host of nieces, nephews, cousins, and adopted children. 
Myrtle retired from Corning Corporation where she worked for many years as an Executive Administrative Assistant. She was the Mother of First Baptist Church of Radford. She served as a Deaconess and other various roles within the church. Mother Lewis was a member of the Pastors Aide and Francis Saunders Missionary Society. She also served as President of the Deaconess board for many years. 
Funeral services will be held Saturday, April 29, 2023, at noon at First Baptist Church, 555 Rock Road, Radford, with Rev. C. Coles Casey. Burial will follow in the Lewis Family Cemetery, Fairlawn. The family will receive friends Saturday prior to the service from 11 a.m. until service time. Arrangements by McCoy Funeral Home, Blacksburg.