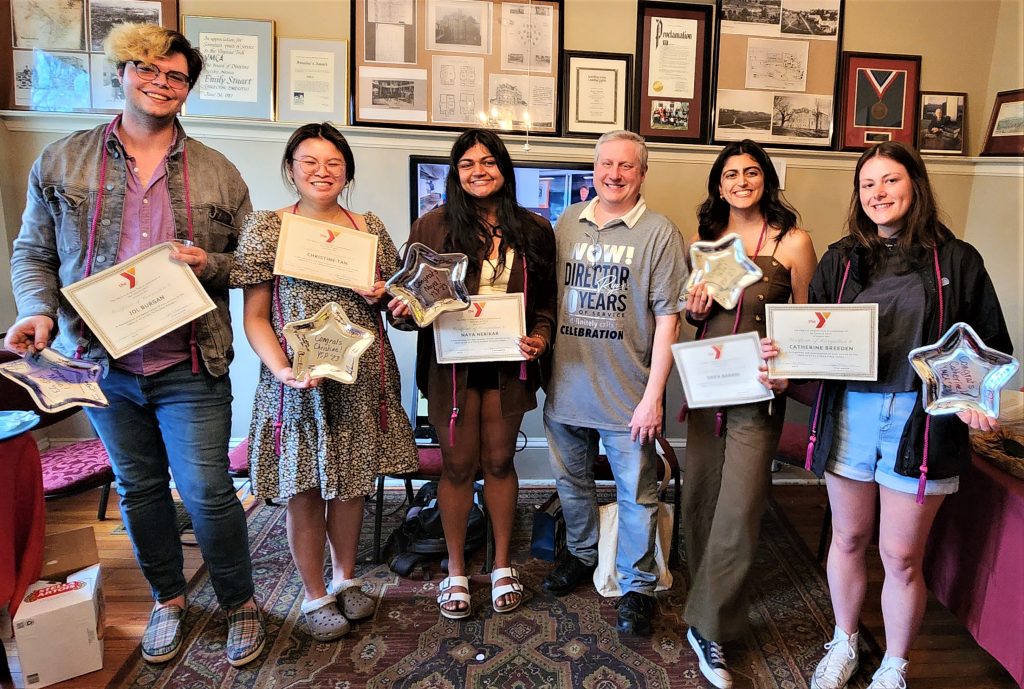 On Sunday, April 16, 2023 members of YMCA at VT staff, Board, volunteers and Y Student Program Leaders gathered for a special celebration at the Y Offices in the historic Lancaster House in Blacksburg. 
The organization recognized and honored Executive Director, Ryan Martin, for 10 years of excellent service, and celebrated our graduating student leaders.
"Ryan Martin took the helm of a ship in distress in 2013 when the YMCA at Virginia Tech was floundering," said Jim Lawrence, Board Treasurer of the Y. "With his attention to detail and persistent leadership, the Y was able to weather that storm and is now expanding programs with staff, student, and volunteer participation. With Ryan's leadership, the Y at VT is not only surviving; it is thriving. And planning is underway for next year's celebration of the organization's 150 years of service to the campus and surrounding community. The Board of Directors is proud of today's YMCA at VT and its rich history, and we look forward to the future with Ryan at the helm. Thank you, Ryan!"
As executive director, Ryan is responsible not only for the success of the organization, but also filling in for the needs of the organization day to day.  
"Ryan spends countless hours ensuring the programs are well staffed and supported even if it means filling in personally for volunteers when the need arises," said Meredith Jones, Board member. "Though an executive director position can be difficult, for 10 years Ryan has remained positive, energetic, and always does his work with a smile. He believes in filling community needs by leveraging the Y's resources and collaborating with other community groups. This has allowed our organization to capitalize on creative opportunities within our region providing much needed services. Our organization is extremely thankful for his leadership and perseverance to make this YMCA the success it has become."
During the event, the YMCA also celebrated its Graduating Y Student Leaders. Shifa Banani, has been with the YSL for two years and served as President of the Y Student organization this past school year. Naya Nerikar is in her second year as the program leader for Healthy Kids Day. Milee Makawana is the program leader for Joining Generations, a program connecting seniors in the community with Virginia Tech students. Christine Tan is the program leader for Meals on Main. Catherine Breeden is the Field Study for events and engagement activities. The five students will be graduating from Virginia Tech this May. Jol Burgan has been the Manager of our Thrift Shop for two years and is graduating from Radford University.