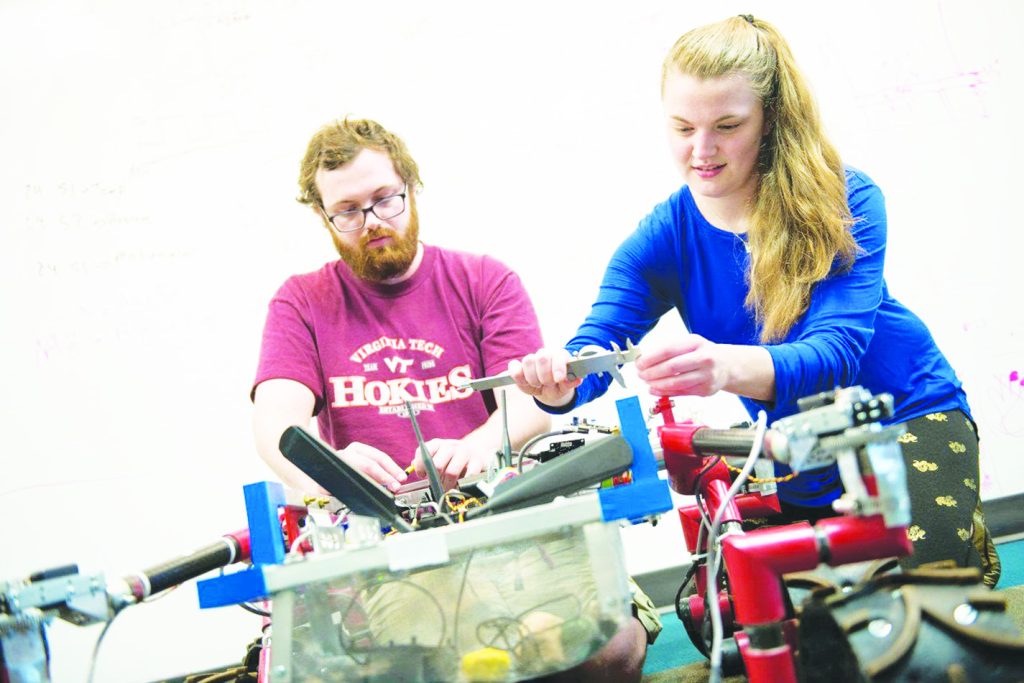 BLACKSBURG – Virginia Tech's ongoing emphasis on research and faculty resources continue to be reflected in university rankings, with several academic programs being rated highly in the U.S. News & World Report annual graduate school rankings released Tuesday.
The graduate programs in the university's College of Engineering, the Pamplin College of Business, and the Virginia-Maryland College of Veterinary Medicine all earned high marks, supporting Virginia Tech President Tim Sands' mission to make the university a top-100 global research university.
Virginia Tech's part-time Evening MBA program, offered by the Pamplin College of Business, led the way among the university's programs, coming in tied for No. 21 nationally out of 299 schools. The program, based in Falls Church, holds in-person courses in the evening and offers online elective classes in the summer.
"National rankings play an important role when selecting an MBA program because the reputation of a well-respected, highly ranked degree allows portability in this transient area and Virginia Tech provides graduates of the MBA program the credential to pursue their careers across the globe," Associate Dean for Graduate Programs Parviz Ghandforoush said. "As Virginia Tech's presence in and commitment to the Washington, D.C., region grows, the Evening MBA program is excited to continue to be a driver in graduate business education as a top choice of MBA programs."
Of note, the Evening MBA program continued its trend of being recognized nationally. The program has been ranked in the top 30 nationally for nine consecutive years.
"The enduring value of the Virginia Tech MBA program is reflected by the continued strong placement among the best part-time programs nationally, as ranked by U.S. News & World Report," said Dana Hansson, director of MBA programs at Virginia Tech. "Earning a spot among the highest 10 percent of part-time MBA programs in the nation including many Virginia Tech and Pamplin aspirational institutions, the latest ranking of No. 21 places the Evening MBA as the top choice in Virginia and is among the top three offered in the highly competitive market in the Washington, D.C., area."
Also, Virginia Tech's College of Engineering continues to receive national acclaim. Overall, the college's programs were rated tied for 30th nationally out of 202 schools, and nine of the college's specialty programs were in the top 20.
That list includes environmental engineering (tied No. 5), industrial (tied No. 6), civil (tied No. 7), agricultural (tied No. 12), aerospace (No. 14), electrical (tied No. 16), mechanical (tied No. 17), nuclear (tied No. 18), and petroleum (No. 19). In addition, the College of Engineering's computer engineering program was tied for No. 23 out of 152 schools, and the computer science program ranked tied for No. 35 out of 208 programs. This ranking was a three-spot increase from a year ago.
"We're pleased that the College of Engineering graduate program as a whole remains in the top 15 percent of ranked schools with multiple programs ranked among the top 10 nationally," said Holly Matusovich, associate dean for graduate and professional students within the College of Engineering. "We are also excited that several programs have advanced in ranking, including electrical engineering, environmental engineering, mechanical engineering, and computer science. Aligning education and research for impact remains a critical aspect of the College of Engineering's strategic plan, as does increased focus on graduate education. In combination, we are confident our efforts will continue to lead to sustained progress for our programs overall."
The Virginia-Maryland College of Veterinary Medicine earned a top-20 ranking. The college, which focuses on biomedical sciences and pathology and health sciences in addition to small and large animal clinical sciences, was ranked No. 19.
"It's a validation of all the hard work," said Ansar Ahmed, associate dean of research and graduate studies in the Virginia-Maryland College of Veterinary Medicine. "It's exciting. I know our students have been doing well, and so this ranking comes as a pleasant surprise to me. The metrics that we use, we've been increasing productivity. You must present two papers, you must go to national meetings, and you must take leadership in organizing symposiums and seminars, so I know we've done all the right things."
The university's College of Science fared well in the report, too, with the earth sciences (tied No. 33 out of 165 schools), physics (tied No. 50 out of 190 schools), math (tied for No. 51 out of 193 schools) and chemistry (tied No. 67 out of 212 schools) programs earning recognition. The physics and math programs jumped eight spots from last year's rankings.
In the College of Liberal Arts and Human Sciences, the public affairs and education programs earned high marks. The public affairs program was tied for No. 53 nationally of out 269 schools, and the education program was rated No. 83 out of 272 schools.
The U.S. News Best Graduate Schools ranking is based on two types of data — expert opinion about program excellence and statistical indicators that measure the quality of a school's faculty, research, and students.
Michael Stowe  for Virginia Tech