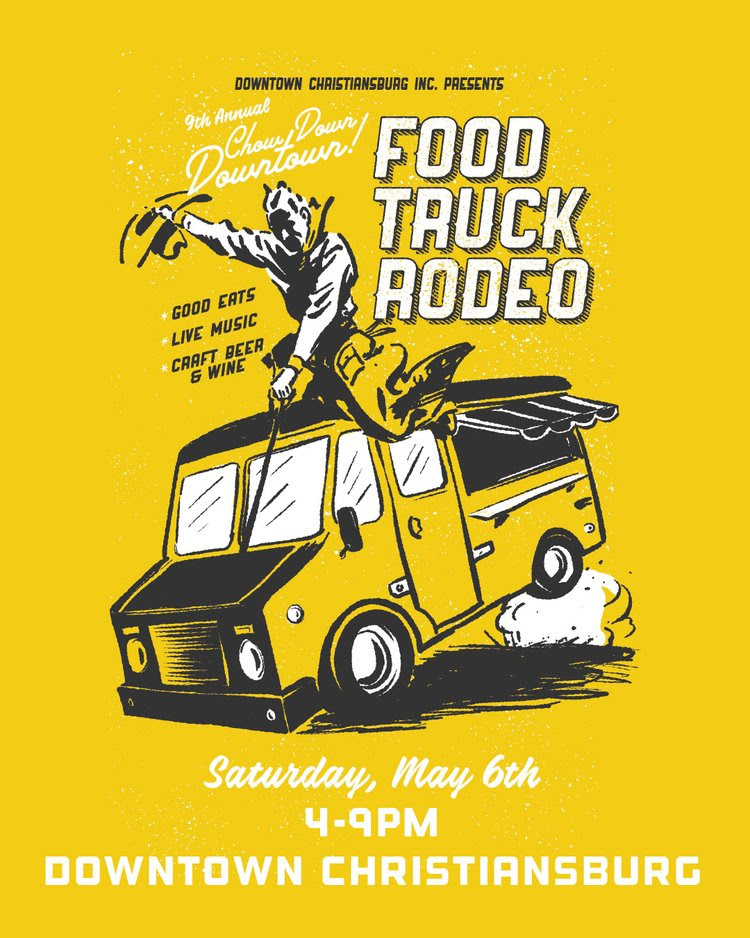 Lori Graham
Contributing Writer
CHRISTIANSBURG – The 10th annual food truck rodeo will be held in downtown Christiansburg today, Saturday, May 6, from 4- 9 p.m., bringing food vendors, music, adult beverages, and family fun for all ages. 
Elli Travis, President of Board of Downtown Christiansburg, Inc., (DCI), shares that the festival is run by volunteers who work extremely hard to provide a great event for all community members. 
Three musical acts will be playing at this year's festival, Music Road Co Trio will play at 4 p.m., Ripe Jive takes the stage at 5:30 p.m., and new this year will be Deep Jeep DJ Set who will begin entertaining festivalgoers at approximately 7:15 p.m. 
There are some new vendors this year such as Giggles the Bus, providing some vegan food options, and The Coffee Bus which is optimally located by the dessert truck. Community members will recognize other vendors from previous events as well, such as Bootleg BBQ, 800 Degrees Wood Fire Pizza, and Cabo Fish Taco. 
Adult alcoholic beverages such as beer, wine, spirits and cocktails may also be purchased and will be permitted throughout the event's location. 
Travis explained "we have an entrance and exit, so they can get the beverages and get food, and walk throughout the festival." 
"It was something the founders were passionate about, having something downtown and having the experience of enjoying the whole festival," she said.
There will be a couple of options for seating throughout the festival with community dining tables and seats, along with a dancing space in front of the stage near the Great Road Hall. 
Travis said well-behaved dogs are permitted, there will be painting and activities as well for children, and a group will be doing a diaper-changing station. A Kids Zone is available along Hickock Street and can be located on the map as well.
"Bring yourselves and a friend, rain or shine the event will go on," Travis said, adding indoor seating will also be available in the Great Road Hall. 
The organizations' website, www.downtownchristiansburg.org, designates areas for parking, as well as handicapped parking made available on Commerce Street. 
Food trucks/vendors include: 
Bootleg BBQ
Cabo Fish Taco
Giggles the Bus
Grandpa Ike's Mini Donuts
Mountain Grille
Spoons Shaved Ice
Tacos El Tio
Squeeze'um and Shake'um Refreshment
Countryman Jamaican Grill
Munch Box
Empanada Nirvana
Bluegrass BBQ
The Coffee Bus
800 Degrees Wood Fired Pizza
The Blue Ridge Fudge Lady
Papa's Box
Local wine, spirits, and beer provided by:
Iron Heart Winery
JH Bards Spirit Co.
Blue Ridge Beverage (Craft and Domestic)