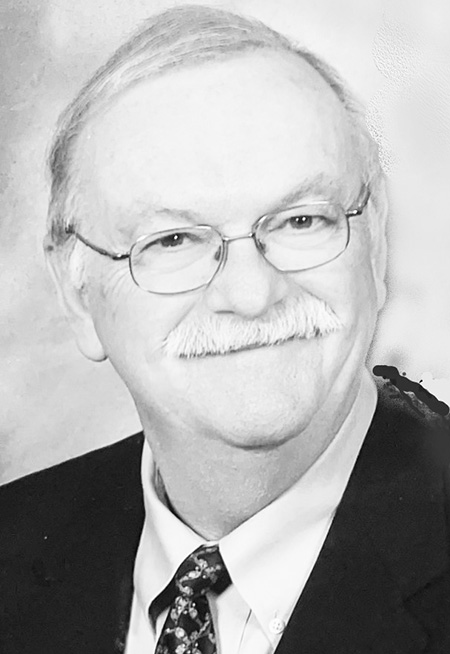 Our beloved David Lee Meincke, 76, of Ocean Isle Beach, N.C., formerly of Blacksburg, passed away after a courageous battle with cancer on April 29, 2023. David was born on December 14, 1946 and was the proud son of the late Henri G. Meincke III and Josephine Nichols Meincke. Born and raised in Roanoke, he was a graduate of Patrick Henry High School, class of 1965. David displayed honorable leadership proficiency in his teens as an Eagle Scout and Drum Major of the Patrick Henry Marching Band. It was during band camp at Concord College that he met the love of his life, his wife and partner of 59 years, Elizabeth Holdren Meincke (Libby) when they were both 16. Their love story is the stuff that fairy tales are made of and created a legacy for all who were blessed to witness the unconditional love and mutual respect that characterized their long marriage. 
David attended Roanoke College, majoring in chemistry, preparing for a long career in medicine. Following his graduation from Roanoke College, he married Libby in a beautiful ceremony on June 21, 1969 that continues to be regaled more than five decades later. The impressive couple made a lasting connection to Colonial Williamsburg on their honeymoon and often revisited during the holiday season to experience the Grand Illumination on cobblestoned streets while enjoying cider and cookies from Raleigh Tavern. 
David and Libby moved to Richmond where David began his formal medical education and residency at the Medical College of Virginia with a focus in Obstetrics and Gynecology while Libby financially supported them as a dedicated and caring elementary school teacher.  Following David's residency, he and Libby moved to Blacksburg where he began an almost 40-year career as a OBGYN, launching a new medical practice, Montgomery Obstetrics and Gynecology, alongside his dear friends and colleagues Dr. Charles Y. Davis and the late Dr. Bill Isenhour. David and Libby put down roots at Northside Presbyterian Church in Blacksburg and sang in the church choir for many years. 
Shortly after moving to Blacksburg David and Libby had their two beloved daughters, Allison Meincke Shaw and Kristin Elizabeth Kasselman, 11 months apart – Irish twins! The family of four created beautiful memories sailing on David's boat on Smith Mountain Lake, camping in the pop-up camper, and visiting Florida and Sunset Beach, N.C. in the summers. The most treasured trip was sailing the Virgin Islands together as a family, a tradition that was established with dear lifelong friends Danny and Ann Hardy. 
David's chivalrous character and love of travel were firmly developed during his teenage years when he drove his widowed neighbor and her disabled child across the country, and after earning a trip to Italy when he won the Young Columbus VIII contest for his stellar newspaper sales. In addition to travel, David enjoyed woodworking and built an elaborate backyard deck and designed and resurrected a stilted tree house for his family at their home in Blacksburg. David also enjoyed dove hunting trips to Mexico and the Eastern Shore in Maryland. In the fall you could always find him hiking in the woods in pursuit of a deer, a passion that he passed down to his brave daughter Kristin who took a record breaking 444-pound black bear with a bow in Saskatchewan, Canada. David was humble to his core and had so many talents, including an impressive gift for cooking, creating art in his kitchen for family and friends. He loved being on the golf course, occasionally he played clever golf ball pranks on his older brother Don. His sly moments were few but entertaining, sometimes accompanied by funny nicknames during five-card Gin Rummy. 
David and Libby's annual Christmas Eve parties in Blacksburg were legendary and cultivated a lasting tradition for their close circle of friends and extended families. David's hands were never idle, his passion and purpose to help others in all facets of his life demonstrated focus and discipline. His gentle yet influential footprint in our community is nothing short of inspiration. David delivered more than 4000 children in his stunning career and expertly cared for countless other adults in various concentrations of medicine.  
David analyzed and heroically managed his oldest daughter Allison's cancer battle with Non-Hodgkins Lymphoma in 1997 and it was because of his careful research that she was able to conceive children after chemotherapy treatment. David was on the front lines, at Lewis Gale Montgomery Hospital, on April 16, 2007 attending to the victims in the Virginia Tech shooting. The Hippocratic Oath was tattooed on his heart and he continued the practice of providing exemplary medical service even as a stage-four cancer patient himself. In February 2023 David was flying back from Las Vegas, a trip planned to celebrate what he believed was his cancer's remission. An emergency medical call rang out over the cabin speakers. Without hesitation, David answered the call and cared for a very sick lady who was unconscious while toting his portable oxygen unit the entire length of the plane. There was never a pause, his selfless love and genuine care for others always came before preservation for himself.
Our hearts are comforted that our patriarch, our protector allowed Libby, Allison and Kristin to hold his hands (and his heart) as he took his last breaths and made his final transition to heaven, finally free from the pain of his illness. This was the ultimate gift to his girls who had been protected for a lifetime by their fearless and deeply loving husband and father to be able to hold David close in his final moments on Earth. The setting of his passing proved poetic and absolutely perfect for the kindest man many of us will ever know, surrounded by flourishing gardens, singing birds, and a gorgeous sunrise at the SECU Brunswick County Hospice House and a compassionate team of angelic nurses.
In addition to his adoring wife, Libby, of Ocean Isle Beach, N.C., David is survived by his two devoted daughters and their supportive husbands who he considered as sons, Allison Shaw (Kevin), of Blacksburg, and Kristin Kasselman (Bryan) of Stilwell, Kan. David was also blessed to be a grandfather to seven surviving grandchildren, Lindsay Shaw Duck (Ryan) of Christiansburg, Allison L. Shaw of Peoria, Ill., Chloe and Christian Davis of Blacksburg, and Atali, Dakota and Peyton Shaw of Chapel Hill, N.C. David is also survived by his two wonderful brothers, Donald Meincke (Bonnie) of Ocean Isle Beach, N.C. and Darryl Meincke (Phyllis) of Chesapeake, Va. along with six nieces and nephews, and eight grand nieces and nephews.
Family and friends are invited to attend a Celebration of David's Life on Friday, July 7, 2023 at 3 p.m. at Ocean View Baptist (7025 Beach Drive, SW – Ocean Isle Beach, N.C.), officiated by his beloved brother and pastor, Darryl Meincke.  Reception to follow the service in the banquet hall. 
In lieu of flowers, donations can be made to the American Cancer Society www.cancer.org or Colonial Williamsburg www.colonialwilliamsburg.org. Online condolences are encouraged and may be sent to the family at www.fulwoodfuneralservice.com.