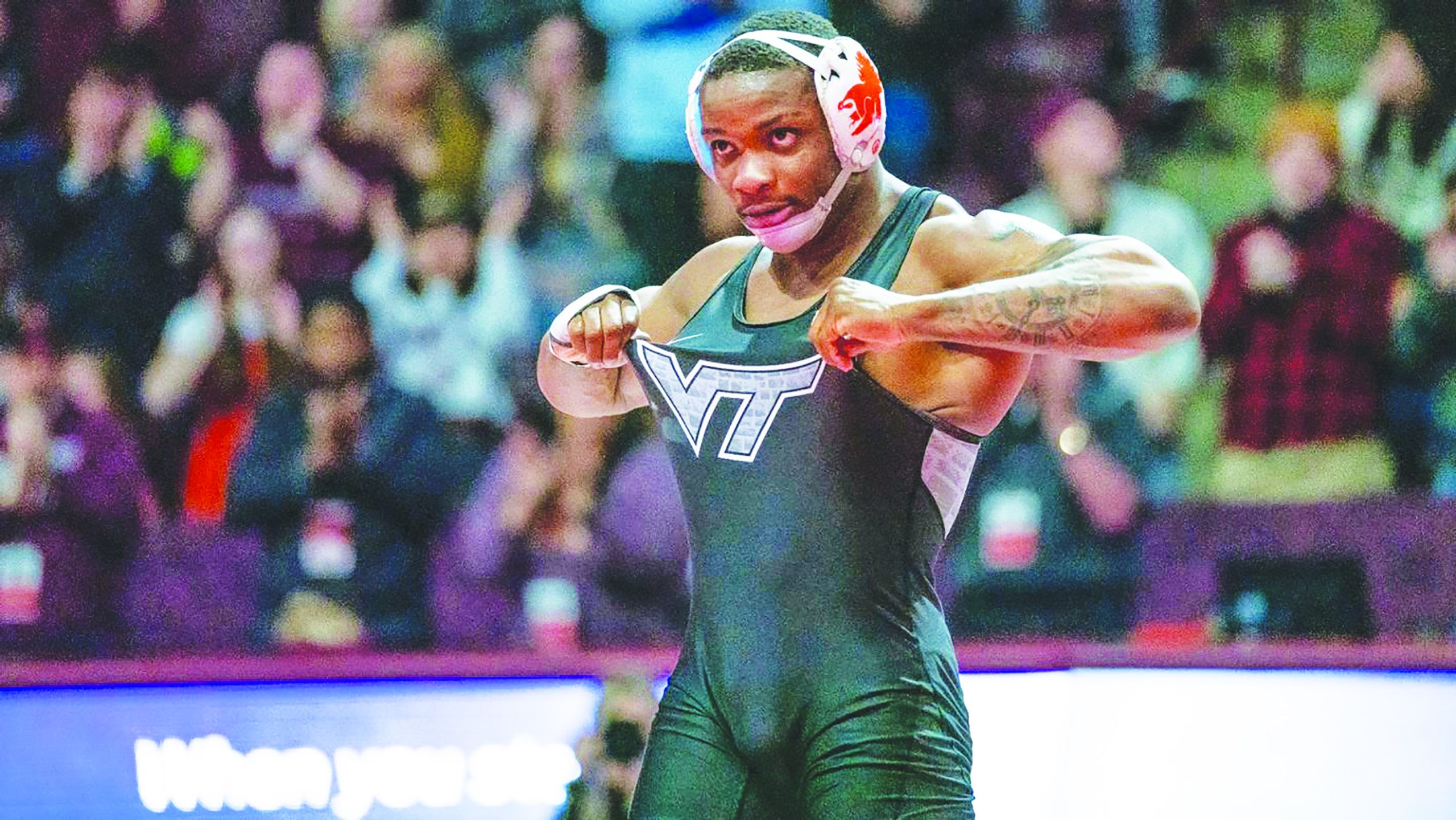 Mekhi Lewis is coming back. 
The greatest wrestler in Virginia Tech wrestling history – and one of the most decorated athletes to ever represent the Hokies – has announced his return for his final year of eligibility for the 2023-2024 season. 
With Lewis (174-pounds) returning, Tech retains a strong core of returning All-Americans alongside Eddie Ventresca (125-pounds), Sam Latona (133-pounds), Caleb Henson (149-pounds), and Bryce Andonian (157-pounds). The five paced the Hokies for third most All-America honors in the country and another top-10 finish at the 2023 NCAA Championships in Tulsa, Oklahoma.
"Mekhi has done a tremendous amount for Virginia Tech Wrestling and I am grateful for the opportunity to spend a seventh year with him as he chases his goals," head coach Tony Robie expressed. "In addition to being an incredible competitor on the mat, Mekhi always represents Hokies Wrestling with class and humility. We appreciate everyone that has supported Mekhi throughout his journey and is behind him as he puts on a Virginia Tech singlet for one more season. We are ecstatic that Keith, Charlotte, Keith Jr., and Mekhi Lewis will be back for the 2023-2024 season."
Lewis became the first national champion in program history when he defeated Penn State's two-time defending national champion, Vincenzo Joseph, for the 165-pound title at the 2019 NCAA Championships in Pittsburgh, Pennsylvania. After taking an Olympic redshirt in 2020 and withdrawing from the 2021 national tournament due to injury, Lewis – moving up to 174-pounds – would once again make history to become Tech's first two-time national finalist in 2022. The Somerset, New Jersey native would place fourth at the 2023 NCAA Championships despite battling numerous injuries to become Tech's sixth three-time All-American and the first wrestler in program history to place top-four in three appearances. Lewis will look to become the Hokies' first four-time NCAA All-American in program history – David McFadden was the first three-time NCAA All-American and NCWA All-American. 
The only two-time ACC Wrestler of the Year awardee in Tech wrestling history, Lewis is just the eighth Hokie to win three ACC titles with a chance to join Devin Carter to become the second-ever to win four with his return next season. The national and conference champion also made history back in 2018 by becoming the first world champion in program history with his junior world title while representing the Southeast Regional Training Center and the United States at the United World Wrestling Junior World Championships in Slovakia. Lewis was the only American to win a world title that year.
In addition to his accomplishments off the mat, Lewis has had a philanthropic impact in his community – giving more than $8,000 of his own NIL earnings as well as helping raise and contribute over $15,000 to multiple charities in his home state of New Jersey as well as Micah's Backpack in Blacksburg.
Virginia Tech Athletics