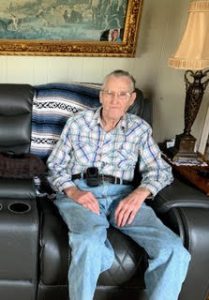 Roy Miller Cumbee, 86, of Dublin, died, Monday, May 8, 2023, at Pulaski Health and Rehabilitation Center. 
He was born on June 8, 1936, to the late Charlie and Lida Bell Cumbee. He is also preceded in death by his sisters, Marie Janney, Buelah Ann Shaver, and Maybelle Dooley; and brothers, Alfred Cumbee, Calvin Cumbee, and David Cumbee. He is survived by his daughter, Cheryl Stephanie Spencer; son, Roy Christopher Cumbee; grandchildren, Brandon Spencer, Sarah Spencer, and Triston Cumbee; great-grandchildren, Briley Spencer and Hunter Harshbarger; brother, Richard Cumbee (Barbara); sister-in-law, Dorothy Cumbee; several nieces, nephews, special friend Sheila, and his dog Murray. 
Graveside services will be conducted Monday, May 15, 2023, at 11 a.m. in the Westview Cemetery with Pastor David Neal officiating.