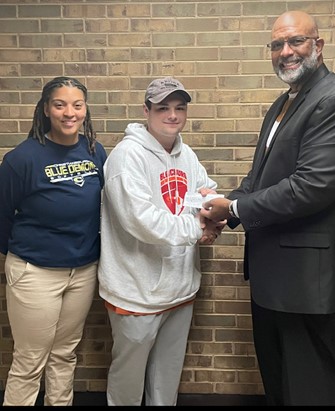 The Kiwanis Club of Christiansburg, which "focuses on serving the children of the world" is proud to have Christiansburg High School (CHS) Junior Ty French contending for International Champion at the DECA International Career Development Conference.  
April 21-26, Ty attended the DECA International Career Development Conference known as ICDC is Orlando, FL. DECA ICDC is the culmination of the DECA year where more than 20,000 high school students, teacher-advisors, business professionals and alumni gather for several days of DECA excitement. Prior to this conference, Ty finished first in his category on the district-level at the District Leadership Conference (DLC) held at Roanoke College and qualified him for a run at the State Leadership Conference (SLC) held at Virginia Beach. He was one of eight students to represent Christiansburg High School at the state-level conference. As a result, Ty finished 9th overall at SLC. 
Ty competed in the DECA Competitive Events – Principles of Marketing category at ICDC where he demonstrated college and career knowledge and skills.  
Ms. Harris-Gilliam, DECA sponsor and Marketing Teacher at CHS said, "The CHS DECA program is back in full-swing and hopes to continue to shape emerging leaders for careers in Marketing, Business, Finance, and Hospitality. In addition to representing CHS on the international level, Ty serves as the Vice President of Marketing for our local chapter." 
The Kiwanis Club of Christiansburg (www.christiansburgkiwanis.com) is proudly supporting Ty with his representation of CHS at ICDC through club events like the Town Spring Kickoff and Rockin' on Main event, with the third weekend in September 50th anniversary of the Kiwanis Wilderness Trail Festival in downtown Christiansburg (www.wildernesstrailfestival.com)  
Kiwanian Oliver Lewis presented Ty French with a check in April to help with his attendance in the ICDC.