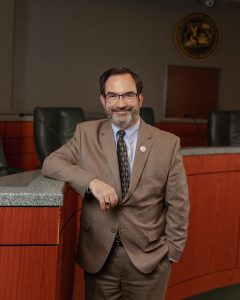 Montgomery County Administrator Craig Meadows will be retiring on November 3, 2023, after serving in the role since 2009. 
According to a statement by Montgomery County, the Board of Supervisors "will be discussing next steps for the County Administrator position."
"Craig is an absolute champion for Montgomery County," said Montgomery County Board of Supervisors Chair, Sherri Blevins. "His leadership has been and will continue to be valued by both the board and employees. Montgomery County has been extremely fortunate to have such an exemplary leader like Craig. We will all miss him greatly, but we wish him and his family all the very best in his retirement." 
Meadows said he will continue to live in the community.
"I have enjoyed my time as County Administrator in Montgomery County," said Meadows. "Our community really is a special place, with a rich history and a very exciting future. This is home for me and my wife, Rhonda. We will continue to be engaged in our community as we enjoy our retirement and our children and grandchildren."
As Montgomery County Administrator for the past 14 years, Meadows "has led Montgomery County through significant growth and even a few tragic events with grace and strength," reads a statement from the county. 
"He has facilitated over 20 new construction and renovation projects in our community to address education, public safety, recreation and key infrastructure needs," the statement reads. "He also continues to focus on economic development and growing and expanding existing businesses in our community." 
"I was on the Board of Supervisors when Craig was hired as the Administrator," said Montgomery County Board of Supervisors Vice Chair, Mary Biggs. "As soon as we met Craig, we knew he was exactly what Montgomery County needed. He has always been accessible and approachable. He is a wonderful collaborator with local, regional and even national partners and colleagues. His service and leadership in outside organizations has brought both recognition of and increased knowledge to Montgomery County." 
Meadows involvement in regional organizations and initiatives over the years "have had a significant impact on [the] community," the county statement reads, including helping to establish the New River Valley Emergency Communications Regional Authority, which includes the towns of Blacksburg and Christiansburg, Montgomery County, and Virginia Tech. 
Meadows also organized a forum to discuss the planning and anticipated growth of Carilion Clinic and Virginia Tech and facilitated a Regional Trail Initiative. 
"All of these things have increased efficiency for each locality and greatly expanded and improved services to citizens throughout the region," the county stated.
Meadows serves on the New River Valley Emergency Communications Regional Authority; the New River Valley Regional Water Authority; the Metropolitan Planning Organization Policy Board; the Western Virginia Regional Jail Authority; the Economic Development Authority; Montgomery Regional Tourism Board; Public Service Authority; Greater Montgomery Liaison Group and County/School Liaison Group; and the Fire and Rescue Commission. He has had an active role on the New River Valley Regional Public Health Task Force since its inception in March of 2020 to deal with the COVID-19 pandemic. 
He also has roles in state and national organizations including the Virginia Association of Counties; the Virginia Local Government Management Association; and the International City/County Management Association. 
Meadow's career prior to Montgomery County included a stint as Interim Town Manager of Red Springs, N.C., city manager of Monroe, N.C., and of Bedford, Va., as assistant city manager in Monroe, N.C., and as Director of Finance of Monroe, as well as assistant city manager and director of finance and administration in Mount Airy, N.C.
Meadows is a certified public accountant who started his career in private industry in accounting. He has an undergraduate degree from Gardner-Webb University and is a graduate of the municipal administration program at the University of North Carolina at Chapel Hill's School of Government. He also earned a graduate certificate in local government management from Virginia Tech in 2012 and is a 2015 graduate of the Senior Executive Institute at the Weldon Cooper Center for Public Service at the University of Virginia. 
News Messenger staff report