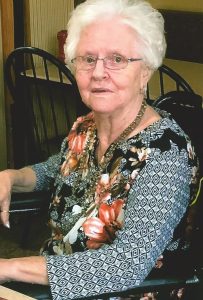 Lois Crigger O'Dell, 84, of Dublin, lost her battle with Alzheimer's Saturday May 6, 2023, at Summer Stone Health and Rehabilitation Center in Kernersville, N.C.  
Mrs. O'Dell was a kind and loving person who lived her life in the support of others. She was a member of the Pulaski Church of Christ. She was preceded in death by her husband, Otis O'Dell; parents, Walter and Edith Crigger; two brothers, Franklin Crigger and Stan Crigger; and one sister, Elva Bratton.
She is survived by her daughter and son-in-law, Vena and Bentley Duncan of Roanoke; son and daughter-in-law, R. A. and Velena O'Dell of Kernersville, N.C.; brother and sister-in-law, J. W. and Francie Crigger of Pulaski; grandchildren, Brooks and Katt Duncan, Afton O'Dell and Chris Jones, Landon and Brooke O'Dell; great grandchildren, Harper and Maisie Duncan, Camden Jones and Parker Kate O'Dell. 
The family received friends on Wednesday, May 10, 2023 at the Mullins Funeral Home in Radford, 120 W Main Street, Radford. Funeral services followed with Pastor Burl Bowman officiating. Burial followed in the Shiloh Cemetery in Pulaski County.
The O'Dell family is in the care of Mullins Funeral Home & Crematory in Radford.