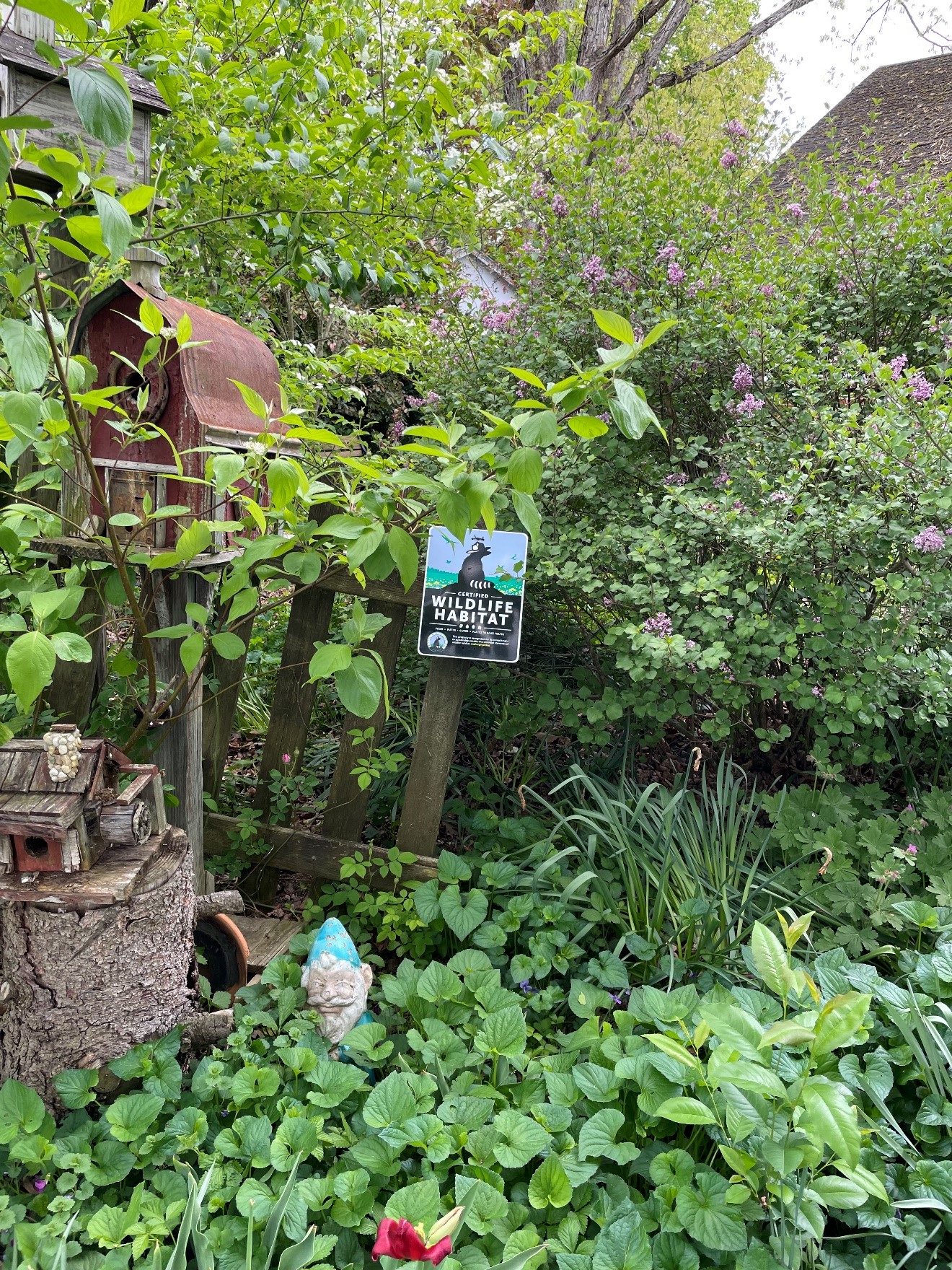 The first tour date is Sunday, May 21
BLACKSBURG – The Sustainable Blacksburg nonprofit community organization is sponsoring free tours of local gardens showcasing sustainable gardening and landscaping practices, including reduced lawn area, native plants, wildlife-friendly plantings, food production and upcycled garden décor. 
The gardeners hosting are making their yards about more than growing grass.
The tours are held on third Sundays from 2- 5 p.m., May through August. Light refreshments will be served at these drop-in tours. Visitors are welcome any time during the tour timeframe. Tours are rain or shine but will be halted by thunderstorms.
The two gardens featured on Sunday, May 21, are bike-accessible for those participating in the Bikesburg 2023 bike festival and bike parking will be available.
Corl/Burger garden at 911 Draper Road, Blacksburg: The homeowners have progressively reduced the proportion of the lot area dedicated to lawn in order to reduce maintenance in some areas while increasing food production in others. Their ornamental beds are a mix of both native and non-native plants. To support the vegetable garden, they compost and utilize soil testing to manage soil nutrients as well as mulch to conserve water.
Marsille garden at 509 Monte Vista Drive, Blacksburg: Margaret Marsille describes her yard as a low-budget work in progress, as she transitions to native plants, food crops, and a "just have fun" garden. She has incorporated sustainable features, including two rainwater collection systems, native plant gardens, composting area, food gardens, upcycled garden art and two greenhouses created from reclaimed windows.
Future tours include:
June 18: 
Cedar Chest Farm, 4980 Longshop Rd, Blacksburg: The owners of this new small farm grow 1/4 acre of diversified vegetables and cut flowers for sale
through a local community supported agriculture (CSA) program and Blacksburg Farmers Market. They grow without any synthetic inputs, utilizing no-till practices and implementing conservation strategies such as a high tunnel, drip irrigation, cover cropping, and crop rotation.
Todd garden, 312 Sunset Blvd, Blacksburg: The Todds' variety includes native and pollinator-friendly flowers, pumpkins, gourds, and other vegetables with minimal grass in the back yard. Rain barrels conserve water and refill a koi pond that attracts wildlife. Owl boxes welcome an owl family annually. A garden railroad (G-Scale) using a number of repurposed items adds whimsy. 
July 16:
Monti/McLellan garden, 1090 S. Jefferson Forest Ln, Blacksburg: In just five years, the homeowners have created an incredible certified habitat for birds, bees and butterflies. A one-fourth acre meadow sports a succession of blooming species to feed native pollinators throughout the season and the property owners have also planted over 25 native trees as well as shrubs and perennials.  
Keciorius garden, 1306 Greendale Dr, Blacksburg: In this fairly new garden, the homeowners grow vegetables, fruits, and flowers, striving to be pollinator friendly and avoiding chemicals. Rain barrels and drip irrigation conserve water.  
August 20:
Swinfen garden, 777 Craigs Mountain Rd, Christiansburg: Set on 12 acres, with fruit and nut trees, a vegetable garden, pond and compost bins, the property owners encourage natives and have been eradicating invasives. They have installed solar panels and an impressive rainwater collection and pumping system to water their gardens. 
Relf/Angle garden: 1866 Den Hill Rd, Christiansburg. This garden focuses on artful recycled materials and includes a greenhouse, an intense production vegetable garden designed to resist deer, water features, and plants and flowers selected for sharing. The property also gives the opportunity to observe the difficulty of handling industry-recommended invasive exotics after they become established in a landscape.
Submitted by Sustainable Blacksburg