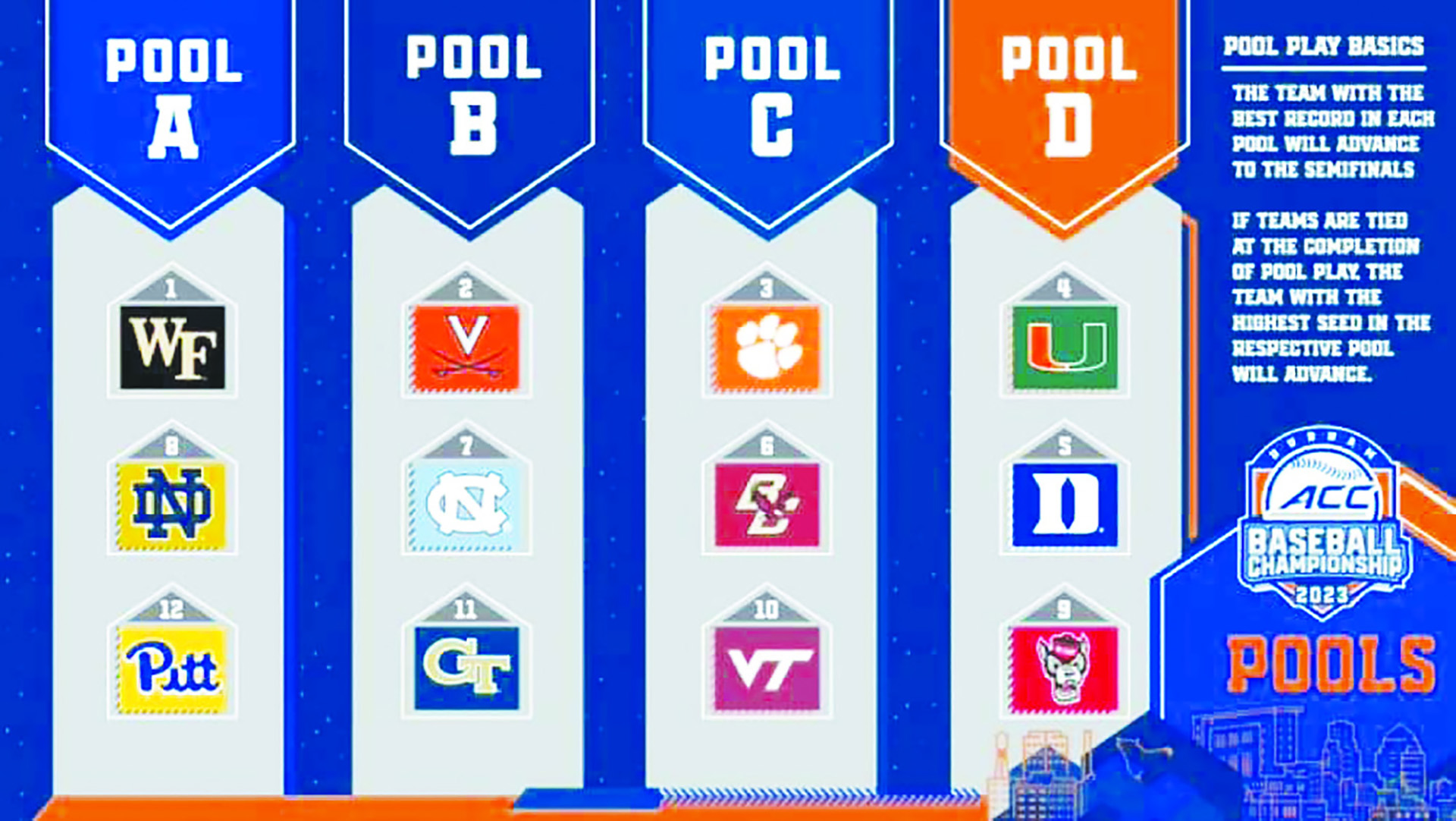 Coming off Saturday's noteworthy win against the nation's No. 1 side, the Virginia Tech baseball team has learned its postseason course this week at the 2023 ACC Baseball Championship – set to take place at Durham Bulls Athletic Park in Durham, North Carolina – as the conference revealed the official tournament schedule on Sunday morning.
As the event's No. 10 seed, Virginia Tech (30-21, 12-17 ACC) will play in the opening game of both Pool C and the tournament on Tuesday, May 23, when the Hokies battle sixth-seeded [No. 22] Boston College (34-17, 16-14 ACC) at 11 a.m. Per the tournament format, Tech will bat as the away team during its game against the Eagles.
Following Tuesday's tournament opener, Virginia Tech will return to the conference championship site on Wednesday, May 24, to oppose third-seeded [No. 7] Clemson (39-17, 20-10 ACC) at 7 p.m. Per the tournament format, Tech will bat as the home team during its game against the Tigers.
Virginia Tech faced both Boston College and Clemson during the 2023 regular season. The Hokies' lone head-to-head victory against their pool foes took place on March 10 when Tech hammered five home runs against BC at English Field, snapping the Eagles' 10-game winning streak at the time.
To champion Pool C – one of four pools feeding into Saturday's semifinal round – Tech will need to sweep its two pool games against Boston College and Clemson. Should the Hokies advance to Saturday's semifinals, they would oppose the winner of Pool B, featuring second-seeded Virginia, seventh-seeded North Carolina and 11th-seeded Georgia Tech.
 As a program, Virginia Tech is making its third consecutive ACC Baseball Championship appearance and its seventh such appearance all-time. Last season, the Hokies proudly earned the tournament's top seed courtesy of their ACC Coastal Division championship and league best, 19-9 record.
Virginia Tech last qualified out of pool play during the 2013 tournament when the Hokies reached the conference championship game, finishing runner-up to North Carolina.
All pool play games at the 2023 ACC Baseball Championship, taking place between Tuesday, May 23, and Friday, May 27, will air live on ACC Network. Should Tech qualify for the semifinals on Saturday, May 28, the Hokies would compete at 5 p.m. on ACC Network.
The Sunday, May 29, championship game will air live on ESPN2, beginning at 12 p.m.
Virginia Tech Athletics