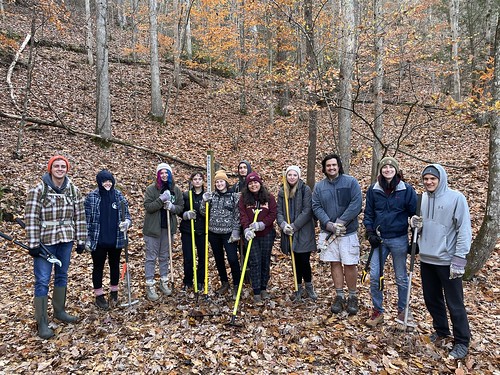 Claytor Lake State Park has completed its long-awaited renovation of the bathhouse in Campground D, allowing the park to open 40 additional campsites just in time for Memorial Day weekend.
Campground D (PDF) is the park's only campground that offers water and electric hookups for guests and can accommodate RV units up to 40 feet. The campground usually opens in March but remained closed at the start of the season for a complete overhaul of the 1980s bathhouse to address several issues, including limited ADA accessibility, aging fixtures and communal showers.
The renovation added 322 square feet to the bathhouse; highlights include on-demand hot water heaters, a new roof, an ADA-accessible parking space, a wraparound concrete walkway and six new showers – two family and two ADA-accessible.
"This much-needed bathhouse renovation offers a more comfortable camping experience for our guests," said Park Manager Brody Havens. "It provides a new look for a familiar place."
Campground D opened Friday, May 26, 2023. Reservations will be accepted on a first-come, first-served basis. To make a reservation, go to reservevaparks.com or call 800-933-PARK (7275).
Virginia State Parks has announced the winners of its 2022 Volunteer of the Year awards in five categories and three subcategories.
Virginia Tech's Lambda Iota Mu received the group award for their efforts at Hungry Mother State Park. Their signature project is keeping the popular Molly's Knob Trail in good condition for hikers. They also keep the flowerbeds clean, split firewood and assist at festivals as part of their mission to support local ecosystems and educate the public.
Dedicated and hardworking volunteers donated 210,693 hours of time and talent at 41 state parks across the Commonwealth in 2022.
With projects ranging from beekeeping to repairing bikes, these volunteers really went above and beyond their duties to enhance the guests visit to the park. Individuals, groups, couples and even families worked to create new hiking trails, sponsor events, help with environmental education, plant and maintain gardens as well as handle various repairs. These are just a few of their accomplishments.
The wandering waters of Virginia connect communities and people across landscapes and through time. From mountain streams and lakes to tidal rivers and bays, the waters of Virginia provide an endless source of adventure and fun. Beginners can get into paddle sports at one of our tranquil lakes or go with the flow on a lazy stretch of river. Get on the water and explore at a Virginia State Park. Get prizes just for doing so.
There are 41 total state parks, with 31 offering the Paddle Quest program. You must visit the Know Before You Go section on each park page before visiting and check with the park about operating hours and availability. Park rentals are subject to change due to staffing and water/weather conditions.
Here's how it works:
Visit a Virginia State Park and participate in a paddle-based adventure in one of three ways:
Join a Ranger Guided paddle program
Rent paddle equipment from the park and go on a self-guided tour
Bring your own equipment and design your own paddling experience
After your visit, log into (or make a new account on) the State Park Adventures page.
Select the name of the park you visited, pick "Wandering Waters," and record the date of the visit and method of participation. The "Wandering Waters" option will only be available if the park you select has paddling amenities.
The State Park Adventures system keeps track of your progress and you will receive email confirmation.
Paddles taken at a park prior to the start of the program on May 3, 2023, do not count towards the Wandering Waters program.
Here's what you get when you paddle at participating parks:
Paddle at 5 parks and you get a sticker.
Paddle at 10 parks and you get a patch.
Paddle at 20 parks and you get a mesh gear bag.
Paddle at all 31 parks that offer the program, and you get a cellphone dry bag and a certificate.
Submitted by Virginia State Parks