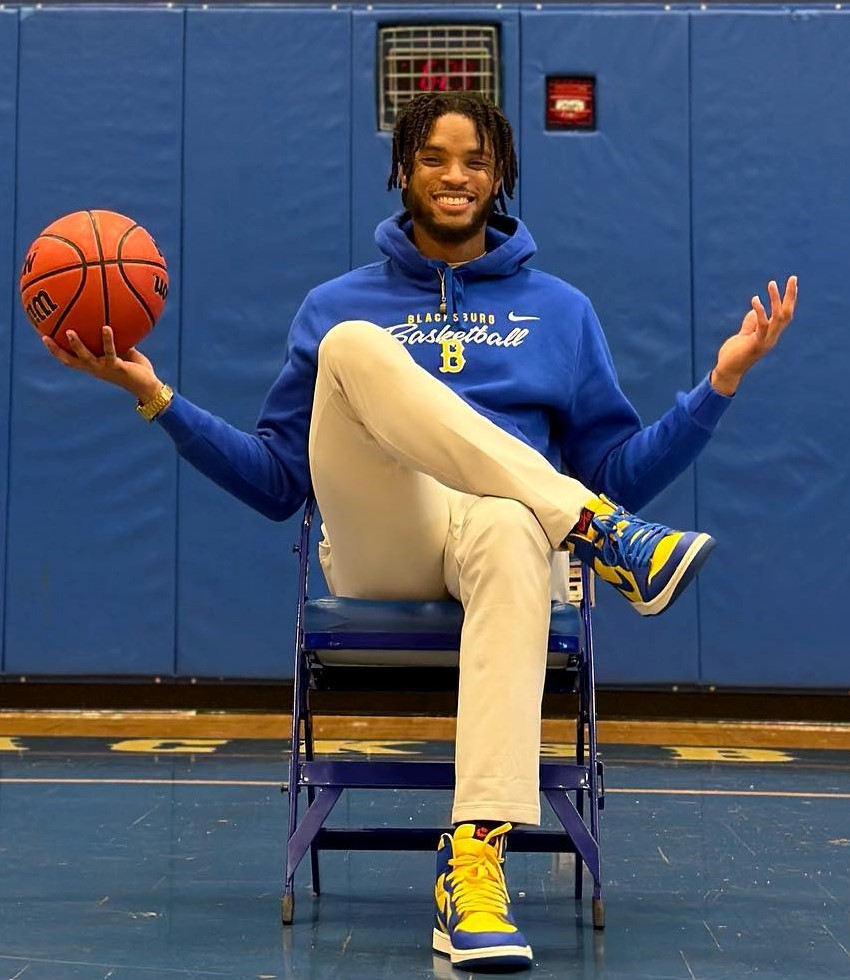 Marty Gordon
Joe Reid has always put his basketball shoes on one lace at a time and had always dreamed of playing professionally.  
Three years ago, he got that chance with the Roanoke Rising Stars, a semi-pro basketball team.  But sometimes the road takes twists and turns people never expect as that door came to a close. His journey has now led him to Blacksburg High School where on Wednesday he was named the new head coach for the girls' basketball program. He had been an assistant at the school for the past two seasons.
Prior to moving to Virginia as a youngster, Reid played three years for the same AAU program Julius Erving had played for, gaining the opportunity to meet him and traveling nationwide to tournaments. 
With that same team in 2003, he won the World Biddy Basketball Championship.
He then moved to Virginia and attended William Fleming High School, where they won the 2007 VHSL AA state championship his junior year. He spent his senior year at Christiansburg High School.
"After high school, I played Junior college basketball for New River Community College and am currently listed top five in all time points scored," he said. "The last two seasons I played professionally for an American Basketball Association team, The Roanoke Rising Stars, before moving on to being a full time private player development coach."
"I always thought transitioning from professionally playing full time to something else would be incredibly difficult," he added. "However, man was I wrong. Seeing the impact in the lives of those who have done player development training with me has surpassed any achievements I've accomplished in my own playing career by far."
Coaching was never really on his to-do list, but it quickly became reality when he was named an assistant at BHS. Now, he is very grateful for the new chapter in his journey. 
"I've always joked and said I would never coach, but I'm beyond excited and incredibly grateful for this opportunity."
"The (Blacksburg) program has an outstanding amount of potential with incredible female athletes and a large support system. I'm very excited and thankful for the opportunity to continue building on the foundation that has been set. This year and for many years to come, Blacksburg High School girls' basketball will look to compete hard and make a transcending impact on our community and those around us."
Reid takes over a Blacksburg program that was 12-11 last season and 42-60 over the past five. He hopes to change the culture and is looking to create a fun, high energy, positive environment that is safe and focuses on the student first, athlete second while empowering and challenging its athletes to reach their full potential, embracing mistakes and unlocking a mindset of growth. 
"My primary goal is to teach our student athletes accountability, responsibility and effective communicative habits that are lifelong lasting lessons. I will personally strive to build the character of our girls to become modeled citizens contributing to the communities around us and the advancement of our society. I want to build a program that is full of tradition with a well-known history of making a major impact community wide," he said.
Reid will host a basketball camp this coming week at the Blacksburg Recreation Department.