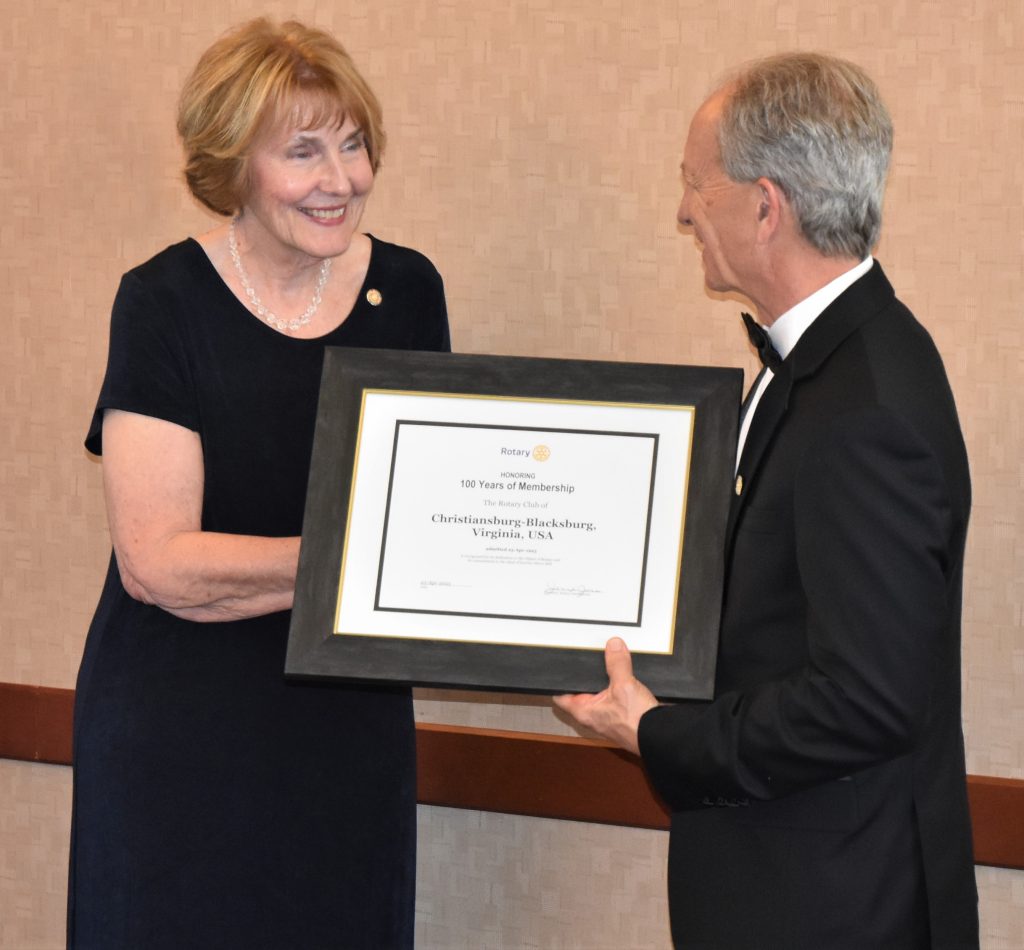 The Rotary Club of Christiansburg-Blacksburg celebrated its 100th anniversary with an event at the University Club at Virginia Tech on May 20.
Christiansburg Mayor Mike Barber and Blacksburg Mayor Leslie Hager-Smith toasted the Club and shared proclamations from their respective towns recognizing the many service projects and programs that have improved lives locally and internationally. Christiansburg designated May 21, 2023 as Christiansburg-Blacksburg Rotary Day. 
Rotary District 7570 Governor Kathy Kanter brought congratulations from the District and Rotary International President Jennifer Jones. Dr. Walter Lacarbonara traveled from Italy to share the importance of his experience as a Rotary Ambassadorial Scholar hosted by Club member Dr. Buddy Russell at Virginia Tech in 1995-96. Members of the Rotary Clubs of Blacksburg, Giles County, and Montgomery County, all clubs sponsored by the Christiansburg-Blacksburg Club, were present as well.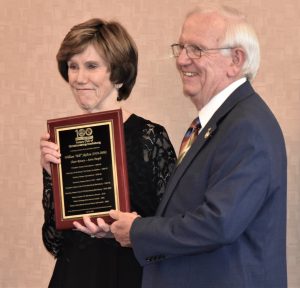 Club President Dan Berenato remarked to those Rotarians assembled.
"Your perseverance, loyalty, and devotion is our inheritance from the former 100 years of active club members and our gift to pay forward to the future," he said.
Members of the Rotary Club of Christiansburg-Blacksburg have contributed their vocational expertise to a number of important projects in Montgomery County throughout the years, including endorsing improvements to main roads, securing improved train service, and helping to improve the experiences of tourists in the area. 
In 1965, the Club sponsored the first community-wide meeting to discuss the development of a new local hospital to replace Altamont Hospital in Christiansburg. The Club led fundraising for the hospital and were instrumental in convincing HCA to build what has become LewisGale Hospital Montgomery, which opened in 1971. The Club has partnered with the hospital since 1997 with the bi-annual Blood Screening project which screens over 30 different markers at a reduced cost. Some of the over 21,000 people who have taken advantage of the service learned of potentially life-threatening conditions such as high cholesterol, diabetes, and anemia. 
The Club has donated time, goods, and money to many local Montgomery County organizations and schools over the years. Some of the more visible recent projects include picnic shelters at Heritage Park and the Frog Pond; a gazebo on the Huckleberry Trail; the baseball field at Nellie's Cave Park; fencing at Warm Hearth's Community Garden; an enclosed trailer for NRV Habitat for Humanity; the sensory space at Wonder Universe; a bronze plaque commemorating Montgomery County's bicentennial in the courthouse; basketball scoreboards and bleachers in the County high schools; and playground equipment at the Blacksburg High School Learning Laboratory.  
Internationally, the Club has participated in adult and youth exchange programs; acted as counselors for Rotary Ambassadorial and Skelton Scholars studying at Virginia Tech; contributed weekly to Rotary's PolioPlus program to eradicate polio throughout the world; provided low-cost prostheses to Honduras via Blacksburg-based Hope to Walk; and worked on other school, library, well, and vaccination projects in Haiti, the Philippines, and other countries. 
In her remarks at the celebration, District Governor Kathy Kanter said, "Nurturing leaders is a hallmark of Rotary, and your Club has exceled in this area." 
The Rotary Club of Christiansburg-Blacksburg is the home club of 1983-84 Rotary International President Dr. William "Bill" Skelton who influenced the growth and development of Rotary at all levels by increasing membership, strengthening clubs, promoting vocational service ideals, focusing on community projects and activities, and actively participating in international programs. Skelton showed his dedication to both Rotary's "Service Above Self" and Virginia Tech's "Ut Prosim" mottoes in all that he did. His support and commitment to Virginia Tech is reflected in the Skelton Conference Center at the Inn at Virginia Tech where many Rotary functions are held today. The Club honored Skelton at the event with plaques given to his children Jean and John Skelton. 
Rotary began in 1905 when attorney Paul Harris invited three other men to create a fellowship of businessmen to exchange ideas and create lifelong fellowships. Rotary quickly expanded; first within the US and then internationally. By April 23, 1923 when the Rotary Club of Christiansburg-Blacksburg was chartered, there were 1,410 Rotary Clubs in the world. Today, there are more than 46,000 clubs throughout the world: Rotary International is a global network of 1.4 million neighbors, friends, leaders, and problem-solvers who see a world where people unite and take action to create lasting change – across the globe, in our communities, and in ourselves. 
The Rotary Club of Christiansburg-Blacksburg was the first Rotary Club in Montgomery County. The Club is known for its bi-annual blood screening (returning on July 15th), local leadership recognition, youth development programs, and community service projects as well as sponsorship of the Virginia Tech Rotaract Club and participation in Rotary International programs such as PolioPlus. For more information, or to join the Club, find @ChristiansburgBlacksburgRotary on Facebook. 
Submitted by the Rotary Club of Christiansburg-Blacksburg