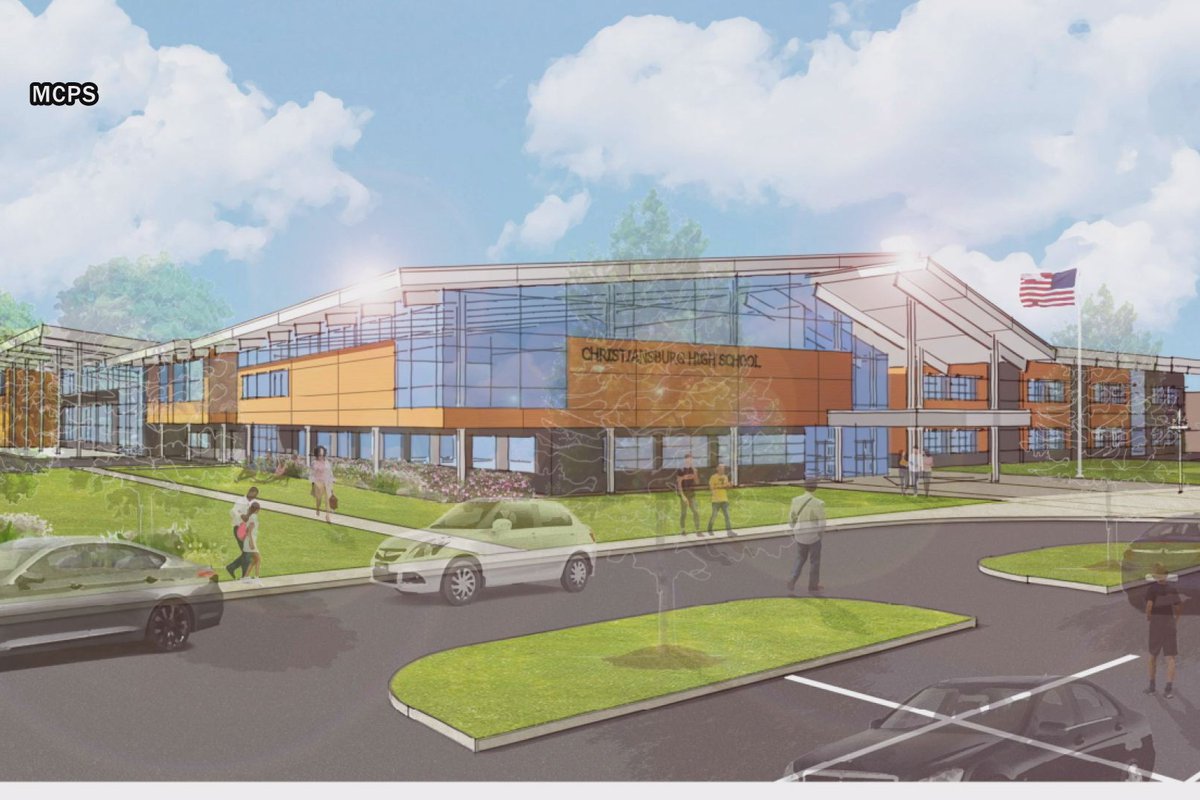 Lori Graham
Contributing Writer
The Christiansburg High School project update was presented to the Montgomery County Board of Supervisors by Josh Bower, Director of Architecture at Crabtree, Rohrbaugh & Associates, during their regular June 12 meeting on Monday night.  
The presentation included a virtual look at the school's planned design that takes viewers through the school's future proposed interior and exterior spaces. One of the priorities with the space would provide for future increases in students attending the high school.
"In the addition we're creating 22 classrooms, which will help us not only from the standpoint of getting additional capacity for the growing student body but also allow us to have a little bit better flow from a phasing standpoint," Bower said. 
Bower went on to discuss the importance of providing a safe school environment and their firm has worked alongside Christiansburg and Blacksburg police departments as well as the sheriff's department to receive feedback on their efforts. 
"I believe that we received a glowing assurance that what we're doing is as safe and secure of a building as we could probably make it," Bower said. 
Two points of entry will allow students to enter the building more easily. Car riders will be dropped off at the back of the school and the bus loop will be established at the front-left parking lot. 
One of the biggest improvements to the school will allow for a larger performing arts area for instruction and performance, according to Bower. Additionally, separate lab and instruction areas have been established for science courses. 
An improvement that will provide less opportunities for bullying with the goal of creating a safer space for restroom facilities are enclosed bathroom stalls and open sink areas. 
The construction will be divided into phases with the first part of the process beginning this year in July or August. Students, staff, and teachers can expect to see fencing in place when the Fall 2023 school semester begins. Completion of the project is expected to conclude by December 2025. 
Currently, the project has started to receive bids and the drawings are available to contractors.
Dr. Annie Whittaker, Deputy Superintendent of Montgomery County Public Schools also provided an update on the CHS project funding sources as well as other ongoing MCPS projects. 
Elementary and Secondary School Emergency Relief (ESSER) funds are federally provided to schools because of the pandemic and its impact on elementary and secondary schools according to the Department of Education's Office of Elementary and Secondary Education's website at www.oese.ed.gov. 
"We were looking to identify projects that we could use those ESSER funds on so that we could free up those local funds for Christiansburg High School," Whittaker said. "You were going to give us "2.259" and we were actually very thankful to receive about ninety thousand dollars more than that from the real estate taxes, so thank you very much for making sure that the school's got that funding." 
Priorities in the county's schools were considered as well in funding projects for local public schools. Eastern Montgomery Elementary School remains on a fire watch while work continues to address the fire sprinkler system repairs needed. 
Christiansburg Middle School, Falling Branch Elementary School, Montgomery Central Operations Center, Shawsville Middle School and Auburn Elementary School projects were approved for ESSER funding as well, according to Whittaker. Safety measures for the county's schools are also being addressed with allocated funds. 
According to Whittaker, the current student body is just over 1,000 with the current school capacity of 1,200 students. The new CHS school design will allow for 1,600 students. 
An additional action taken by the supervisors during the meeting was in support of the ACCE, or Access to Community College Education program, which allows for county high school graduates to attend community college without any cost. The Board of Supervisors voted 7-0 in approval of continuing to fund this educational program. 
Deputy County Administrator Angela Hill was also recognized during the meeting as the recipient of the Marcia Mashaw Outstanding Assistant Award. The award was established in honor of Marcia Mashaw who previously served as Assistant Town Manager for the Town of Blacksburg and passed away in 1986. More information about this prestigious award can be found on the www.montva.com website.