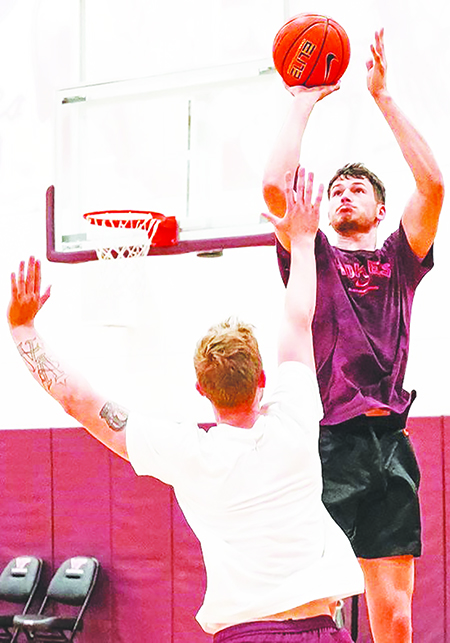 Robbie Beran, a native of Richmond, Va., is set to play his final season of college basketball at Virginia Tech after competing at Northwestern the last four years. Another versatile forward, Beran started in all 34 games for the Wildcats last season, culminating with their second-ever trip to the NCAA tournament.
Let's get to know Robbie:
What is your nickname?
Rob
What is your favorite food?
Crab legs or steak
What is your favorite movie or Netflix series?
The Office
Who is your favorite basketball player?
LeBron
What are your favorite basketball shoes?
I don't necessarily have a favorite shoe. I prefer low tops and will typically stick with one style for a whole season.
What is your favorite hobby outside of basketball?
Play with my dogs or play Fortnite
What is your favorite sport outside of basketball?
Golf – I might not be the best, but I'm getting better and you can't beat the immaculate vibes with the boys.
Where is your favorite spot in Blacksburg/Christiansburg?
First Watch. I'm still new to the area and learning the spots, so I will take any recommendations!
What are you looking forward to the most playing in Cassell?
Everything I've heard about Cassell has me super excited. From members in and around the league, hearing how much energy the place has on a nightly basis. I'm really looking forward to experiencing the energy.
What is your favorite basketball memory?
Going dancing last March
What were some of the key factors in deciding to transfer to Virginia Tech?
I had a pre-existing relationship with the whole coaching staff (they all recruited me out of high school). Once I got on campus and around the guys, I could feel there was something special about this group. It's an opportunity to finish my last year, to get my graduate degree from the OMALS program. Everything was a win-win.
What are three strengths of your game?
Ability to space the floor, versatility guarding multiple positions, vocal on the court
What is one fun fact Tech fans should know about you?
I'm a big dog guy – nine dogs within the family and three live with me
With you being one of them, who is in your dream starting five?
Magic, Kobe, LeBron, me and Shaq
What's on your pregame playlist?
Rod Wave and Lil Durk
Where is the favorite place you've traveled to?
Paris, France
Describe Coach Young in one word:
Personable
When did you start playing basketball?
Since I came out of the womb
What is the best advice you've ever received?
"Don't allow anyone or anything to take you out of your game." Applicable in sports as well as life.
If you could trade places with anyone for a day, who would you choose?
I really wouldn't want to be anyone else
If you could only have three apps on your phone, what would they be?
FaceTime, Teamworks, Clash of Clans
Virginia Tech Athletics