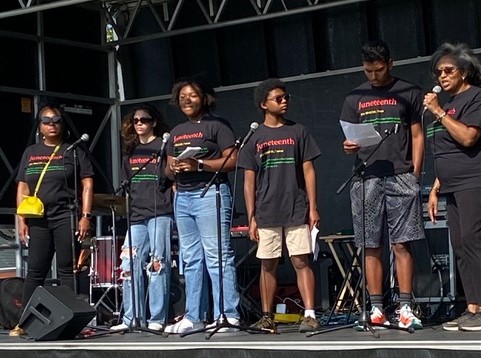 The Montgomery-Floyd-Regional Branch of the NAACP participated in Juneteenth celebrations in both Floyd and Christiansburg. 
Visitors from many locations stopped to obtain NAACP membership at both booths. 
In Christiansburg, the Youth Council shared why they celebrate Juneteenth and provided the historical background of Juneteenth: The last slaves in the United States to learn they were freed were in Texas. On June 19, 1865, two and a half years after the signing of the Emancipation Proclamation by Abraham Lincoln, Texas slaves finally learned of their freedom. Long celebrated in Texas as a holiday, Juneteenth became a national holiday in 2021. 
Since 2001 our branch has celebrated Juneteenth at the Rosa Peters Playground in Christiansburg. This year we were pleased to join Floyd Cares in Floyd and Christiansburg Institute, the Hill School and the Alumni Association for the Juneteenth celebration at the historic grounds of the Edgar A. Long Building located on the campus of the former Christiansburg Industrial Institute.
Melissa N. Matusevich