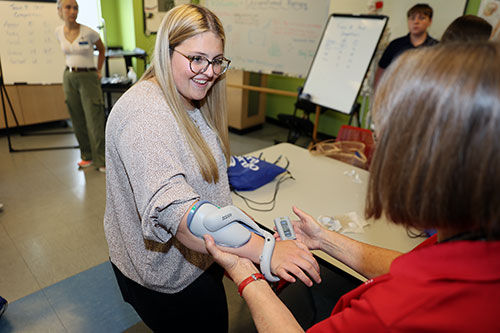 Labs at Radford University Carilion (RUC) in Roanoke were buzzing with excitement on June 20 as students participated in hands-on activities designed to help them learn about what respiratory therapists, nurses, physician assistants and occupational therapists do.
These weren't college students, though. They were local high school students chosen to be part of Camp Carilion, a four-day immersive experience that provides the opportunity to learn life-saving information through exercises and interactive demonstrations.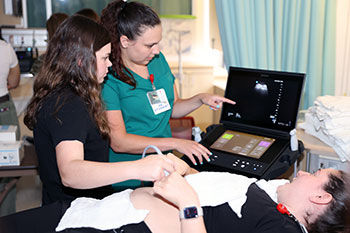 The camp, an annual event in the Roanoke Valley since 2006, was interrupted for the last three years by the COVID pandemic. This is the first year back, and in addition to RUC, the students will visit areas at Carilion Clinic, the Fralin Biomedical Research Institute and the Virginia Tech Carilion School of Medicine. The camp ran through June 23.
"The younger you can get to the kids to show them what's available in healthcare, the more likely they may be to go into healthcare," said Tara Chitwood, D.N.P., interim chair for pre-licensure nursing programs and assistant professor at RUC. "We can show them there's a lot of support, and they don't need to be scared of these kinds of careers."
Chitwood said she never thought she would be a registered nurse when she was in high school because she was intimidated by the sight of blood and the hands-on nature of nursing.
"If you expose them to it little by little through experiences like this one," she said, "they get used to it and may consider healthcare as a career."
Camper Cora Houston, a rising senior at Franklin County High School, said observing the nurses in action has helped solidify her dreams of becoming a pediatric cardiologist.
"Seeing them work and do something they truly love really inspires me," Houston said. "I want to get to a point where I can teach others. Looking up to these healthcare professionals and knowing they love what they do, and are so passionate about it, gives me the boost to keep going."  
At RUC, the campers visited the respiratory therapy lab, where they learned about respiration through a demonstration with pig lungs and experienced what it feels like to wear a cystic fibrosis vest, which vibrates to help patients break up the build-up of fluids and solids in the chest. They then visited the nursing lab, where they practiced inserting nasogastric tubes, swaddled and cared for newborns and removed and inserted staples in prosthetic arms.
In the physician assistant (PA) swing lab, the students got to practice sonograms along with current PA students, and in the occupational therapy lab, campers participated in walker races, tested their grip strength and tried on stimulation gauntlets, allowing them to experience mild electric currents that help rehabilitate patients who have lost some use of their hands.
Chitwood said that when the opportunity to be part of the camp arose again this year, RUC jumped at the chance since it had been such a great opportunity to reach high school students thinking about a job in healthcare.
"We've had students come back as students at Radford," she said. "They say they went through the camp at Carilion and it made them want to learn more and do this for a living. So, we may one day see some of these students back here as Highlanders at RUC."
Mark Lambert for Radford University