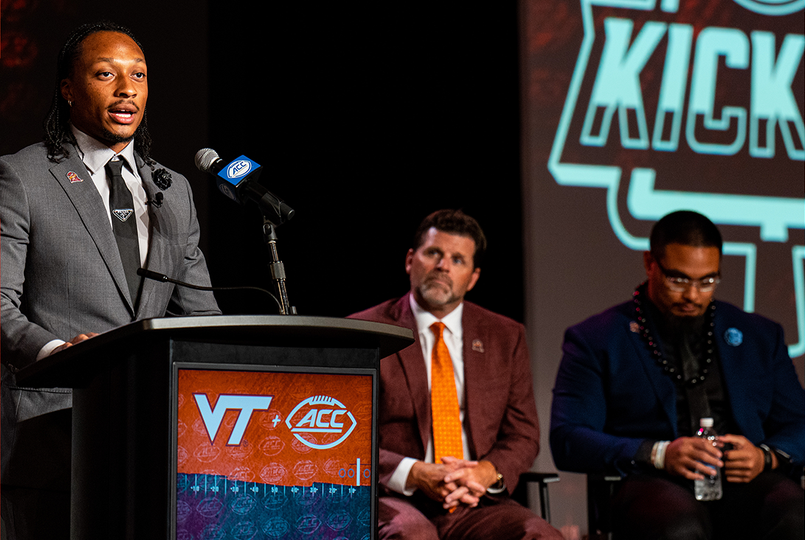 By Marty Gordon
Brent Pry came to Blacksburg after serving as the defensive coordinator at Penn State. Wednesday, he spoke at the ACC Media Kickoff and pointed to his second year at Virginia Tech with a heavy hand on the defensive side of the ball. 
He told reporters there should be a lot of growth on that side of the ball. 
"Defensively we lost a couple of leaders obviously with Chamarri [Conner] and Dax [Hollifield], but I really like the speed and athleticism that returns on that side of the ball," said Pry. "We got a fast group. Coach Marve has them racing to the football."
The idea of defense possibly being the strong point for the Hokies this season is no surprise, especially how the defensive-minded coach addresses the game plan.
Pry said the team has really honed in on fundamentals and techniques. 
"We've got a good plan to create more explosives through personnel, through scheme, maximizing what we do well," he said.
Pry was joined by defensive lineman Josh Fuga, tight end Nick Gallo and wide receiver Ali Jennings.
Fuga said Pry's personality is contagious when you walk into the building.
"It's nothing but good vibes," said Fuga. "I'm a family-oriented guy, and Coach Pry and the whole staff have done a phenomenal job since they got here of making that the vibe. That this is a family place. 
"You can have hard conversations, and there's nothing — there's no emotions to it. It's a hard conversation. You have to be able to have a hard conversation, but then also, you can also sit back and talk, whatever, about anything. You can laugh, joke with anybody in that building, and it means a lot. You don't want to be uptight every day like, oh, man, I got to do this, I got to do that."
Fuga (6-2, 313) is a redshirt senior from Woodbridge and will be leaned on heavy this season. Last season, he played in 10 games, making five starts at defensive tackle, recording 12 tackles (one solo), 2.0 TFL (6 yards), 0.5 sacks (3 yards), two pass breakups and one quarterback hurry.
He, along with Mario Kendricks and Norell Pollard, will be the run stoppers in what should be a much-improved defense.
Meanwhile, the other side of the ball could depend on a lot of new faces. Wide receiver Ali Jennings has transferred from Old Dominion where he was a terror for opponents, including Virginia Tech. 
He was an All-Sun Belt First Team, Phil Steele All-American Honorable Mention and led the team with 54 receptions for 959 yards and nine touchdowns, third in the country with 106.6 yards per game and led the Sun Belt with nine touchdowns including five, 100-yard receiving games.
'As most of you know, I've been a few places, but this environment here, it's the most tight-knit, family-oriented place I've been," said Jennings. "You see guys coming in every day, staying long hours even after the mandatory meetings and workouts are done, doing whatever they can to help better each other, better themselves, and the team."
Tight end Nick Gallo has seen both the good and the bad in Blacksburg but is optimistic about the changes.
 "I think we were definitely pretty disappointed with how we played last year, and I think kind of the first thing that we addressed was all the mistakes we were kind of making, putting ourselves in bad situations," said Gallo. "So, one of the fundamentals we talk about is details. Offensively we've been really dialed in on the details all offseason."
Gallo thinks with the experienced guys coming back, settling into the second year of Coach Bowen's offense, it's all going to pay off.
The ballots were handed out on where each team would finish this season, but the results have not been published as of yet. Right now, onlookers think the Hokies could finish in the lower part of the pack with at least six wins, meaning the Hokies could be back in the bowl swing of things.