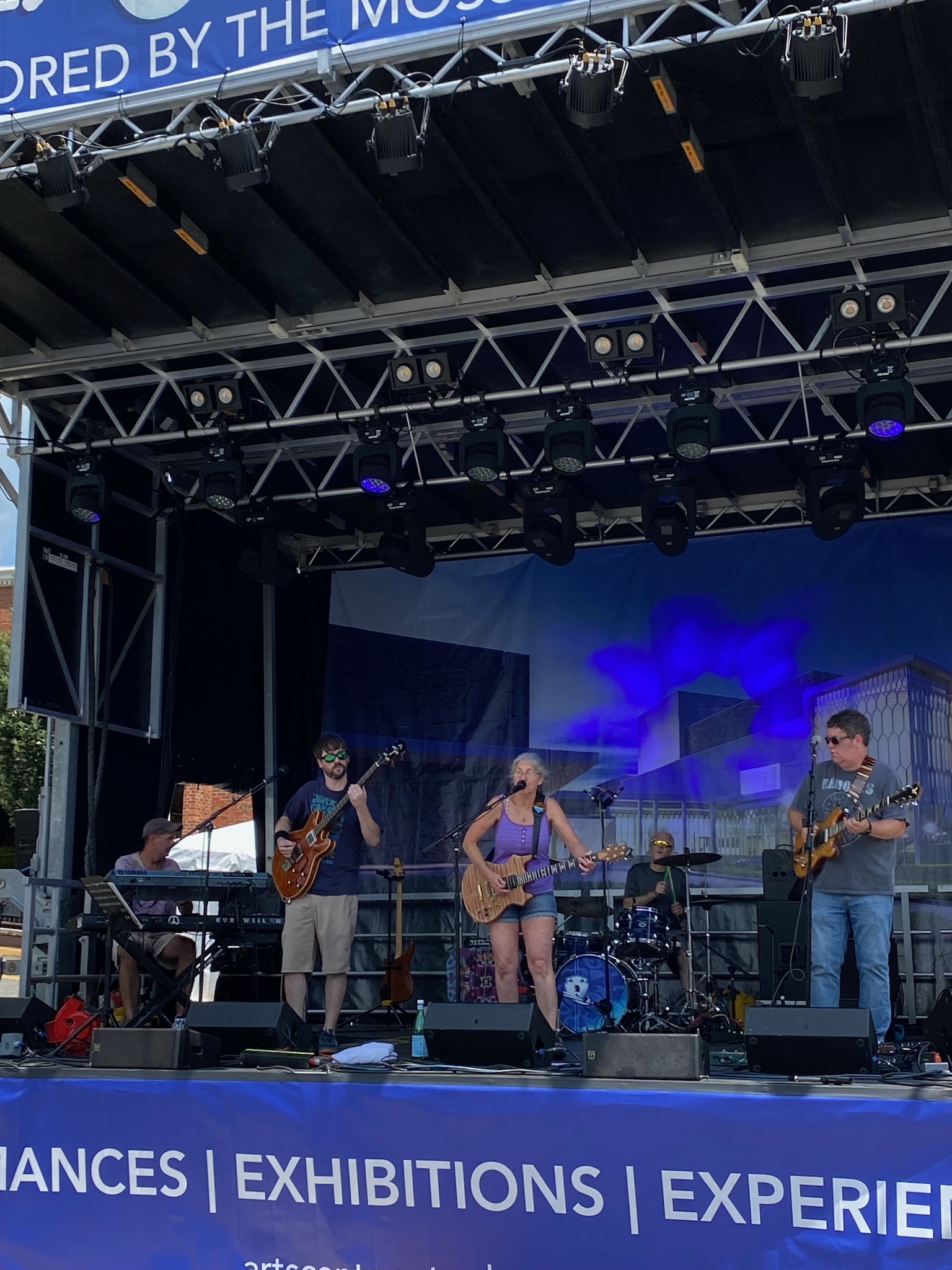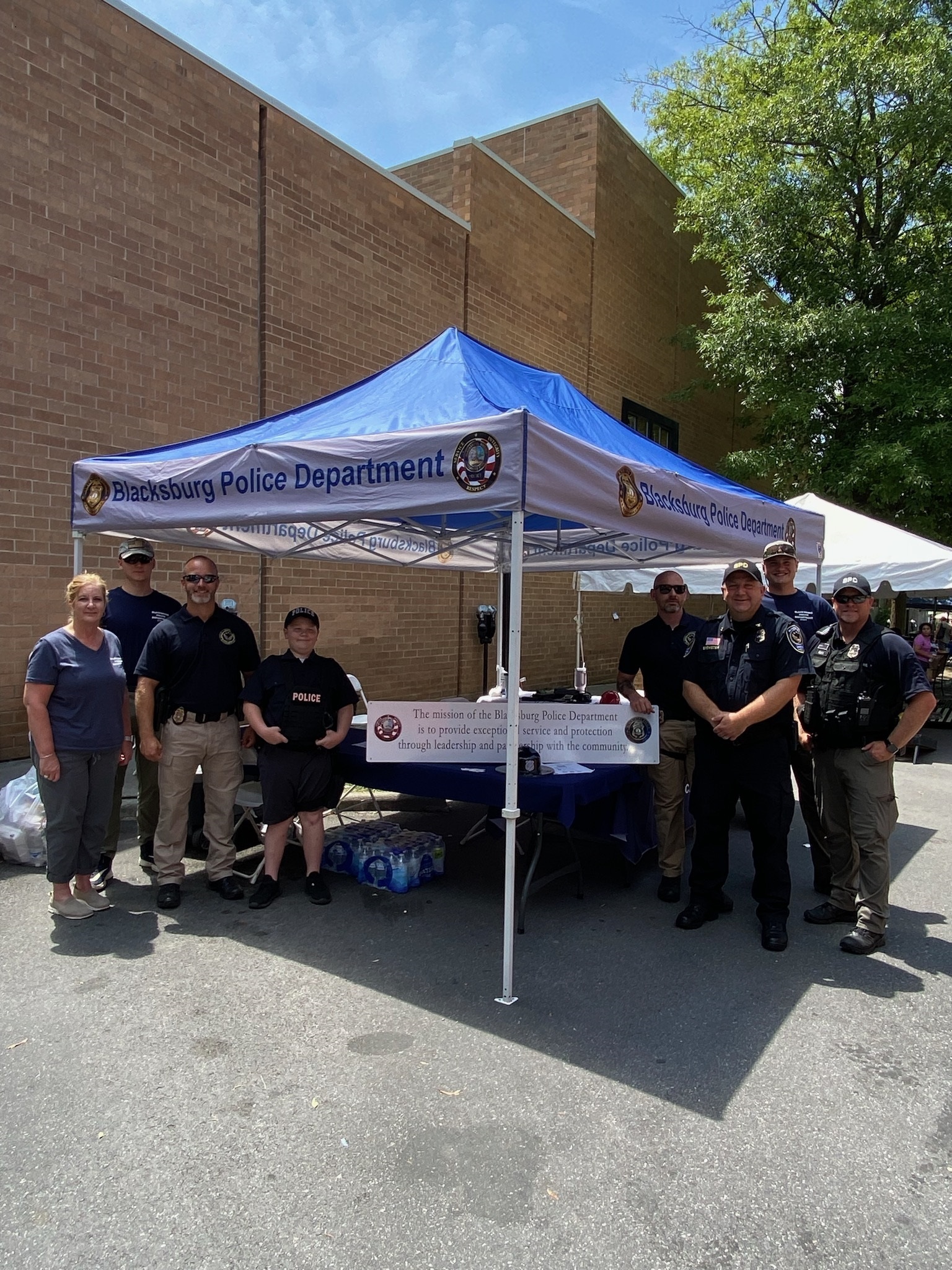 Lori Graham 
Contributing Writer
BLACKSBURG – Thousands of people decorated the streets of downtown Blacksburg for Steppin' Out 2023 on Aug. 4 and 5. 
Vendors, artisans, food trucks, music groups, community organizations, and local talent filled the streets delighting newcomers and longtime visitors of the event.  
The Blacksburg Police Department provided a police presence but also enjoyed greeting the festival goers. Police officers, recruits and staff handed out toy police hats, badges, and other items to children from their tent situated near the bouncy house. 
Recruits Seth Walker and Brian Lesser were also present at the event and are currently in the police training academy. Police Lt. Kale Craver explained the process the recruits are going through to become a police officer.
"They go through a 22-week training program, then they'll eventually, once they graduate the academy, they will come out and they'll go through our field training program, and they'll become police officers after that," Craver said. 
A very young future recruit is Jason Elliott. Elliott may be 10-years old, but he is very confident of what he wants to be when he is grown. Dressed in a police officer uniform, complete with a protective vest, he was readily available to help with whatever the police team needed. 
Local artisans and craft makers could be found in abundance with woodworking, pottery, jewelry, clothing, artwork, and lots of fun things for kids to do and see.
Dragon Ocarinas & Fanciful Fun, owned by Fred and Deborah Harris, was an eye-catching vendor to passersby with their whimsical trailer carved and decorated like a traveling gypsy. The Floyd-based business sells ocarinas, fairy stones, face and body products, and other creations. Deborah Harris gave demonstrations of the musical ocarina, a hand-crafted and painted traditional flute-sounding instrument, historically dating back thousands of years. 
Harris also shared her gift for art with face painting for the many children at the festival who lined up outside of her ornate trailer. 
Matt and Kelly Beeken, long-time members of Blacksburg United Methodist Church greeted eventgoers as well in their location at the Farmers Market square. Their tent offered a prayer loom, activities for the children along with information about their services and their preschool, which is currently open half-days throughout the week. The church also has an upcoming community event that they are welcoming people to attend. 
"We have a big community cookout at the church on [August] 20th after our 11 o' clock service," Matt Beeken said.
Area citizens interested in checking out the church's services, preschool, or local community events can visit their website at blacksburgumc.org. 
Music and entertainment could be found in three different locations during the festival: The Main Stage, the Community Stage, and the Acoustic Stage. The main stage featured many wonderful music acts including a local New River Valley group that began in Blacksburg in 1986. The Kind delivered a great performance that had people on their feet with what they call their hillbilly psychedelic folk-rock music. 
The Community Stage at the festival offered a variety of entertainment including dance, a drum ensemble, vocalists, a science show, and even a young group of budding stringed-instrument players. 
The Virginia Tech String Project is a program that reaches out to youth in the area with music education as well providing an opportunity for Virginia Tech undergraduate music students to gain experience in instruction. 
Corbin Surface, a bass player with the VT String Project, enjoyed taking the stage on Friday at the festival. 
"I was really nervous because I was the only one playing the bass. It was really fun though," Surface said. 
Surface also enjoyed walking along the tents in downtown Blacksburg with his family. 
"I liked spinning all the wheels to try and get free stuff. I also bought a leather belt at one of the tents. They put my name on it," Surface said. 
The Acoustic Stage provided instrumental and vocal entertainment adjacent to the Farmer's Market square. Performers did not disappoint, with a variety of musical stylings for those stopping by the stage or passing by.
Steppin' Out visitors lined up for the many food options available at the event as well. In addition to the local downtown storefronts, almost every type of food could be found along the street vendors at the event. Hethwood Market, Bollos, Centro Taco Bar, Next Door Bake Shop, and Ridiculous Chicken were just some of the food options visitors could find. After a bite to eat, there was also something for the sweet tooth with Big Lick Ice Cream, The Cotton Candy Lab, Carly's Kettle Korn, or Spoon's Shaved Ice Cream. 
The beer and wine garden provided by Virginia Eagle Distributing and Iron Heart Winery as well cocktails at J.H. Bards Spirit Company were also a hit at the event.