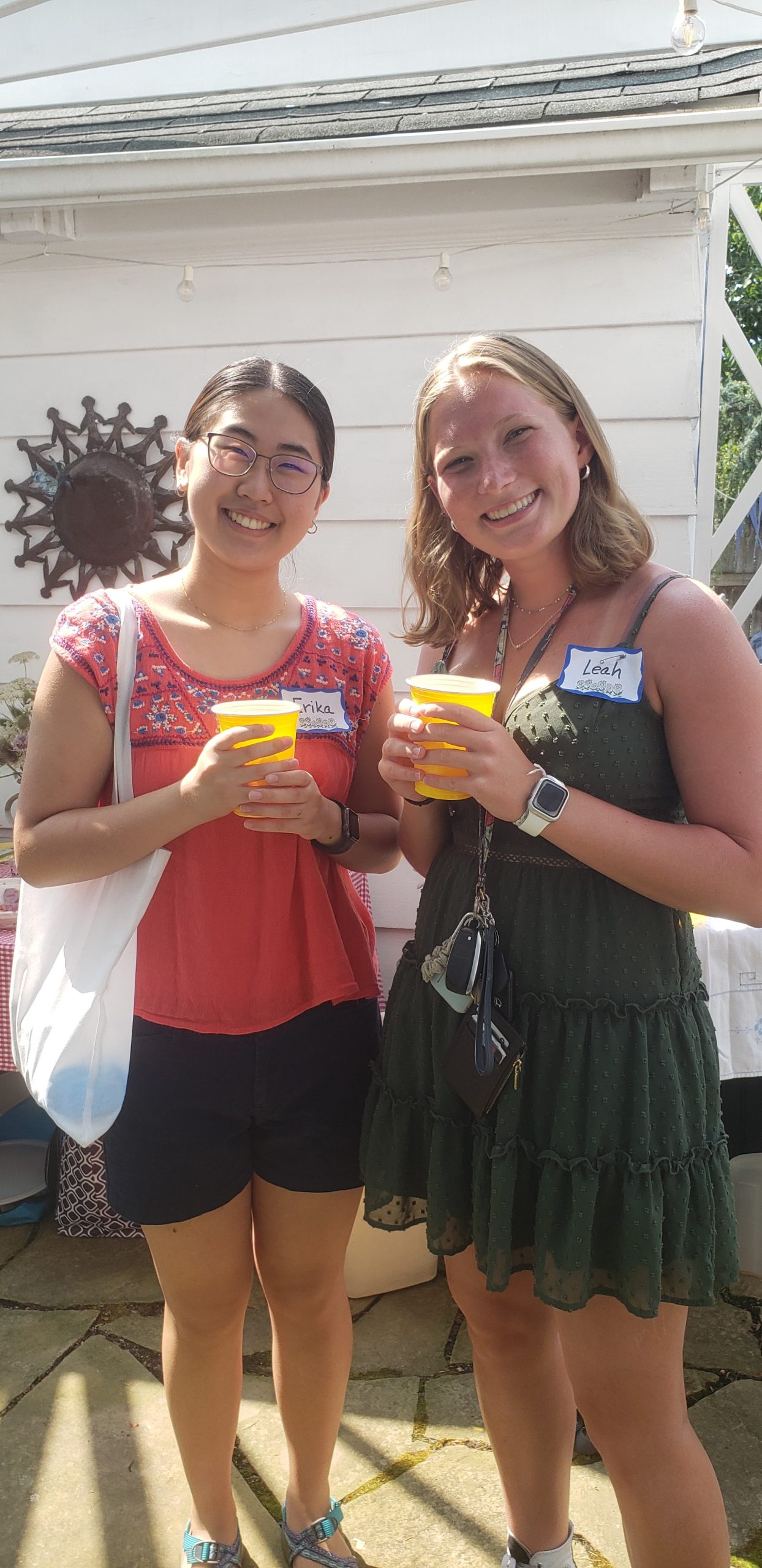 Two young women who have just graduated from Blacksburg High School each have been awarded the $2,500 P.E.O. (Philanthropic Educational Organization) STAR Scholarship for the upcoming 2023 – 2024 academic year.
Leah Rockwell was sponsored by Blacksburg P.E.O. Chapter AU, and Erika Miyazaki was sponsored by Blacksburg Chapter BP.
The STAR Scholarship is one of P.E.O.'s six projects.  It was established in 2009 to provide scholarships for exceptional high school senior women to attend an accredited postsecondary educational institution in the U.S. or Canada in the next academic year. The competitive STAR Scholarship is for women who exhibit excellence in leadership, academics, extracurricular activities, community service, and potential for future success.  Since its inception, $20 million in STAR Scholarships have been awarded.
Leah and Erika both graduated with 4.0+ GPA's, many of their courses being Advanced Placement or Dual Enrollment.  Both are members of numerous honor societies, have strong leadership skills, and are committed to community service.  However, as similar as their high school achievements may be, their passions and goals are as distinct as the stars.
Rockwell plans to attend the University of Virginia to study Public Policy and Leadership.  Her goal is reflected by awards and honors from the American Civil Liberties Union National Advocacy Institute, one of four American Legion Auxiliary Virginia Girls' State Representatives for BHS, and the Rotary Club of Blacksburg-Christiansburg.
Rockwell's community involvement includes serving as a volunteer research assistant at Virginia Tech (Omega-3 biomarker research, traumatic brain injury biomedical research, and research that that investigates how movement practices such as dance affect brain function).  She has also participated in local town and school fundraisers, food donation projects, and beautification/clean-up efforts.
Work experience includes dance instructor at DanceTech teaching ballet, contemporary, jazz, hip hop, and tap as well as lifeguard and swim coach/instructor at the Blacksburg Country Club.
Rockwell says she sees herself as a "passionate leader, artist, and athlete who strives to create a positive difference in the community and society."
Miyazaki also plans to attend the University of Virginia and pursue a BS in Nursing with a minor in Environmental Sciences. 
As a junior hospital volunteer, Miyazaki had many opportunities to witness the critical importance of good nurses to their patients.  As a nurse, she hopes not only to help "patients in their vulnerable states," but also to seek out "the environmental factors associated with chronic illnesses."
During the COVID-19 pandemic and as a frequent runner of hiking trails, Miyazaki noticed the increase in COVID litter—disposable masks, gloves, and disinfectant wipes.  She began to wonder how this detritus might negatively impact the environment.  Under the mentorship of a professor in the VA Tech School of Plant and Environmental Sciences, she began intensive research and found that the chloride compounds present in the wipes can slowly leach through the soil and possibly affect water sources and human health.
Her job experience includes working as a waitstaff at Virginia Tech since her freshman year, saving any money earned to invest in her future.
Miyazaki says she believes her strongest qualities are compassion, empathy, and a willingness to serve others.
"There is no doubt that this world is and will continue to be a better place because of Leah and Erika and what they have to offer," the P.E.O stated.  "P.E.O.  Chapters AU and BP are proud to be able to help them reach for the stars."
To learn more about P.E.O., its powerful educational philanthropies and see stories of women who have benefited from the programs, visit peointernational.org.
Submitted by P.E.O Blacksburg chapters