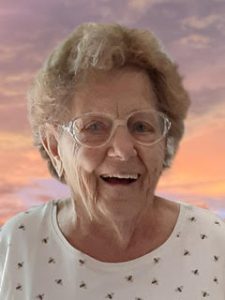 Thelma Juanita Robinson Caldwell, 94, passed away in her sleep on Aug. 10, 2023 after a long battle with cancer. 
Thelma was born in Blacksburg on Nov. 13, 1928 to Samuel (Sam) and Bessie (Granny) Robinson. She was preceded in death by her parents, her husband, Harlan, and their special friend, Muffin; brothers and sisters Douglas (Doug), Lutitia (Tish), Georgia (Georgy), David, Joyce Ann, Kathleen, and Korine; and two great grandchildren Spenser, and Austin.  
Thelma is survived by her brother, Billy (Jacksonville, Fla.); sons Donnie, Larry and his longtime partner Julie, and Jerry; daughters Harlene Ottolini and husband Larry, Peggy Maes and longtime partner Bennett, and Connie. She is also survived by her grandchildren John, Tina, Christine, Amy, Mark, Daniel, Angela, Melissa, and Lauren; great grandchildren Avery, Nick, Luke, Justin, Kiele, Bryce, Kayla, Andrew, and Peyton; and great great grandchildren Jaelynn, Maddox, Silas, and Jackson; and many extended family and wonderful friends. 
Thelma enjoyed working, cooking, canning, visiting with family and friends, as well as making new friends. She made friends everywhere she would go, whether in the community, local markets, or places she worked; to her there were no strangers just opportunities to meet new friends. Everyone she met fell in love with her and she will truly be missed by many. 
The family would like to acknowledge Blue Ridge Cancer Center, especially Dr. Sheela and Venessa Coates, where our mom was afforded kind and compassionate healthcare.  Mom was a face and not a number. Special thanks also to Carilion Clinic Home Care and Good Samaritan Hospice who attended to mom and the family in her last month. 
A memorial service to celebrate Thelma's life and legacy will be held in the near future.