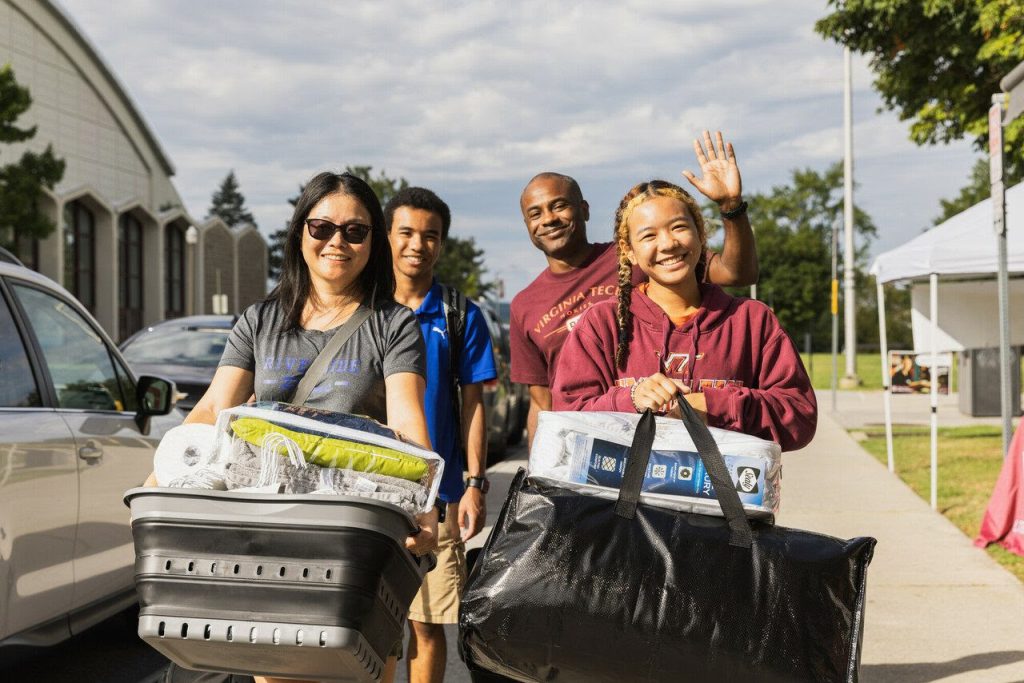 BLACKSBURG – Virginia Tech students started returning to campus this week, signifying both the end of summer and the kickoff of the fall semester. Virginia Tech's Office of Undergraduate Admissions is preparing to welcome another academically strong and diverse entering class for the 2023 fall semester. 
The university won't have official fall enrollment numbers until after its fall census in September, but the Office of Undergraduate Admission's latest snapshot of the incoming class indicates that the university is on track to achieve its goals of 7,085 first-year students and 1,026 transfer students drawing from a record pool of 47,128 first-year and 3,209 transfer applications.
The snapshot reveals an academically strong group.
Here's a look at some other numbers among the first-year students:
72 countries represented
47 states represented
2,244 high schools represented
4.08 average GPA of the group — the 2021-22 group was 4.04
"We are excited to welcome this incoming class, which is the strongest when measured by GPA," Juan Espinoza, associate vice provost and director of admissions, said. "It is clear that they are a talented group, and we are excited to be part of their journey as we prepare them to be our future leaders."
Looking at the fall transfer students
As with the first-year students, this group is geographically diverse and academically robust:
59 percent come from Virginia Community College System institutions
25 countries represented
22 states represented
413 high schools represented
3.49 average GPA of the group — the 2021-22 group was 3.51
Financial aid a focal point
In his State of the University address this past January, university President Tim Sands advanced affordability and student success as key institutional priorities, citing the need of many students to work while in college and thus limiting their opportunities for internships and research.
Sands launched the Virginia Tech Advantage for in-state students in 2022. This initiative seeks to provide greater financial resources so that students can benefit from the full Virginia Tech experience. The president has charged a steering committee with providing recommendations and implementing various strategies to increase the university's ability to meet student needs and enhance measures of student success outcomes.
In the 2022-23 cycle, 4,714 incoming students — both first-year students and transfers — are receiving some form of financial aid, including student loans. The total amount of financial aid being awarded to this group is more than $62.1 million.
"The university's commitment to the Virginia Tech Advantage allowed us to double our Presidential Scholarship Initiative freshman cohort to an unprecedented 205 in-state students and provide additional financial support to an additional 500 first year and transfer students," said Beth Armstrong, director of university scholarships and financial aid. "It has been exciting to read the reactions we are getting from those students and their families. It is having an immediate impact."
The fall census on the class is expected to be released in late September or early October.
Michael Stowe for Virginia Tech