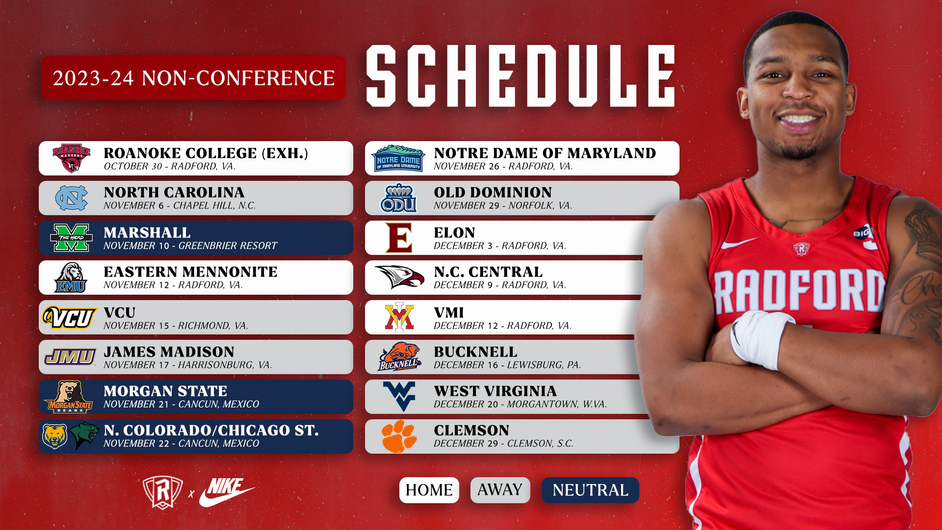 The 2023-24 Radford University men's basketball non-conference schedule features 16 games, including one preseason exhibition, five home contests, a trio of neutral site games, and seven high-profile clashes on the road, Head Coach Darris Nichols recently announced. 
Roanoke College makes its way down I-81 to play in an exhibition inside the Dedmon Center on Oct. 30 and then the regular season begins on Nov. 6 away at North Carolina. 
Kicking off a brand-new partnership between the Greenbrier Resort and Intersport, the Highlanders and Marshall Thundering Herd will face off inside Colonial Hall at The Greenbrier on Nov. 10. 
Radford then has its regular season home opener on Nov. 12 when Eastern Mennonite comes to town, followed by a return trip to Richmond, Va. to play VCU for the second consecutive season on Nov. 15. 
The 2023 Cancun Challenge begins with a game at JMU on Nov. 17 and then the team travels to Cancun, Mexico for neutral site contests with Morgan State (Nov. 21) and either Northern Colorado or Chicago State (Nov. 22). 
Once the Thanksgiving holiday passes by, Radford returns home where it will welcome Notre Dame of Maryland on Nov. 26. Another in-state road game then arrives when the Highlanders go head-to-head with Old Dominion in Norfolk on Nov. 29. 
With the month of December brings three straight home games against Division I opponents, the first time it's happened since 2003. Elon (Dec. 3), N.C. Central (Dec. 9) and VMI (Dec. 12) will all make their way to the New River Valley this time around. 
Non-conference play then closes out with three consecutive road games – at Bucknell (Dec. 16), at West Virginia (Dec. 20) and at Clemson (Dec. 29).
Radford University Athletics