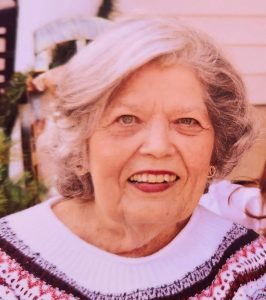 Nancy Anne Spangler Slusher, 88, born March 10, 1935, passed quietly at her daughter's home in Forest, Va. on Sept. 3,2023. Her life partner of 60 years was Dr. Ralph C. Slusher
who passed before her in 2012. She had a fulfilling life.
At age 18 she was awarded the title of Miss Farmerette in Christiansburg. From there she
began an enduring life with her husband, Ralph. She had many accomplishments and was an avid leader with many organizations in the town of Altavista where she and Ralph resided for the 60 years of their married life. Many clubs were joined Women's Civic League, President of Staunton River Garden Club, a Flower Show Judge for many years for the surrounding area of Altavista. She was very much part of her husband's medical practice as Office Manager and helping him during Desert Storm with Army wives and families at Walter Reid Hospital while her husband ran the hospital. 
She also held many college degrees, including a Bachelor of Arts in Art, which
became a passion. She painted many paintings. She earned two masters, Business
Administration and Adult Education. She became quite successful as a property manager and owner of several apartments and single-family homes. 
She and Ralph loved traveling. They ventured to Europe with many cruises and saw many countries. They were also able to explore every state in the United States.
She was the eldest child in her family and the only survivor. Her parents were Kenneth Ward Spangler, Sr. and Arroy Sue Spangler. She had two brothers, Kenneth Ward Spangler, Jr. and David Brent Spangler. Her brothers gave her nieces and nephews; Darlene Motter (Neil), Kenneth Spangler III (Sharon), Theresa Addison (David), Tony Spangler (Kim), and Tanya Rojewski (Ron).
She and Ralph had three children, Ralph Mark Slusher, Ph.D(Carla), Misty Jill Hostetter,
MAED(Dean) and Ralph Kendall Slusher, DDS (deceased); 10 grandchildren, Melissa Rickmon (Jesse), Sarah Gibson (Ryan), Jason Slusher (Jessica), John M Gallagher, Misty Meredith Nibecker, Andrew L Nibecker (Sabrina); two step grandsons, Matthew D Hostetter, Jr and Travis Hostetter; and many great-grandchildren, Garrison, Elayna, Peyton, Claire, Reece, Bailey, Addison, Colton, MaKayla, Ryliegh, Breanne, Harper, Jayden, Cora, Cyanna, Zachery, Levi, and Hadley.
There have been people over the last eight-and-a-half years we would like to thank. They have helped to take care of our mom. First and foremost, Darlene and Neil Motter (her niece and husband) have helped a great deal with her care. A huge appreciation to Brittany Locke, Centra Hospice and Vicky Booth, caregiver.
Horne Funeral Home in Christiansburg will be handling services. She will be laid to rest with her husband and youngest son, Ralph Kendall Slusher in the mausoleum at Roselawn Memorial Gardens in Christiansburg on Sunday, Sept. 10, 2023 at 3 p.m. In lieu of flowers please make donations to the Wounded Warriors Project in appreciation of the service for our dad and mom.