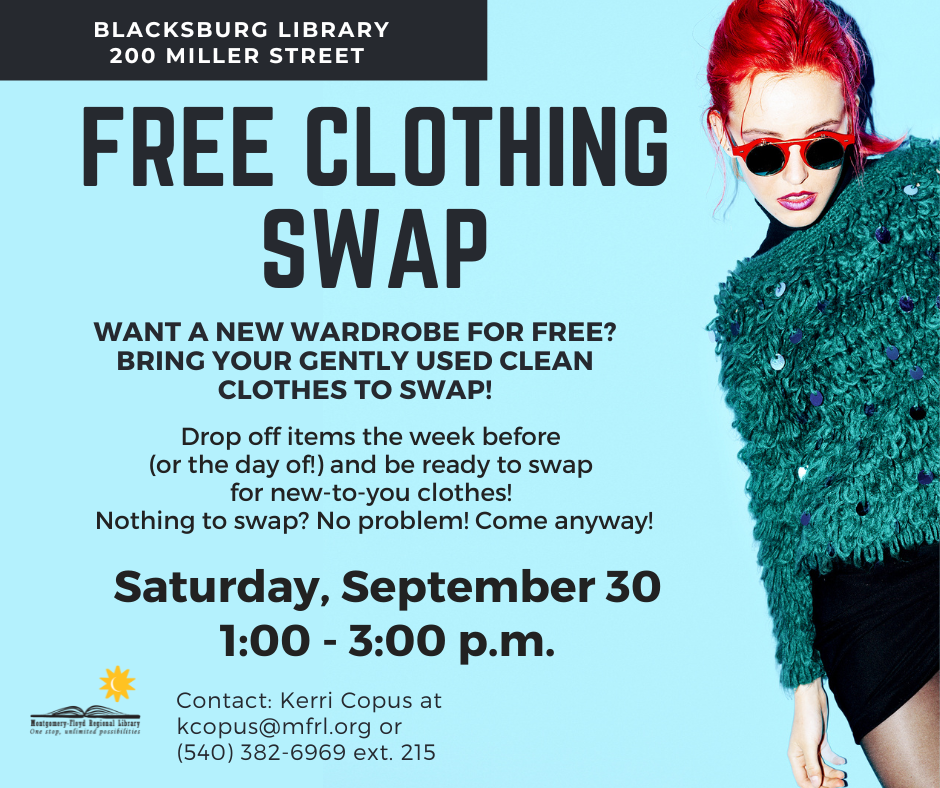 BLACKSBURG – As you begin to bring out your cozy sweaters and pack up your summer clothes, take the time to set aside anything you didn't wear this year for Blacksburg Library's Free Community Clothing Swap on Saturday, Sept. 30 beginning at 1 p.m. 
A clothing swap is an event which participants can exchange gently used, clean clothing they no longer have a use for and find new items in return. Clothing should be in good shape and not in need of mending. Participants can bring items that they plan to swap to the event or drop them off at Blacksburg Library anytime the week before. Any items left over will be donated to a local charity.
"This is a great opportunity get rid of clothes you no longer wear," said Library Program Coordinator, Kerri Copus. "You'll be able to take home some fun new clothes while at the same time cleaning out your closet! The library strives to encourage sustainable living in our community. We've had a great response from our previous swaps. Folks enjoyed the experience and were pleased with the variety of styles, name brands, and sizes available. We did get request for more men's and children's items, so please, bring what you can."
This event is free and open to all. Clothes are not for sale. We will accept gently used clothing, shoes, or accessories such as jewelry, belts, or scarves (please no undergarments, damaged items, beauty samples, etc.). Only bring items you think someone will want. If you cannot attend the day of but would like to donate items, feel free to bring them by the Blacksburg Library the week prior to the event. 
The event is free and open to all, drop off items at any branch beginning Sept. 25 or bring them with you the day of the swap, which takes place 1- 3 p.m. You do not need to bring items to shop the swap. The Blacksburg Library is located at 200 Miller St. Blacksburg. Contact Kerri Copus at kcopus@mfrl.org or (540) 382-6969 ext. 215 with questions.
Submitted by the Montgomery-Floyd Regional Library