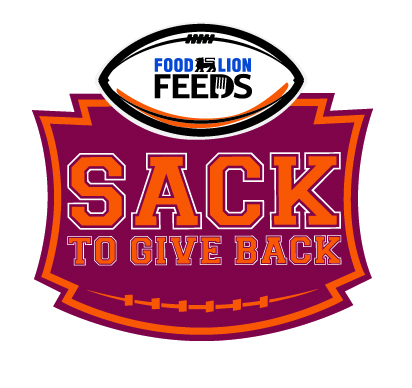 The fifth season of Food Lion Feeds' Sack to Give Back program will bring together a record 36 colleges and universities to help nourish neighbors experiencing hunger. 
Through this collaborative and proactive approach to tackle food insecurity, Food Lion Feeds will provide 1,000 meals (up to 30,000 meals per school) for every quarterback sack made by the participating institution. The effort benefits Feeding America®, the nation's largest domestic hunger-relief organization, and local partner food banks throughout Food Lion's 10-state operating area. Food Lion Feeds was founded in 2014 by Food Lion to address food insecurity in the towns and cities it serves.
The Sack to Give Back program also kicks off in September to align with Hunger Action Month, a time when Food Lion Feeds deepens its extensive existing relationship with Feeding America®. The partnership highlights the impact food can have on a person's life and inspires action to end hunger within their communities. Since 2019, the Sack to Give Back campaign has resulted in more than 2.1 million meals* provided to local partner food banks across Food Lion's 10-state footprint.
In 2023, Food Lion Feeds' Sack to Give Back program has expanded from 33 to 36 teams across Delaware, Georgia, Maryland, North Carolina, Pennsylvania, South Carolina, Tennessee, Virginia and West Virginia. The unique program will benefit 19 Feeding America local partner food banks serving communities where each school is located. With Week 3 of the 2023 college football season officially in the books, the participating colleges have already recorded 206 quarterback sacks, equivalent to 206,000 meals.
"At Food Lion, we are committed to creating a winning game plan to nourish our neighbors," said Kevin Durkee, Manager, Food Lion Feeds, Food Lion. "By partnering with student-athletes and their communities, we increase awareness and support to address food insecurity in the towns and cities we serve. Together, we can tackle hunger."
The Sack to Give Back campaign is one of many efforts Food Lion Feeds leads during Hunger Action Month. In addition to this campaign, Food Lion Feeds will remodel and stock the shelves of nearly 30 food pantries across its 10-state operating area through its annual event, The Great Pantry Makeover. During this 30-day effort, Food Lion associates volunteer for activities such as painting and cleaning pantries to installing shelving, freezers, coolers and other equipment to expand the capacity for fresh fruits, vegetables and other products. Additionally, in partnership with customers, Food Lion will help provide meals to neighbors experiencing hunger through its annual Food Lion Feeds Apple Bag campaign from Sept. 13 – Oct. 3. The Apple Bag campaign benefits Feeding America and local partner member food banks.
Submitted by Foodlion Feeds