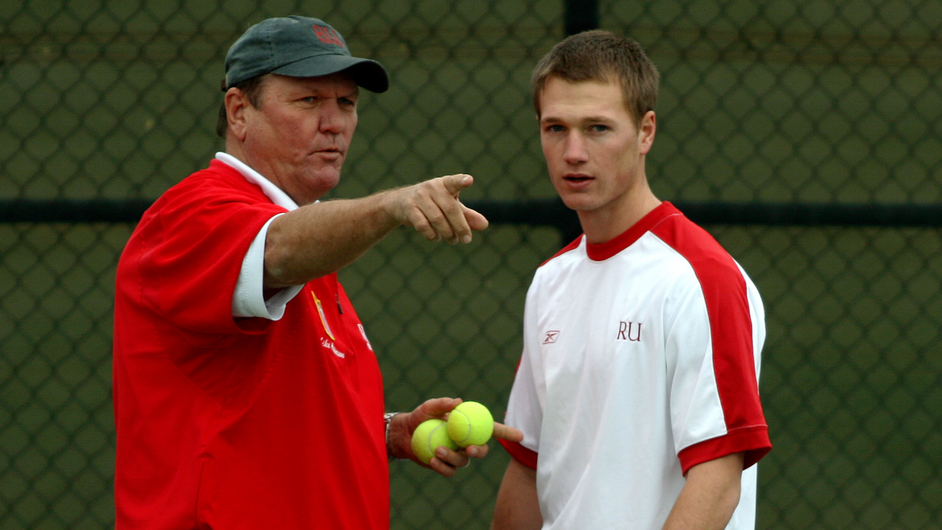 Last June, when Martin Sayer, the greatest Radford University tennis player ever, heard he was going into the school's Athletic Hall of Fame, one of his first calls was to his old coach. 
"Martin doesn't exhibit excitement like most people," said Mike Anderson, the winningest tennis coach in RU history. "But I could hear it in his voice, this really meant something special to him. He has won so many honors and awards I guess it surprised me. He said Radford was his home. Those were his words. It was really the first place he settled after so much travel for tennis, and Radford was special to him." 
A lot of people have that feeling about Radford, but for a Hong Kong native who was born in the United Kingdom and spent his summers traveling the globe to play tennis, finding Radford University became a touchstone for the reserved Sayer. 
"Radford became a very special place to Martin," added long-time friend and Highlander teammate James Lloyd. "I think it says so much that Martin could have chosen any path, any career, and that he decided to settle in Radford. It suited his personality and he thrived. He had a special relationship with Coach (Anderson) and formed so many friendships there." 
Sayer, who passed away in July at 36, carved out an amazing legacy as a player at RU from 2005-09, and then, briefly, as a coach before taking over the women's tennis program at Virginia Tech in 2016.  
He was winning in life, too, raising his son Roger, with his wife, Ashley, in Christiansburg. He is also survived by his father and mother, Roger and Jenny, and siblings, Natalie, Matt and former RU netter Nicholas. And by so many others who remember Sayer's greatness on the court and his kindness and friendship everywhere. 
"He was an introvert and softspoken but extremely inquisitive and liked being around campus meeting people," said Lloyd, who met Sayer on the international tennis circuit. "He was competitive, but he was such a great teammate. He was serious about his studies, and he loved the balance he had in his classes, with tennis and socially." 
Sayer was a four-time Presidential Honor Roll selection at Radford, amazing when you consider he had dropped out of school as a 12-year-old to go into Hong Kong's national team tennis program. Full days of tennis and then on-line schoolwork afterward. His tennis talent cost him the life of a typical teenager, but he met the challenges and climbed the world junior rankings. He and Lloyd came as a package and changed Highlander tennis. 
At Radford, Sayer won the most matches in school history. He won four consecutive Big South Conference Player of the Year honors, something no other Highlander has done. Going into the Radford University Athletics Hall of Fame, his achievements put him in the pantheon of the school's greatest alongside Dante Washington, Stephanie Howard and Chuck Tickle, Highlanders who achieved amazing acclaim. 
Sayer had a 114-25 record in four seasons, all as RU's No. 1 seeded player. He was 24-1 in conference competition and was invited to the NCAA Singles Championship draw all four seasons, advancing to the round of 32 twice, and becoming just the second Big South athlete ever to win at the NCAA Individual Tournament, and he did it twice. He and partner Zack Watson also advanced to the NCAA Doubles Championships in 2009. 
"He was a leader, he was the man," said Anderson. "He led by example, just head and shoulders above others during his career." 
With Sayer on the team, Radford went 73-15 (24-1 in the Big South) and won three conference titles and made three NCAA Tournament appearances as a team. Moreover, he helped define the program's culture beyond the courts. "Our players held him in such high esteem, they always followed his example," Anderson recalled. "For example, we didn't wear our hats backward, no one on the team, and that was because Martin didn't do it. We opened doors for others; if we had our whole team in line at Subway and a couple came in, we let them go first, and that was Martin leading the way." 
Anderson found Sayer in Hong Kong when the young player was 16, and the coach traveled overseas to see him play. A growth spurt had made the young tennis star somewhat gangly, but he was already a junior circuit sensation, and his potential was undeniable. Anderson establishing a relationship early meant a lot to Sayer, and once he got to Radford and other college coaches saw him, he was a target for covert recruiting pitches. 
"Martin was so honest and so loyal, being contacted by dozens of major coaches and he honored the handshake we had," said Anderson. "He never signed a Letter of Intent. It was just our handshake." 
In Hong Kong, Sayer was known as "The Iceman" for his cool court demeanor. He never became rattled despite playing before hostile crowds in foreign countries in Davis Cup competition. "He was cool as a cucumber," said Anderson. 
Sayer was at his best in the biggest matches – witness those Big South titles – and in major upsets of highly ranked players, often in fall tournaments. Major regional programs wouldn't schedule Radford during Sayer's tenure, not wanting to be upset by the upstart Highlanders or their tenaciously talented top seed. 
"Martin always played his best on big stages: he had another gear he would go to," smiled Lloyd, who marveled at his friend's seemingly innate ability. 
Sayer's value to teammates went beyond those victories and the respect the program commanded. Within the team, Sayer was somewhat of a "Coach Anderson Whisperer," according to doubles partner Watson. "Coach was very disciplined and all that and Martin and he were very close so Martin could always soften him up a little bit," laughed Watson. "Martin wasn't big into working out in the gym or running or even staying in great shape all the time." 
Watson and the others loved playing on Anderson's multicultural squad that included players from Croatia, Serbia, Morocco, the UK, and obviously, Hong Kong. It was an eye-opener for the Timberville native. "To be honest, it was my favorite part of college," said Watson, now a nationally ranked professional croquet player and coach. "The cultural differences with people from all over the world and how they treated each other with such respect, yet, had so much fun, it was really an amazing part of my college experience." 
Watson became Sayer's doubles partner early on when Lloyd was sick and couldn't play one day. "We were going up against these huge guys and it was my first time playing at No. 1," said Watson. "Martin made it so easy, and we just clicked. I had been doing terrible before that, but we just stayed together. Martin put Radford and all of us on the map in tennis." 
Lloyd recalled a fall tournament early in their careers when he and best friend Sayer were on a collision course to meet in the semifinals. He won to advance but Sayer lost and then the next day, Lloyd easily bested the guy who had beaten Sayer. "I always remember how he handled that, with so much class," said Lloyd. "He was so genuinely happy for me and didn't dwell on his loss. That's how he was, always team first." 
Now we all dwell on the loss of a truly great Highlander who continued coaching and advocating for tennis in his New River Valley home and beyond, setting high standards on and off the court that so many will remember. Honoring him at the Radford Hall of Fame induction on Oct. 20, will be bittersweet because Sayer won't be there with so many who loved him and so many more who cherished him and what he did for Radford. Rest in peace, Highlander. 
Advantage Sayer.
Mike Ashley, special to Radford University Athletics