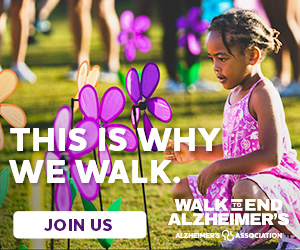 RADFORD – The Alzheimer's Association is inviting the community to join the fight to end Alzheimer's.
The Central and Western Virginia Chapter will host the Walk to End Alzheimer's – NRV on Sunday, Nov. 5 at Bisset Park. Check-in opens at 1 p.m. followed by the opening ceremony at 1:30 p.m. and the walk at 1:50 p.m.
"We're closer than ever to stopping Alzheimer's disease, but to get there, we need our community to join us in fighting for a different future," said Jeanne Snyder, Community Executive of the Central and Western Virginia Chapter. "We encourage people to start or join a team to help the Alzheimer's Association raise awareness and funds for families facing the disease. Together, we will take steps toward treatments and fighting to end this disease."
Participants honor those affected by Alzheimer's with the Promise Garden ceremony, which signifies solidarity in the fight against the disease. The colors of the Promise Garden flowers represent people's connection to Alzheimer's — their personal reasons to end the disease.
"It is a powerful moment to look out at the crowd displaying their colorful commitment to ending this disease," Snyder said. "The Promise Garden flowers are a powerful reminder there is hope and an entire community who understands the impact of this disease."
In Virginia, there are more than 150,000 people living with Alzheimer's disease and 354,000 caregivers.
To learn more or sign up, visit alz.org/cwvawalks.
Submitted by The Alzheimer's Association