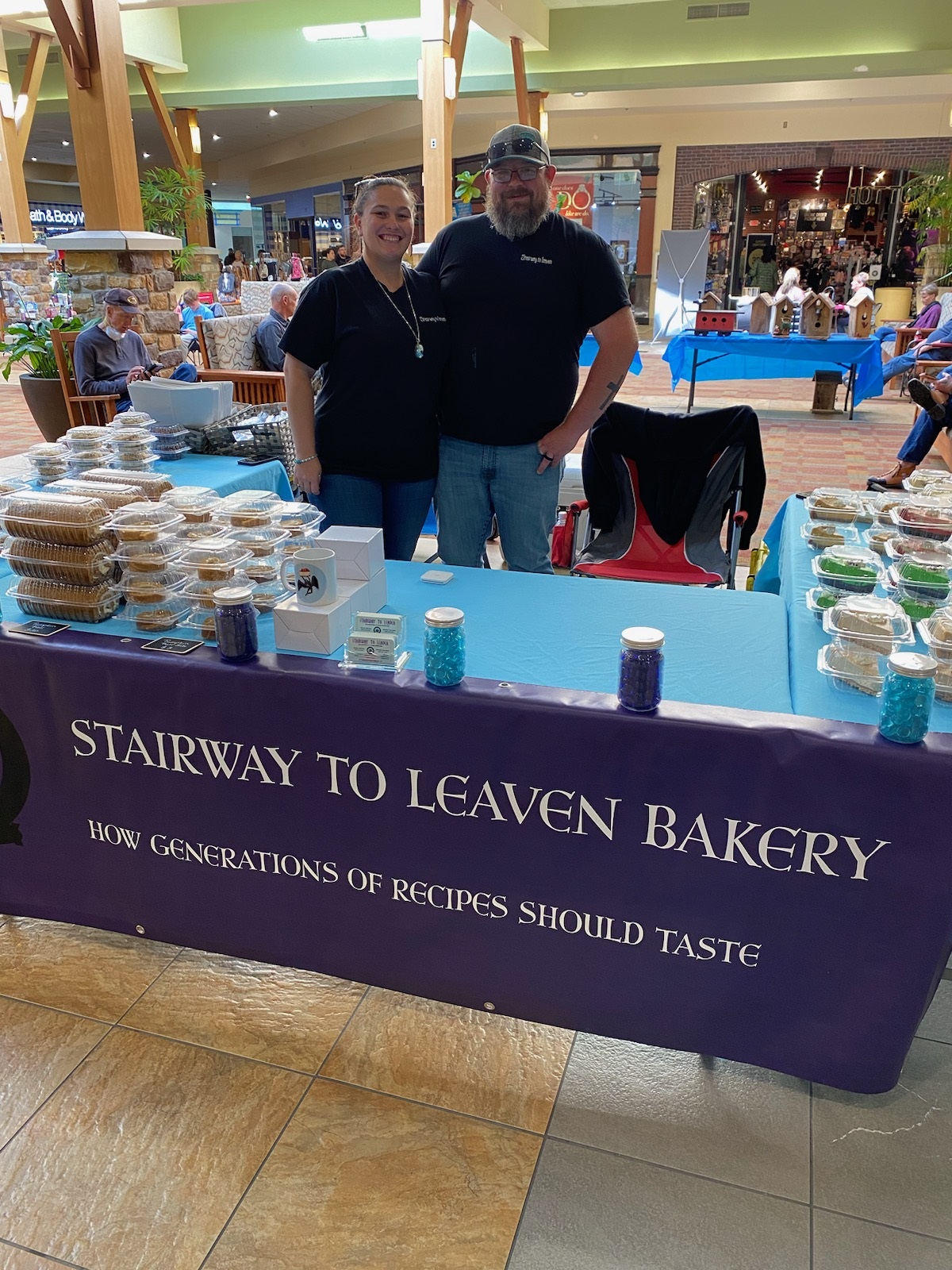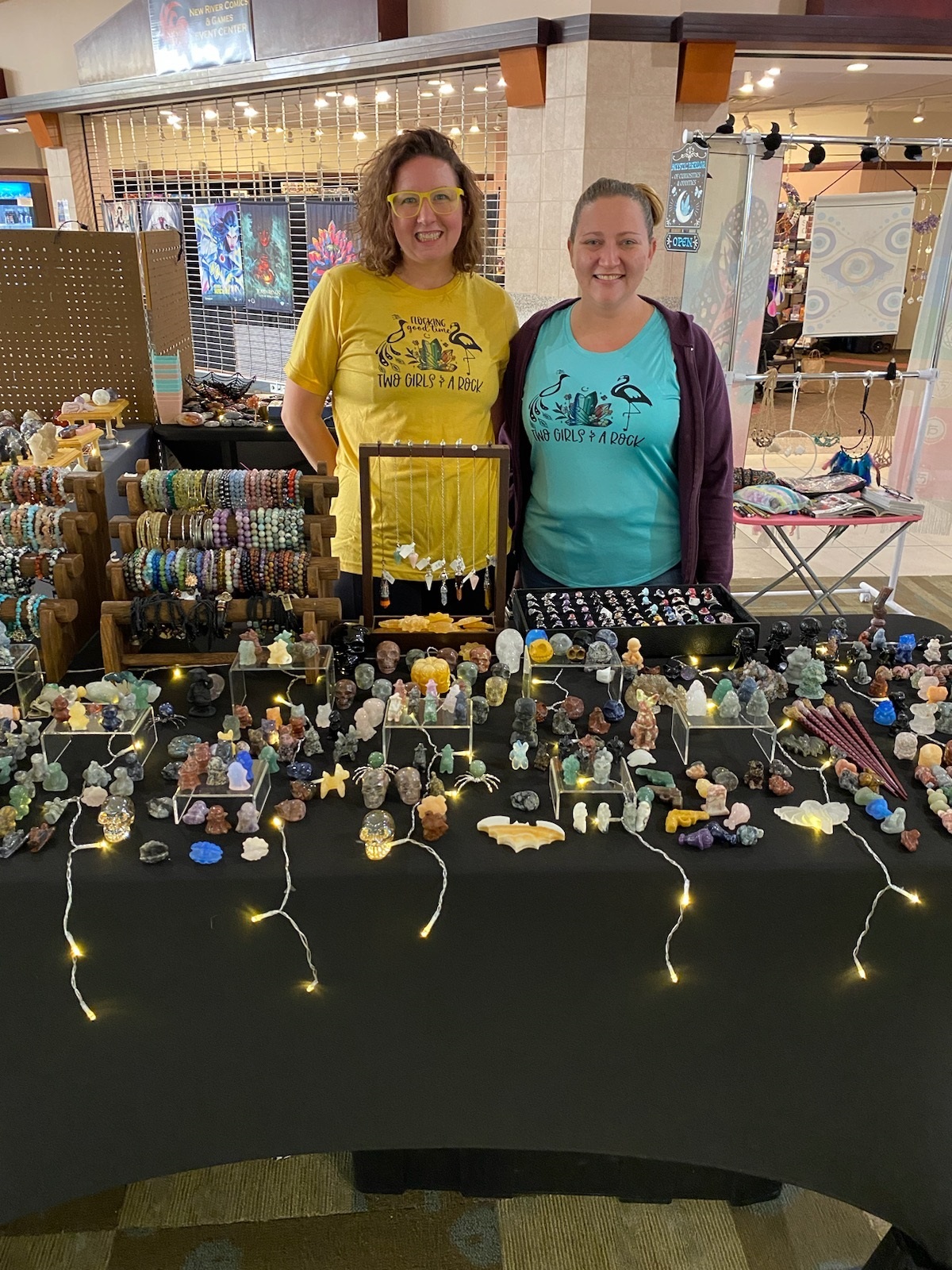 Lori Graham
Contributing Writer
CHRISTIANSBURG – Do you have that special family member or friend that is difficult to buy for? Do you need a tasty home-baked dessert for the office or family party? Are you needing to restock lotion or makeup for the fall gatherings or as stocking stuffers? 
Uptown Christiansburg, formerly known as the New River Valley Mall, has you covered with the monthly craft and vendor direct sale show.
Small business vendors and crafters can be found indoors at Uptown Christiansburg with a wide variety and selection of items. Wood crafts, crystal and mineral items, baked goods, Mary Kay and Avon products, soaps and lotions, and crocheted products are just some of the many items available for purchase. 
Two Girls and a Rock, owned by Michelle Snyder and Adriana Wenger, sell crystals, jewelry, carvings, spheres and a variety of other keepsakes that are from mined or hand-selected minerals. The co-owner's passion for mining grew into the business when they found they were spending the majority of their time and money on rocks. 
"We mainly do Facebook, but sometimes we come here and bring stuff for people who have made special requests," Snyder said. 
The vendor and craft event occurs monthly but may not consistently be on the same weekend depending on other events going on. 
Wenger said, "It used to be the first Saturday of every month, but sometimes they change it depending on the schedule, so next month we are here on the 18th [of November]." 
Red's Wood Crafts, owned by Jason Hinkley, comes to Uptown Christiansburg from Pulaski where he works out of his garage making wood home décor. Some of these items that can be purchased are toilet paper holders, storage bins, candle lamp holders, and for the Christmas season, wooden tree designs.
Audrey Lynn Saunders and Brandon Saunders are the owners and bakers of Stairway to Leaven. 
"We cook at our house all the time, and everybody always ordered birthday cakes from us," Audrey Saunders said. 
After encouragement from their family and friends to start a small business, they did, setting up at a local fall festival for the first time. 
"We sold out the first day," Saunders said. 
Their sign reads "how generations of recipes should taste" and they love having the occasional opportunity to bake together as a family, passing on the tradition of homemade food with their three sons. 
When asked about her favorite selections, Saunders said "The chocolate chip cheesecake, which we have the mint chocolate chip cheesecake for the fall, and the pumpkin roll." 
Stairway to Leaven will provide cakes, cupcakes, and other desserts for weddings, birthdays, anniversaries, and other celebrations. Their business can be found on Facebook. 
Stephanie Swan is a Mary Kay Consultant and enjoys working with customers through Zoom tutorials or in person.
"We do Zoom classes on my Facebook page. My page is called Beauty Academy," Swan said. "I invite anybody who happens to be a customer or somebody who might be interested on how to apply makeup or proper skin care to start a routine. I also offer free pampering sessions, in-home, at their own home or mine. I throw parties and also do free gift wrapping for the holidays.' 
Mary Kay is not just for women, with an assortment of men's products available too. Swan displayed men's cologne and beard washes for purchase.
"Our beard wash is very affordable and lasts three months," Swan said.
Shoppers interested in supporting the small vendors and crafts venue should check the Uptown Christiansburg website at www.uptownchristiansburg.com for a full list of small businesses and schedule for the upcoming months. The next show will be on Nov. 18, 10 a.m. to 6 p.m.