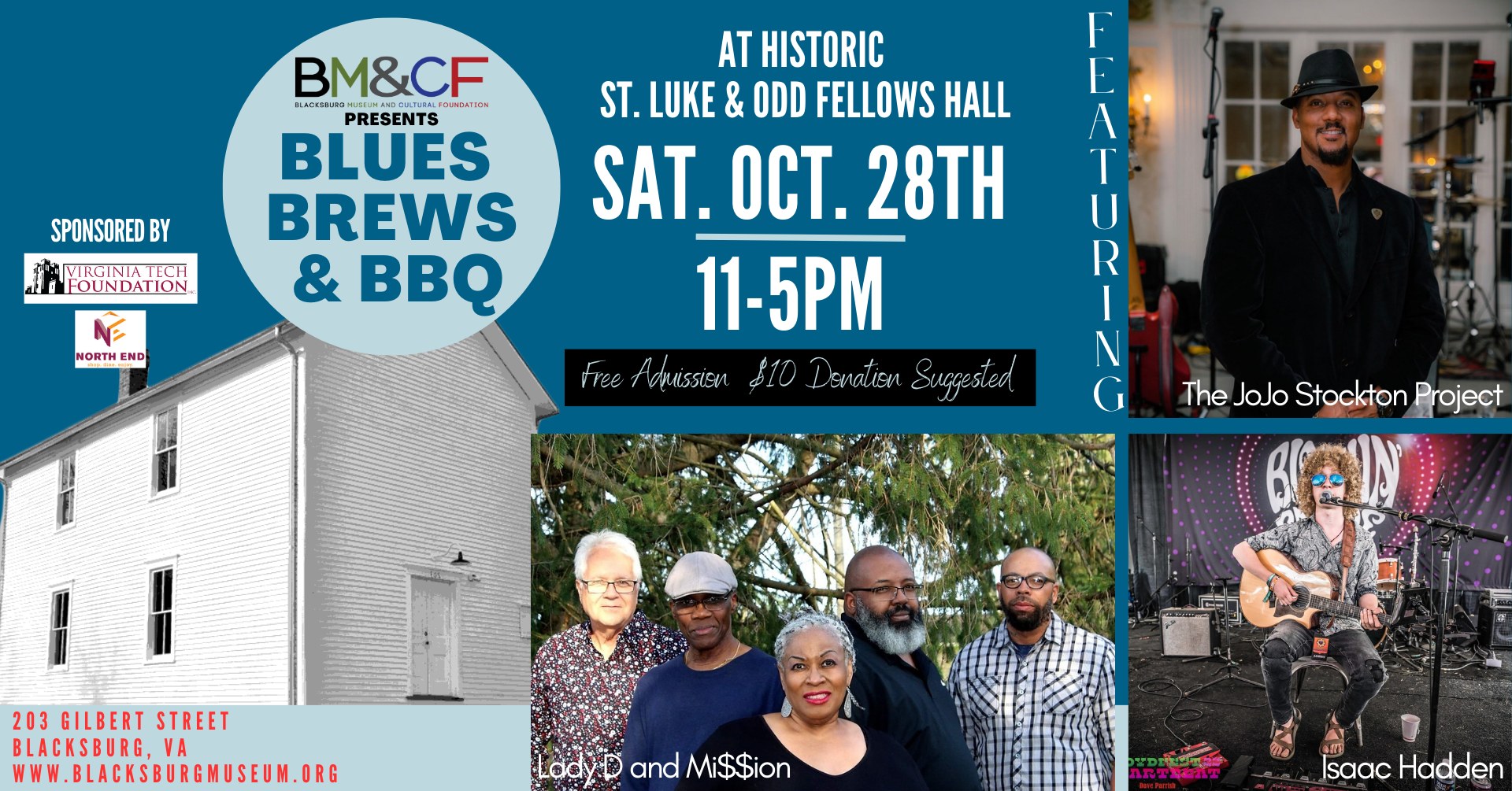 Lori Graham
Contributing Writer
BLACKSBURG – The New Town Festival: Blues, Brews, and BBQ, sponsored by the Blacksburg Museum and Cultural Foundation and Downtown Blacksburg, Inc. is today, Saturday, Oct. 28, 11 a.m. – 5 p.m. 
Guests to the event can expect good food, craft beer, wine, and of course the great sounds of talented blues performers. 
Music will begin at noon with the JoJo Stockton Project. Each musical group will perform for one hour and fifteen minutes and will be followed by a 30-minute break. Lady D & Mi$$ion will take the stage at 1:45 p.m. and Isaac Hadden will perform for the last set at 3:30 p.m. 
Feast and Company and Papa's Box will sell food and Blue Ridge Beverage will provide wine and beer for purchase. 
Although the event is free, a donation of $10 is encouraged. This is the 9th annual event for the historic building and landmark at the former social gathering place of African Americans in the Blacksburg community. The location is now a museum and is free for the public to visit by appointment. Funds from the Blues, Brews, and BBQ event will go to the continued restoration of the building. 
The museum will be open to event attendees and guests can experience a step back in time as well as viewing exhibits in the historic location.
According to www.blacksburg.gov, the current exhibit on display is titled From Civil War to Civil Rights, "and chronicles the lives of African Americans throughout the years, some of whom lived in Blacksburg's historic New Town."
St. Lukes and Odd Fellows Hall is located at 203 Gilbert St., Blacksburg. Visitors to the event may park in the parking garage just across the street from the Hall. 
Additional information about the museum and the Blacksburg Museum and Cultural Foundation can be found at www.blacksburgmuseum.org.