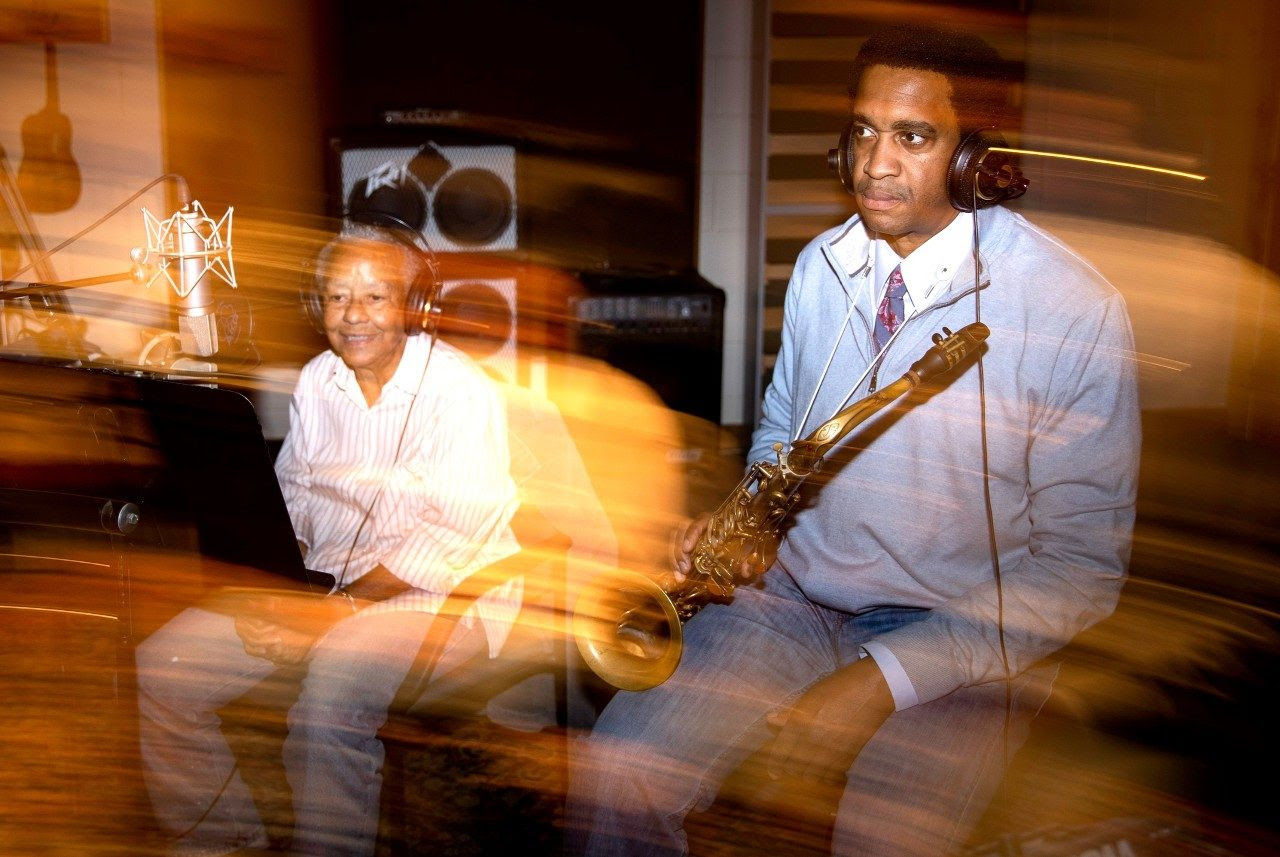 BLACKSBURG – A historic collaboration between Virginia Tech legend Nikki Giovanni and saxophonist-composer and former Jazz Messenger Javon Jackson has culminated in the intimate and inspired jazz performance "The Gospel According to Nikki Giovanni." Jackson brings his bold-toned, John Coltrane-inspired tenor lines to bear on a series of hymns, spirituals, and gospel numbers hand-picked by Giovanni. Jackson and Giovanni are joined by celebrated jazz vocalist Nnenna Freelon. 
"The Gospel According to Nikki Giovanni" comes to the Moss Arts Center on Friday, Nov. 3, at 7:30 p.m.
"These songs are so important," Giovanni said of the selection of gospel hymns and spirituals. "They comforted people through times of slavery, and during recent years we needed them to comfort us again. But a lot of the students today do not know about the history of these songs, and they should. So I'm out here putting water on the flowers, because they need a drink." 
The 80-year-old poet, activist, and professor emerita — one of Oprah Winfrey's 25 Living Legends and a Maya Angelou Lifetime Achievement Award recipient — retired from Virginia Tech's Department of English last year after a 35-year tenure and recently made headlines with the development of a documentary about her life and career. "Going to Mars: The Nikki Giovanni Project," was acquired by HBO Films after winning the Grand Jury Prize for U.S. Documentary at the 2023 Sundance Film Festival earlier this year. 
For the Moss performance, Giovanni will share some of her poetry and make a rare vocal appearance on the tender ballad "Night Song," singing a song identified with her close friend, the late singer, songwriter, and civil rights activist Nina Simone. 
"Nina was a friend of mine, and I knew that one of her favorite songs was 'Night Song,'" she said. "And even though I'm not a singer, I told Javon I wanted to sing it because I just wanted Nina to be remembered."  
"It's the first time I worked in a collaborative manner," Jackson, a former member of Art Blakey's Jazz Messengers, said. "The project is personal for me. I come from a lineage of devout Christians, and that has afforded me the chance to connect with that ancestral stream."
The musician, composer, and educator also serves as the director of the Jackie McLean Institute of Jazz at the Hartt School, part of the University of Hartford, and is mindful of his position and the importance of educating the next generation of players.
A world-renowned poet and one of the foremost authors of the Black Arts movement, Giovanni's notable books of poetry are "Black Judgment" (1968) and "Those Who Ride the Night Winds" (1983), which were influenced by her participation in the Black Arts movement and Black Power movement in the 1960s. Giovanni has published numerous collections of poetry — from her first self-published volume, "Black Feeling Black Talk" (1968), to New York Times bestseller "Bicycles: Love Poems" (2009).
Freelon is a multi-Grammy Award nominee known worldwide as a compelling and captivating live performer. She recently starred in the critically acclaimed show "Georgia on My Mind: Celebrating the Music of Ray Charles" — no stranger to the music of the master singer, she toured with Ray Charles, as well as many other great jazz artists, including Ellis Marsalis, Al Jarreau, George Benson, Earl Klugh, Take 6, and others.  
Giovanni and Jackson also will meet with students, faculty, and staff at Virginia Tech's Black Cultural Center for an informal conversation centered on the development of "The Gospel According to Nikki Giovanni."
Tickets for the performance are $20-$55 for general audience and $10 for students and youth 18 and under. Tickets can be purchased online; at the Moss Arts Center's box office, 10 a.m. to 5 p.m. Tuesday through Friday, and 10 a.m. to 4 p.m. Saturday; or by calling 540-231-5300 during box office hours.   "The Gospel According to Nikki Giovanni" is co-sponsored by the Black Cultural Center. This performance is supported in part by gifts from Ms. Kelli Whitfield and Dr. James M. Shuler and Ms. Margaret F. Shuler.
Susan Bland for Virginia Tech