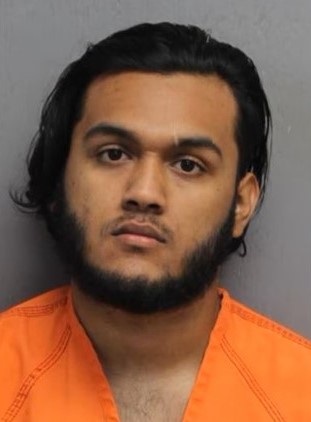 CHRISTIANSBURG – A North Carolina teenager wanted for kidnapping and attempted murder was arrested Tuesday in Christiansburg after a Christiansburg Police officer recognized his vehicle.
"On Oct. 24, 2023 at approximately 1 a.m., Christiansburg Police spotted a vehicle matching the description of a North Carolina man wanted for attempted murder and kidnapping," the police department announced Wednesday. "Christiansburg officers immediately pursued the vehicle and subsequently arrested the driver, Fransisco De Jesus Delgado Arevalo, 18. The victim, a 17-year-old female, was inside the vehicle. She was taken to the hospital for treatment and is expected to recover."
According to police, on Monday, Oct. 23, "officers in High Point, North Carolina responded to a reported kidnapping at a home in that area. A witness told officers that Delgado Arevalo came into the home, forced the victim out with a knife, put her in a vehicle and drove off. Officers determined the victim and suspect knew each other and took out warrants for Delgado Arevalo's arrest. High Point officers quickly sent a notice to other agencies in several states to look out for the suspect and his vehicle."
"Christiansburg Police received the notice, and actively maintained watch for the vehicle. In the early hours of Tuesday, Oct. 24, Christiansburg officers V. Campos and P. Woodrum recognized the suspect's vehicle on Riner Road near Life Drive and followed the suspect onto I-81 N. Officers attempted to initiate a traffic stop when the suspect turned off the lights and fled. A pursuit ensued with the support of CPD officer Sgt. R. Sobina, Officer B. Taylor, and two Virginia State Police Troopers. The vehicle crashed near mile marker 123.5 and Delgado Arevalo was taken into custody." 
Delgado Arevalo is facing several charges, both in High Point and in Christiansburg. In High Point, those charges include attempted first-degree murder, first-degree kidnapping, first-degree burglary, assault with a deadly weapon and communicating threats. In Christiansburg, the suspect is facing charges including: fugitive from justice, eluding police, contributing to the delinquency of a minor and misuse of 911 system.
"The Christiansburg Police would like to recognize all involved officers for their commitment to safety and vigilance in protecting our community and those in need," the department announced. "We would also like to recognize the Montgomery County Sheriff's Office and the Virginia State Police who aided in the rescue of the victim and arrest of the suspect. Lastly, we would like to thank the High Point Police Department for their quick communication, which allowed CPD officers to be on the lookout."