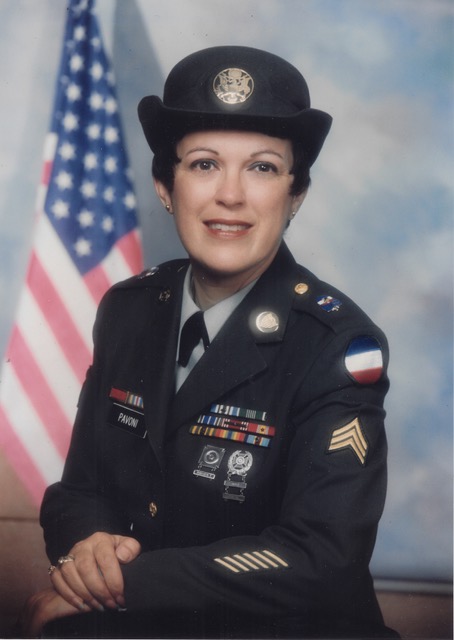 Sergeant (retired) Nicolette "Nikki" Pavoni, 73, of Blacksburg, went to be with the Lord on Oct. 27, 2023 at the Veteran Affairs Medical Center in Salem.
Born May 27, 1950 in Lakewood, Ohio, she was one of four children of Subby J. and Jeanne L. Pavoni. Nicolette served in the US Army for 21 years, achieving the rank of Sergeant and retiring in 1993. While stateside she was stationed at Ft. Sheridan, Ft. Devons, and the Defense Nuclear Agency in VA. Foreign service posts were held in Germany, Japan, and Korea. During her military career, Nicolette received numerous awards and commendations, including the Expert Marksmanship Medal, the Good Conduct Medal, the Meritorious Unit Commendation, the Army Superior Unit Award, and the National Defense Service Medal.
After discharging from the Army, Nicolette went on to complete a second career with a medical supply company located in Chicago, Illinois. She later retired to Blacksburg, where she enjoyed spending time with dear friends, her church, and her many hobbies. She was an avid crafter, loved gardening, and made new friends wherever she went.
Nicolette is preceded in death by her parents; a sister Therese Paul; and her brother Peter Pavoni. Those left to cherish her memory include her sister, Suzanne Smith of LaCross, Wisc.; and numerous family and friends.
Friends and family will join to remember Nikki on Nov. 11, 2023 with a funeral mass held at Holy Spirit Catholic Church, 355 Independence Blvd NW, Christiansburg, with private military honors at a future date.
McCoy Funeral Home is serving the family. Online condolences may be left at mccoyfuneralhome.com. In lieu of flowers, charitable donations may be made to the Montgomery County Animal Care and Adoption Center.