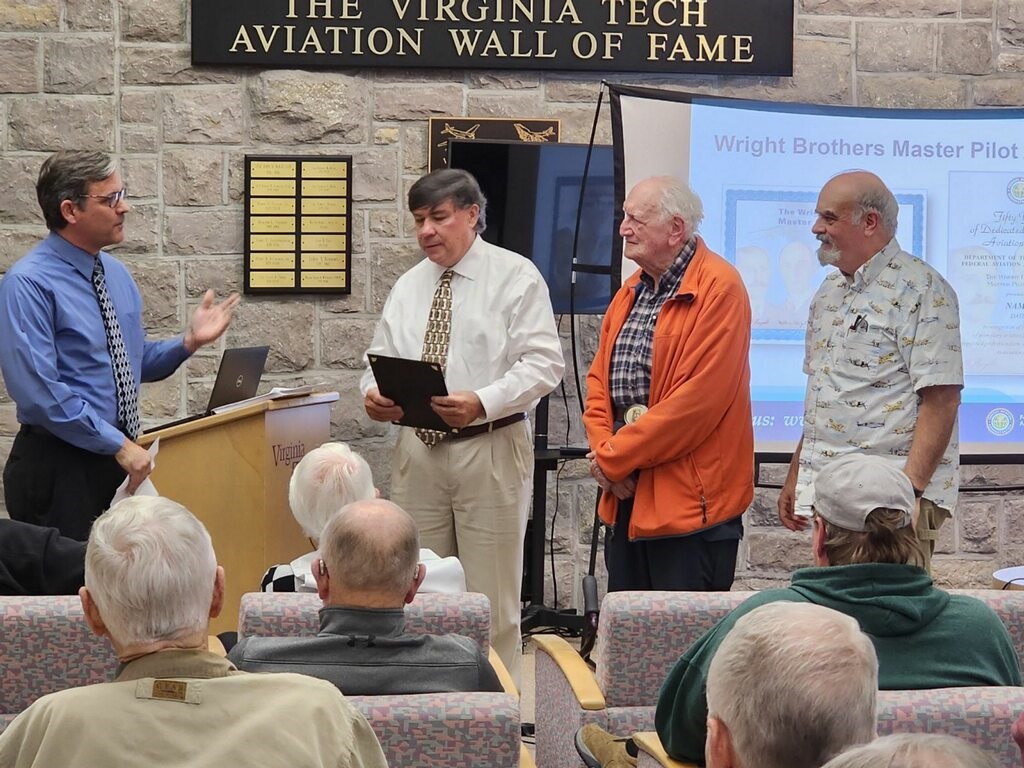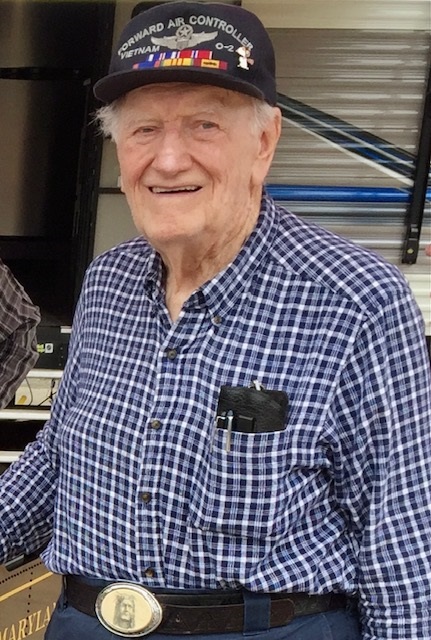 Johnson honored for over 50 years of military and civilian skilled piloting
Lori Graham 
Contributing Writer
BLACKSBURG – Walter L. Johnson has been passionate about airplanes since his early childhood. 
In his hometown of Villamont, just outside of Roanoke, he began learning to fly at Woodrum Field. One week after his sixteenth birthday, he took his first solo flight, and so began a life-long love of flying into the vast, blue skies. 
Johnson's flying career has taken many forms, from flying for the United States Air Force in Vietnam, working with nuclear ammunition, to instructing civilian pilots in the New River Valley. Recently, the Federal Aviation Administration (FAA) presented Johnson with an achievement that few pilots receive.
"We are here today to recognize Walter L Johnson, member of our flying community with the very prestigious FAA Wright Brothers Award. This award is named after Orville and Wilbur Wright who were engineers and founded the Wright Cycle Company in Dayton, Ohio in 1892. While the bicycle business sustained them, they began to experiment with kites, gliders, and other flying machines, always with an eye to creating the powered machine that could one day carry a man aloft. Their first successful flight, with Orville at the controls, took place at Kitty Hawk, North Carolina, on December 17th, 1903" Slaughter said at the presentation.
To qualify for the Wrights Brothers Master Pilot Award, a pilot must have at least 50 years of safe, skilled piloting service since their first solo flight, and be a United States citizen. This is a lifetime achievement for those who receive the award, and Walter L. Johnson's name will join those listed on the Wrights Brothers Master Pilot Award Roll of Honor. 
"To this date, there are 8,139 receptive recipients of this award" Slaughter said. 
Walter L. Johnson received the award during a presentation held in Blacksburg at the Virginia Tech Montgomery Executive Airport on Oct. 18. Johnson's son, Walter P. Johnson, attended the special event, and has also been a pilot for many years, recently retiring from United Airlines. The younger Johnson shared some background information of his father's journey in flight.
"In 1952, the Korean War was gaining momentum. Uncle Sam was calling on all good people, Walt with approximately 85 hours of flight time under his belt, volunteered to join the United States Air Force as an Aviation Cadet. He started training on the North American T-6 at Marana Air Force base in Arizona. From there, he went on to advanced training in the North American B-25 at Reese AFB in Lubbock, TX. After this, he was sent to train in the B-29 Superfortress. After Korea, Walt met the new "jet era" and flew the Lockheed T-33. Later, he transferred to Langley AFB here in Virginia and flew the T-33 and Cessna-310 liaison aircraft. It was during this time that he flew with Scott Carpenter, a pilot and Mercury astronaut," Walter P. Johnson said. 
"Walt" Johnson would go on to fly the Cessna Skymaster in Vietnam as a forward air controller, and it was there that he received the bronze star. He finished his 20 years of enlistment service stateside at Andrews AFB, Maryland as a USAF Major and instructor pilot on the Condor T-29. 
"He would go on to use his GI Benefits to get trained as an aircraft mechanic at the Washington Technical Institute at the National Airport in Washington DC. He started working at Hyde Field and was able to do test flying after maintenance. He also earned his civilian flight instructor certificate," Johnson said of his father.
Johnson's son, Walter P. Johnson, followed in his father's footsteps with also a love of flying machines. He recently retired as a pilot for United Airlines, to his home in Texas. The two men shared a passion for aircraft and still enjoy it discussing them to this day. 
"We always talked airplanes," Walter P. Johnson said. "The fact is, he is 94, and he is sharp, and he can remember names. Walter L. Johnson demonstrates to the community that with a passion to be the best and safest pilot, everyone around you will notice and look to you with admiration."