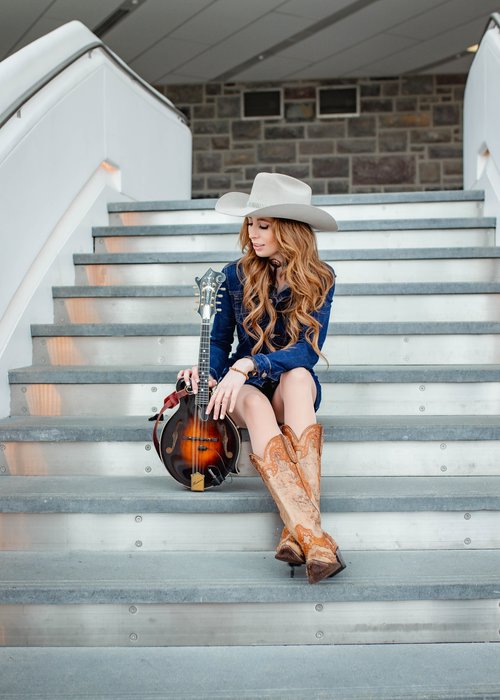 By Marty Gordon
Addie Levy started learning to play bluegrass music at the age of 10 and formed a band called Gate 10, which performed several times in downtown Christiansburg, Radford, and around the area. 
But it was an appearance at Dollywood that really gave her an understanding of what the music world was all about. 
She appeared in several specials at the amusement park and even got a chance to meet Dolly herself. This led to a move to Nashville with the hope like all musicians of making it big. She married, changing her name to Pratt and has now released two singles. 
Her first, "Blue Mountain," was released last month, and speaks to the feeling of nostalgia while remembering her early start.
"I had written this song back in 2021 driving back and forth to the Wohlfahrt Haus Dinner Theatre (in Wytheville) when we were performing Smoke on the Mountain Homecoming," said Levy. "I was inspired by Infamous Stringdusters cover of 'Just Like Heaven' with their resounding lick through the song and knew I needed to write one like that. It's inspired by the Blue Ridge Mountains and the fact that they provide so much comfort no matter what has been going on."
Levy plays the mandolin and handles lead vocals on Blue Mountain. 
She said the response to the release has been amazing.  
"I've been fortunate to have been featured on two Spotify editorial playlists and hit 5,000 within a month and some change. It's been played on radio stations all over."
The move to Nashville has been great for the Pulaski County High School graduate. 
"I have fallen in love with the (music) scene here (in Nashville) and getting involved playing music all over. I have been playing at the bluegrass spots around town, fiddling down on Broadway, and traveling with bands playing for them. My hopes are to work towards a full-time position with a touring band and continue to play music full-time. 
This past week, she released her second single called "Ring Around the Roses." Both singles can be found at: YouTube or on Spotify, or on her we page https://www.addielevy.com.
The next step is an entire album, and Levy said that could take place by the spring.