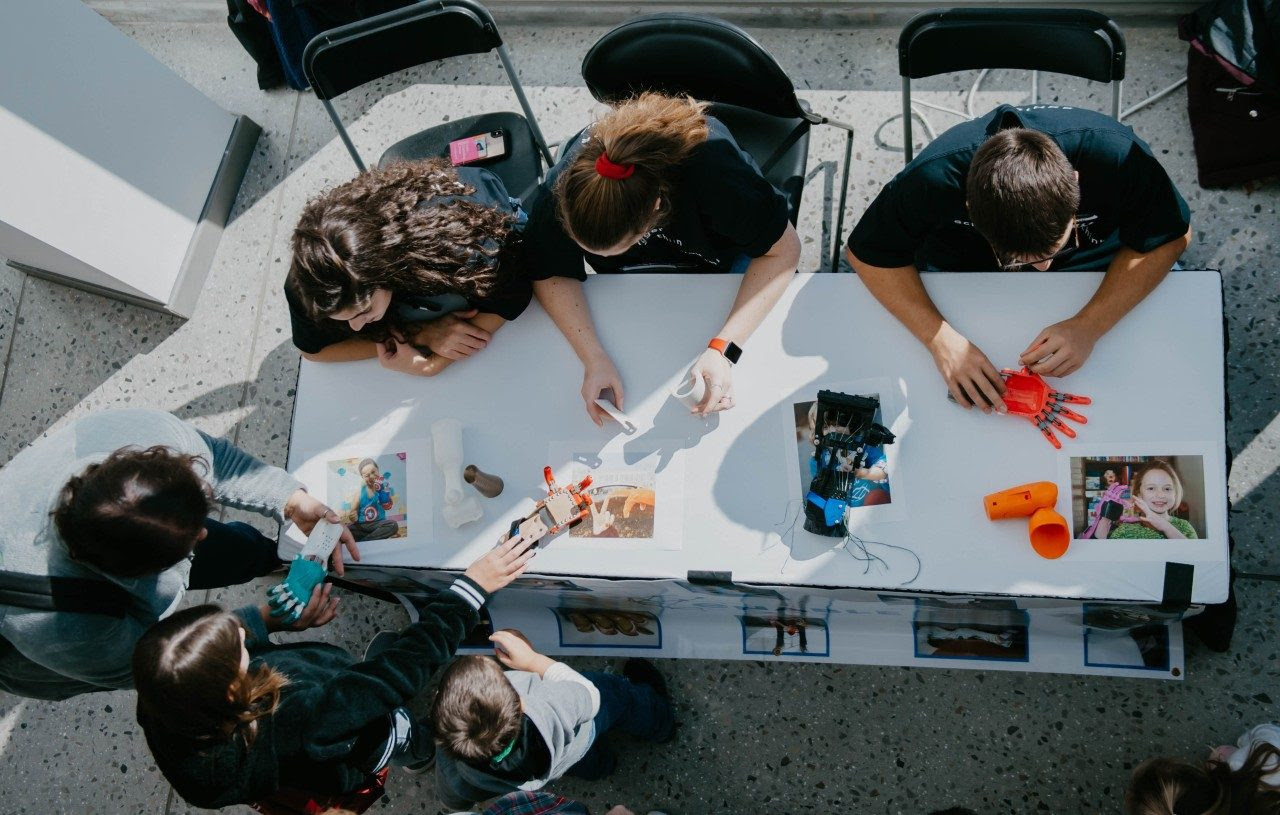 BLACKSBURG – Where might a child be able to play catch with a robot, extract DNA from a strawberry, assemble a DNA strand out of candy, explore the bottom of streams, and read a book with artificial intelligence, all in a single afternoon? 
These activities are just a handful of more than 50 exhibits available during the Virginia Tech Science Festival on Nov. 11 from 10 a.m. to 3 p.m. Events will be held at the Moss Arts Center, Carol M. Newman Library, and Torgersen Hall and are free to the public.
In its 10th iteration, the Virginia Tech Science Festival attracts more than 4,000 visitors, each year, allowing participants to take part in demonstrations, hands-on activities, and one-on-one conversations with the researchers.
While many exhibitors from previous festivals will return, this year's line-up includes a number of community presenters, robotic clubs, two student groups from Montgomery County Public Schools, and science-oriented nonprofit organizations. Additionally, the day will conclude with the Nutshell Games, a contest in which Virginia Tech graduate students pitch their research in 90 seconds, starting at 4:30 p.m. 
"I am excited that this has grown and extended to become part of the fabric of Virginia Tech," said Phyllis Newbill, associate director of educational networks the Center for Educational Networks and Impacts. "There are children who started going to the Virginia Tech Science Festival as children, and now they are grown up, on staff and behind the table participating in the logistics of the festival."
The Science Festival started in 2014 with the intention of inspiring the audience by seeing what happens at Virginia Tech and connecting that with what's traditionally learned in K-12 schools.
"The wonderful thing about working with children is that you have a new audience each year," said Newbill. "I see the festival will keep growing, and I hope more researchers, corporate and community members will use it as an outreach channel. We have an audience — you just bring the science."
The festival is a collaborative effort across most of Virginia Tech's colleges and research institutes as well as many community members. It is supported by the Center for Educational Networks and Impacts, the Institute for Creativity, Arts and Technology, College Access Collaborative, and Virginia Cooperative Extension. Parking for the event is available at Virginia Tech's North End Garage and other campus locations.
Lindsey Haugh for Virginia Tech