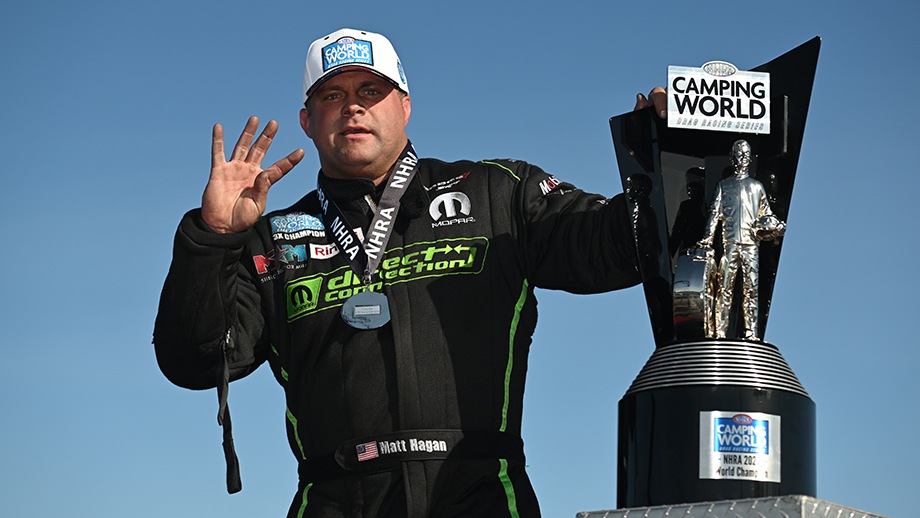 Matt Hagan, of Riner, captured his fourth NHRA Funny Car world championship in wild fashion on the final day of the 2023 NHRA Camping World Drag Racing Series season, surviving a harrowing and upset-filled filled eliminations day at the In-N-Out Burger NHRA Finals.
Hagan, fellow three-time world champ Robert Hight, and Bob Tasca III all came into Sunday with a chance to win the championship that would simply go to the driver who went the furthest in eliminations unless they both went out in the same round, in which case points leader Hagan and the Dodge Power Brokers team would be the champs.
And that's exactly what happened in round two. First, two-time world champ Cruz Pedregon defeated Tasca to end his bid for a first world championship. One pair later, jaws dropped across In-N-Out Burger Pomona Dragstrip as Hagan fell to Blake Alexander, and suddenly the ball was in Hight's court with a win-it-all battle with Chad Green.
Incredibly, Hight's car lost traction at halftrack and Green stormed to victory, setting off a celebration in the shutdown area where Hagan was anxiously looking on.
"I thought I was far enough down that we had it made," said Hight. "Usually, we don't spin the tires that far down. Congratulations to Matt Hagan. Those guys, they've won the most races so far this year. They've been there all year. We've kind of been here just at the end. Proud of my guys. We're not going to give up; we're going to keep digging. You always hope that you're here on Sunday. That oildown (by Blake Alexander), man that was the longest 15 minutes I ever spent in a race car with all the thoughts that go through your head about 'Can we get this done?' I'm still proud of my team."
Hagan's fourth championship makes him just the fourth Funny Car driver to win more than three championships, joining 16-time champ John Force and Kenny Bernstein and Don Prudhomme, who also both won four.
"It's just one of those things where you just hate to have to stand there and watch someone go out to win a championship; that's that's just not my style of racing," said Hagan. "That's not how I want to win, but it's really about the body of work that we did all year and coming in here and being ahead and points to be able to have that opportunity where if they went out the same round, we win the championship. So, I think you got to reflect back on your body of work that you get all season, and we won six races. I just can't say enough about Dickie Venerables and Mike Knudsen, and to get Tony Stewart his first championship and second year out here in the NHRA, it's unbelievable, man.
"When you see Tasca go out, you're like, 'OK, now let's back it up and just go down the racetrack,' but the conditions out there tough and we didn't have lane choice and there's that bump in the right lane is really kind of tricky to get around. I just thought it was over because like those guys don't stumble man, they get Robert just doesn't stumble like that, you know? I was doing some praying up there man, really praying to my mom – I lost her this year – and it was one of those things where I said, 'You know, I don't know what you're doing up there, but from you and my brother. I said, I sure could use a little help down here."
Hagan and crew chiefs Dickie Venables and Mike Knudsen built their championship on six victories this season, beginning with three wins in four starts launched at the season-opening Gatornationals, then the Winternationals right here in Pomona, and then the Four-Wide Nationals in Las Vegas that gave him a big lead until late spring when three-time world champ Ron Capps briefly took the lead.
NHRA