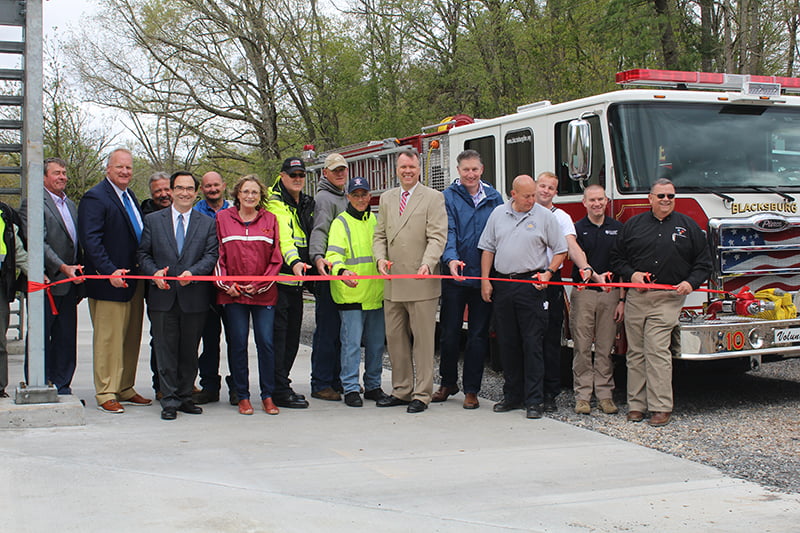 By Marty Gordon
A state-of-the-art fire training facility in Montgomery County was officially opened last week. Local leaders and fire personnel gathered at the three-acre site on Merrimac Road to cut the ribbon for what was called a "dream come true."
Montgomery County received a $480,000 grant from the Virginia Department of Fire Programs for the construction of this training facility, called a "burn building," and the Montgomery County Board of Supervisors allocated another $157,000, bringing the total outlay to $637,000.
Todd King, the chair of the Montgomery County Board of Supervisors, is a volunteer firefighter and knows first-hand how important a facility like this is for training.
"This is a prime example of perseverance and dedication. This day has been in the making for over a decade," he said.
Montgomery County Emergency Services Coordinator Neal Turner agreed that the new facility will enable firefighters to be ready for almost anything.
"Having the ability to train our volunteer firefighters locally is both prudent and necessary," he said.
The burn building is only a part of the site that includes a maze room, repelling area and other scenarios for both firefighters and rescue personnel.
"This is a game changer," said Turner. "Now, firefighters will be able to train and learn more about what they might face on a regular basis."
The new 1,730-square-foot burn building will be used for training firefighters in controlled and supervised fire-simulation or dense-smoke environment. The unoccupied steel pre-fabricated structure features a concrete slab floor. The structure itself is referred to as a "prop" and contains eight rooms, three of which are dedicated "burn rooms".
"The better prepared our firefighters, especially volunteers, are, then they will have a better chance of returning to their families at night unscathed," Turner said
The Virginia Department of Fire Programs has a set standard of maintenance schedules for the building that has a life expectancy of 25 years.
According to Turner, firefighters throughout the county are expected to obtain their initial training within the first year of membership. To accomplish that, departments have been required to send their members away to Galax, Pulaski, or Roanoke.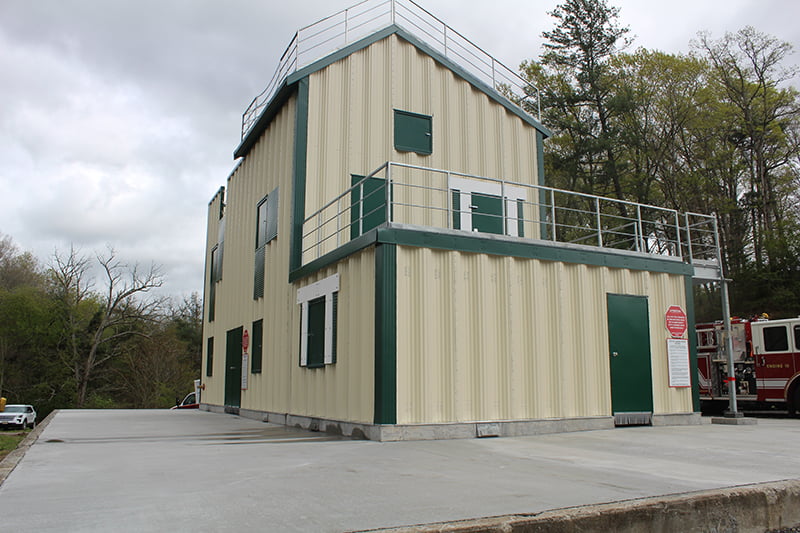 "With the new structure, firefighters can be trained in Montgomery County, allowing them to remain ready to respond to call in their home departments if needed," he said.
Christiansburg Fire Chief Billy Hanks believes this new facility will give county firefighters an advantage of training in their own backyard.
"They [firefighters] will not have to travel to get training. In addition, we will be able to host regional activities, and it will benefit everyone, " he said during Friday's activities.
Currently, 44 similar training structures exist throughout Virginia, with five anticipated to be added this year including the Montgomery County site.
The burn building consists of eight rooms, to include three dedicated burn rooms; assembly areas; and several other key features for training firefighters.
In addition to new member training, firefighters from Montgomery County, Giles County, and the Radford Army Ammunition Plant Fire Department are invited to use the structure for annual training exercises.