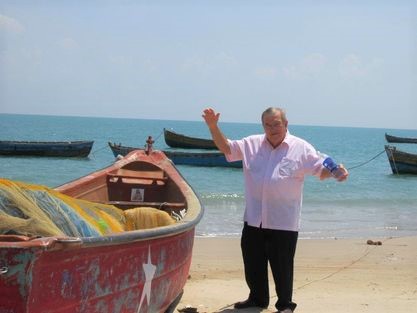 The Rev. Dr. James M. Angle passed from this life to his Heavenly reward on Aug. 1, 2021.
He was preceded in death by his beloved Sharon Belcher Angle, who was the heart and soul of Healing in His Wings Ministry, and a granddaughter, Cheyenne.
Survivors include his children, Rhonda–the smartest (Steve) Howell, Jay–the only son (Jan) Angle, Dr. Robyn Angle–the baby, and the Rev. Cathy Angle; grandchildren Dr. Timothy (Marnee) Byrd and the Rev. Jake (Kayla) Angle; great-grandchildren Max and Lola; a sister, Betty (the late Ralph) Hager; a sister-in-law, Sandra Bailey and family; and many nieces and nephews; and special friends and faithful ministry partners, the Rev.'s David and Lisa Marks.
Saved in 1966, Jim began full-time ministry shortly thereafter with the youth choir at the Radford Church of God, evangelized with the Soul Lifters Quartet and the Radford Coffee House Ministry, and helped birth the Fairlawn Church of God. Around 1974, he started the Blacksburg Church of God where he and wife Mary pastored until her death in 1976.
God sent Sharon in 1977, and together they continued the work at Blacksburg Church of God for 10 more years. Healing in His Wings Ministry began in 1987 and operated full-time for 40-plus years with outreaches in the United States and 36 countries. Their primary love was for Southern India where they traveled yearly and held mass crusades, supported a school, an orphanage and a home for the aged.
Healing in His Wings Ministry and its global partners have had over two million souls come to Christ. This has been due entirely to God and to the precious ministry partners and friends they have been blessed with during their ministry. Your faithfulness and dedication to Him and to Jim and Sharon, has been boundless.
The family would like to thank caregivers Lisa French and Teresa Robinson, the staff at Radford Health and Rehab, and especially the evening nurses who had to tend to a bossy night owl for months and the incredible team (family) at Carilion Clinic Hospice NRV, who provided such loving, excellent care. We could not have made it without you.
A private memorial for the family will be held due to COVID precautions.
To honor Jim's and Sharon's life and legacy, please continue to spread the Gospel.
In lieu of flowers, please make a donation to Betty Davis Ministries, P.O. Box 1444, Salem, VA 24153.
The Angle family is in the care of Mullins Funeral Home & Crematory.