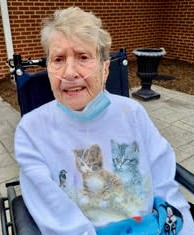 Betty Linkous of Christiansburg, born Feb. 22, 1937, passed away on Aug. 5, 2021, at Radford Health and Rehab Center.
She was preceded in death by her parents, Ralph and Annie Mae Linkous of Blacksburg; her husband, John Linkous of Christiansburg; her brothers, Milton Buck and Roger Linkous; and her sisters, Arlene Reed, Carolyn Snead, Faye Pyles, and Teresa Redd.
She is survived by her brother, Wayne Linkous (Joyce) of Christiansburg; a sister, Bonnie Puckett (Johnny) of Bedford; a sister-in-law, Beatrice Linkous;a  brother-in-law, Herman (Junior) Reed of Riner; and numerous nieces, nephews, great-nieces, and great-nephews.
A private service will be held. Arrangements by McCoy Funeral Home, Blacksburg.